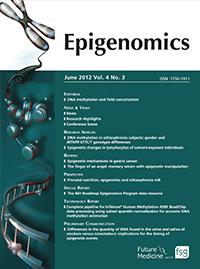 Epigenomics, the MEDLINE-indexed journal published by Future Science Group, is excited to announce the publication of the first study validating the MethylationEPIC BEadChip microarray - the new and improved DNA methylation array from Illumina (CA, USA). The validation of this array provides the research community with a powerful new method for elucidating the role of the human epigenome in health and disease.
The previous Illumina 450K Methylation BeadChip array revolutionized the field of DNA methylation analysis, enabling for the first time comprehensive genome-wide DNA methylation analysis in large sample collections.
Commenting on the significance of this new assay, Jorg Tost, Senior Editor of Epigenomics and Director of the Centre National de Genotypage (France), said: "In this thorough validation study by Esteller and colleagues, the new Infinium MethylationEPIC BeadChip shows very good technical performance and reproducibility for various sample types and applications. With its significantly increased coverage in gene regulatory regions, the EPIC array will be a powerful tool for the research community for the elucidation of underlying mechanisms of many complex diseases, enabling DNA methylation analysis at a hitherto impossible scale."
Obtaining complete DNA methylation maps of different physiological states or disorder-associated tissues is hampered by the high price, and time-consuming and sophisticated nature of the methods used to obtain them. The validated Illumina MethylationEPIC BEadChip DNA methylation microarray, which interrogates more than 850,000 CpG sites of the human genome, solves many of these issues by providing reliable, cost-effective and user-friendly handling of the data that can be shared by different laboratories across the world. The epigenomic platform will be very useful to further foster international collaborations to elucidate the human epigenome in health and disease. In addition, it provides extra value as it analyzes uncharted genomic territories such as gene enhancer regions.
Georgia Patey, Commissioning Editor of Epigenomics, remarked "We are delighted to publish the first paper validating the BEadChip array from Illumina, in which it is shown to be a highly reliable genomic platform for the study of DNA methylation patterns and levels in the human genome."
###
The article is available free to read at: http://www.futuremedicine.com/doi/full/10.2217/epi.15.114
About Epigenomics
Epigenomics is a MEDLINE-indexed journal (Impact factor: 4.649) that provides a forum to address the rapidly progressing research developments in this ever-expanding field, to report on the major challenges ahead and critical advances that are propelling the science forward. http://www.futuremedicine.com/loi/epi
About Future Science Group
Founded in 2001, Future Science Group (FSG) is a progressive publisher focused on breakthrough medical, biotechnological and scientific research. FSG's portfolio includes two imprints, Future Science and Future Medicine. In addition to this core publishing business, FSG develops specialist e-Communities. Key titles and sites include Bioanalysis Zone, Epigenomics, Nanomedicine and the award-winning Regenerative Medicine.
The aim of FSG is to service the advancement of clinical practice and drug research by enhancing the efficiency of communications among clinicians, researchers and decision-makers, and by providing innovative solutions to their information needs. This is achieved through a customer-centric approach, use of new technologies, products that deliver value-for-money and uncompromisingly high standards. http://www.futuresciencegroup.com
---