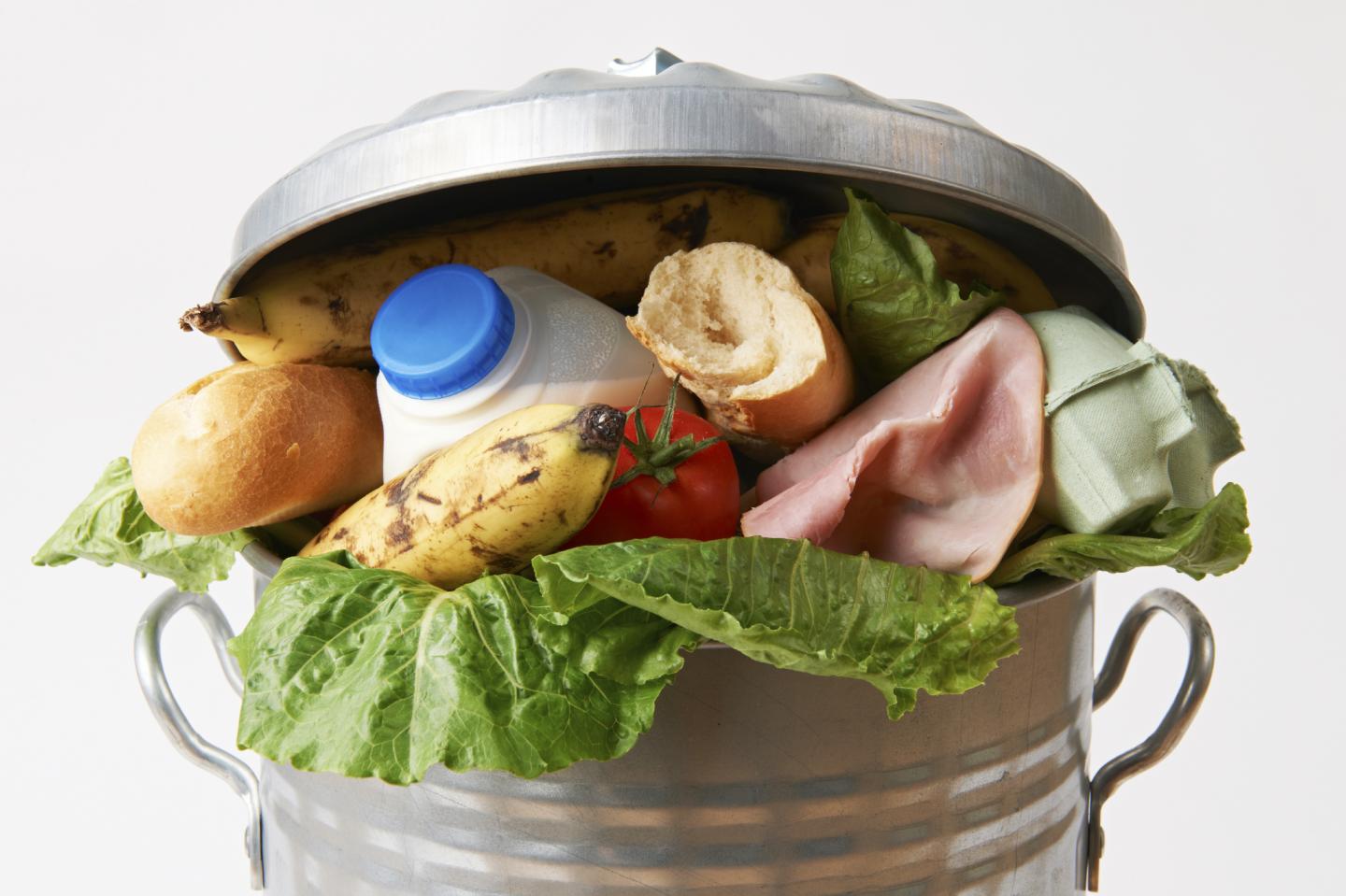 The UK produces the highest amount of avoidable food waste in Europe--equivalent to a tin of beans per person per day. Those are the findings from a team of researchers based at the Joint Research Centre (JRC) of the European Commission.
The study, published today (12 August 2015) in the journal Environmental Research Letters, looked at data from six national studies to determine the water and nitrogen resources lost in the EU due to consumer food waste.
The researchers found that nearly 80 per cent of all food waste is avoidable, with the UK the worst offender. Even Romania, where food waste was the lowest, wastes a substantial quantity of food--roughly equivalent to an apple a day. Averaged over all the citizens of the EU together, this is 22 million tonnes of food each year.
"In some ways it's good that this waste is 'avoidable'," says Davy Vanham, a lead author on the paper. "Because it means we're able to do something about it."
The study found that the bulk of the avoidable food waste was vegetables, fruit and cereals, partly due to the shorter shelf-life of these foods. However wasted meat contributes more to lost nitrogen and water resources. "Meat production uses much more resources in the first place," continues Vanham. "So even a little bit of waste can have a big effect in terms of lost resources."
That the study only looks at six (of the 28) EU Member States is of some concern to Vanham. "Ideally, we'd like data from all the Member States--but the data from the other countries is not as reliable. Certainly it would be useful if governments invested more in measuring waste with greater accuracy."
There are many possible ways to reduce this waste, explains Vanham. "Education in schools would be valuable--and the food production industry is quite cautious--a lot of food is still 'good' but is thrown away when it passes its sell-by date." The economic situation of the family also has an effect on food waste, as the cost of food becomes a less significant portion of the household's daily expenditure. "We've noticed with Romania, and Africa, that there is
less food waste as the population tends to have less money" says Vanham.
The next steps are to investigate food waste at a more granular level, down to individual European cities. "Waste in cities tells us a lot--this is where the bulk of our population is living now" concludes Vanham.
###
Notes to Editors
Contact
For further information, a full draft of the journal paper or contact with one of the researchers, contact IOP Senior Press Officer, Steve Pritchard: Tel: 0117 930 1032 E-mail: steve.pritchard@iop.org. For more information on how to use the embargoed material above, please refer to our embargo policy.

IOP Publishing Journalist Area
The IOP Publishing Journalist Area gives journalists access to embargoed press releases, advanced copies of papers, supplementary images and videos.
Login details also give free access to IOPscience, IOP Publishing's journal platform. To apply for a free subscription to this service, please email the IOP Publishing Press team at ioppublishing.press@iop.org, with your name, organisation, address and a preferred username.

Lost water and nitrogen resources due to EU consumer food waste
The published version of the paper "Lost water and nitrogen resources due to EU consumer food waste" (Environmental Research Letters 10 084008) will be freely available online from Wednesday 12 August. It will be available at http://iopscience.iop.org/1748-9326/10/8/084008/article.
Environmental Research Letters
ERL covers all environmental science, providing a coherent and integrated approach including research articles, perspectives and reviews. The journal's coverage reflects the increasingly interdisciplinary nature of environmental science and recognizes the wide range of contributions to the development of methods, tools and evaluation strategies relevant to the field.

IOP Publishing
IOP Publishing provides publications through which leading-edge scientific research is distributed worldwide.
Beyond our traditional journals programme, we make high-value scientific information easily accessible through an ever-evolving portfolio of books, community websites, magazines, conference proceedings and a multitude of electronic services.
IOP Publishing is central to the Institute of Physics, a not-for-profit society. Any financial surplus earned by IOP Publishing goes to support science through the activities of the Institute.
Go to ioppublishing.org or follow us @IOPPublishing.

Access to Research
Access to Research is an initiative through which the UK public can gain free, walk-in access to a wide range of academic articles and research at their local library. This article is freely available through this initiative. For more information, go to http://www.accesstoresearch.org.uk.

The Institute of Physics
The Institute of Physics is a leading scientific society. We are a charitable organisation with a worldwide membership of more than 50,000, working together to advance physics education, research and application.
We engage with policymakers and the general public to develop awareness and understanding of the value of physics and, through IOP Publishing, we are world leaders in professional scientific communications.
In September 2013, we launched our first fundraising campaign. Our campaign, Opportunity Physics, offers you the chance to support the work that we do.
Visit us at http://www.iop.org or follow us on Twitter @physicsnews.
---
Journal
Environmental Research Letters