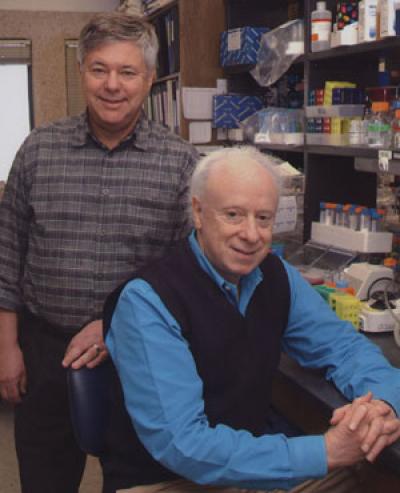 BETHESDA, Md., April 7, 2011 – The American Society for Biochemistry and Molecular Biology has named Nobel laureates Michael S. Brown and Joseph L. Goldstein, pioneers in the study of cholesterol metabolism, the joint winners of its first Earl and Thressa Stadtman Distinguished Scientist Award.
Brown and Goldstein will present their award lecture, "The SREBP Pathway: Stadtman's Paradigm Applied to Cholesterol," at 2:40 p.m. April 11 at the Experimental Biology 2011 Conference at the Walter E. Washington Convention Center.
Ira Pastan of the National Cancer Institute, who nominated the pair for the award, says their "sustained record of joint discoveries places them at the forefront of regulatory biochemistry, the field that was pioneered by Earl Stadtman."
Brown and Goldstein, both of the University of Texas Southwestern Medical Center at Dallas, shared the 1985 Nobel Prize in medicine or physiology for their discovery of the low-density lipoprotein, or LDL, receptor and the process of receptor-mediated endocytosis. In recent years, they discovered sterol regulatory element-binding proteins and the process of regulated intramembrane proteolysis.
"Joe and Mike are towering intellects and leaders in the field of biomedical sciences," says Phillip Sharp, a professor at the Koch Institute for Integrative Cancer Research at the Massachusetts Institute for Technology. "They are among the most recognized and celebrated scientists of their generation and remain active, producing excellent science on contemporary topics."
The researchers met at Massachusetts General Hospital in Boston in the 1960s and have collaborated ever since. From 1968 to 1971, Brown worked at the National Institutes of Health, initially as a clinical associate in gastroenterology and hereditary disease and later in the biochemistry laboratory headed by Earl Stadtman himself. Meanwhile, Goldstein spent 1968 through 1970 at the NIH as well, working in the laboratory of Marshall W. Nirenberg and at the National Heart Institute.
In 1971, Brown joined the University of Texas Southwestern Medical School in Dallas. A year later, so did Goldstein. (It's worth noting that Goldstein had attended medical school there, so, for him, it was a homecoming of sorts.)
"Put simply, these guys are great. It has been a pleasure for the scientific community to watch this story unfold," says Richard Axel, a professor at Columbia University Medical Center and the recipient of the 2004 Nobel Prize in physiology or medicine. "With unabated and unsurpassed creativity and rigor, they continue to pursue a problem in basic science with profound implications for clinical medicine: the regulation of lipid and cholesterol biosynthesis."
Robert D. Simoni, chairman of the biology department at Stanford University and associate editor of the Journal of Biological Chemistry, emphasizes that Brown and Goldstein also have kept alive the Stadtmans' tradition of mentoring.
"Beyond their own research accomplishments, Mike and Joe, like the Stadtmans, have provided an excellent training ground for young scientists, many of whom have gone on to assume leadership roles in biochemistry," Simoni says.
The Stadtman award was established by friends and colleagues to preserve their legacies as scientists and mentors. It is awarded to an established scientist for his or her outstanding achievement in basic research in the fields encompassed by the ASBMB. The award is given every other year, alternating with The Earl and Thressa Stadtman Young Scholar Award. The distinguished scientist award consists of a plaque, a $10,000 purse and travel expenses to present a lecture at the ASBMB annual meeting.
###
About Experimental Biology 2011
Six scientific societies will hold their joint scientific sessions and annual meetings, known as Experimental Biology, from April 9-13, 2011, in Washington, D.C. This meeting brings together the leading researchers from a broad array of life science disciplines. The societies include the American Association of Anatomists (AAA), American Physiological Society (APS), American Society for Biochemistry and Molecular Biology (ASBMB), American Society for Investigative Pathology (ASIP), American Society for Nutrition (ASN), and American Society for Pharmacology and Experimental Therapeutics (ASPET). More information about EB2011 for the media can be found on the press page: http://experimentalbiology.org/content/PressInformation.aspx.
About the American Society for Biochemistry and Molecular Biology
The ASBMB is a nonprofit scientific and educational organization with more than 12,000 members worldwide. Most members teach and conduct research at colleges and universities. Others conduct research in various government laboratories, at nonprofit research institutions and in industry. The Society's student members attend undergraduate or graduate institutions. For more information about ASBMB, visit www.asbmb.org.
---