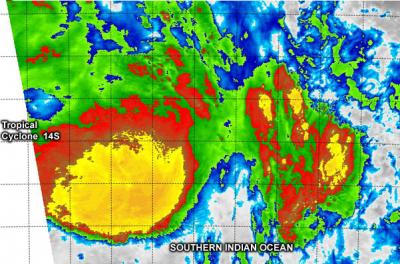 The fourteenth tropical cyclone of the Southern Indian Ocean season was born as NASA's Terra satellite passed overhead.
On February 7 at 0900 UTC/4 a.m. EST, Tropical Cyclone 14S had maximum sustained winds near 35 knots/40 mph/62 kph. It was located about 814 nautical miles/936.7 miles/1,508 km east-northeast of Port Louis, Mauritius near 14.8 south and 70.4 east. At that time, 14S was moving to the south near 8 knots/9.2 mph/14.8 kph.
The Joint Typhoon Warning Center noted that multispectral satellite imagery showed that the low-level center is exposed to outside winds and that the center is actually elongated (not a good thing for maintaining strength).
NASA's Terra satellite passed over Tropical Cyclone 14S on February 7 and the Moderate Resolution Imaging Spectroradiometer or MODIS instrument captured infrared data. Cloud top temperatures in excess of -70C/-94F were seen north of the center of circulation indicating strong convection and powerful thunderstorms.
14S has since turned to the southeast and is expected to intensify a little before turning southwest and weakening.
###
Text credit: Rob Gutro
NASA's Goddard Space Flight Center
---