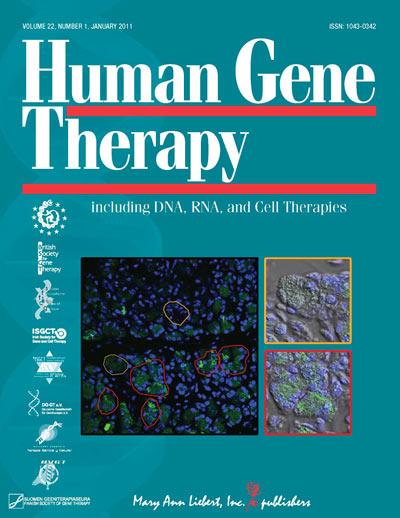 New Rochelle, NY, January 26, 2011—An innovative genetic strategy for rendering T-cells resistant to HIV infection without affecting their normal growth and activity is described in a paper published in Human Gene Therapy, a peer-reviewed journal published by Mary Ann Liebert, Inc. (www.liebertpub.com). The paper is available free online at www.liebertpub.com/hum
A team of researchers from Japan, Korea, and the U.S. developed an anti-HIV gene therapy method in which a bacterial gene called mazF is transferred into CD4+ T-cells. The MazF protein is an enzyme (an mRNA interferase) that destroys gene transcripts, preventing protein synthesis. The design of this mazF gene therapy vector ensures that synthesis of the MazF protein is triggered by HIV infection. When HIV infects treated T lymphocytes, MazF is induced, blocking HIV replication and, essentially, making the T-cells HIV resistant.
This elegant gene therapy tool was developed by Hideto Chono and colleagues from Takara Bio Inc. (Otsu, Shiga, Japan), Seoul National University and ViroMed Co. (Seoul, Korea), National Institute of Biomedical Innovation (Tsukuba, Ibaraki, Japan), and Robert Wood Johnson Medical School (Piscataway, NJ). The authors describe the theory and science behind this strategy in the paper entitled, "Acquisition of HIV-1 Resistance in T Lymphocytes Using an ACA-Specific E. coli mRNA Interferase."
"The potential of using vectors to express genes within a cell to block viral infection was first considered by David Baltimore in a strategy called 'intracellular immunization.' This study illustrates a unique way in which intracellular immunization can be achieved," says James M. Wilson, MD, PhD, Editor-in-Chief, and Director of the Gene Therapy Program, Department of Pathology and Laboratory Medicine, University of Pennsylvania School of Medicine, Philadelphia.
###
Human Gene Therapy, the Official Journal of the European Society of Gene and Cell Therapy, British Society for Gene Therapy, French Society of Cell and Gene Therapy, German Society of Gene Therapy, and five other gene therapy societies is an authoritative peer-reviewed journal published monthly in print and online that presents reports on the transfer and expression of genes in mammals, including humans. Related topics include improvements in vector development, delivery systems, and animal models, particularly in the areas of cancer, heart disease, viral disease, genetic disease, and neurological disease, as well as ethical, legal, and regulatory issues related to the gene transfer in humans. Tables of content and a free sample issue may be viewed online at www.liebertpub.com/hum
Mary Ann Liebert, Inc. (www.liebertpub.com) is a privately held, fully integrated media company known for establishing authoritative peer-reviewed journals in many promising areas of science and biomedical research, including Tissue Engineering, Stem Cells and Development, and Cellular Reprogramming. Its biotechnology trade magazine, Genetic Engineering & Biotechnology News (GEN), was the first in its field and is today the industry's most widely read publication worldwide. A complete list of the firm's 60 journals, books, and newsmagazines is available at www.liebertpub.com.
Mary Ann Liebert, Inc. 140 Huguenot St., New Rochelle, NY 10801-5215 www.liebertpub.com Phone: (914) 740-2100 (800) M-LIEBERT Fax: (914) 740-2101
---
Journal
Human Gene Therapy