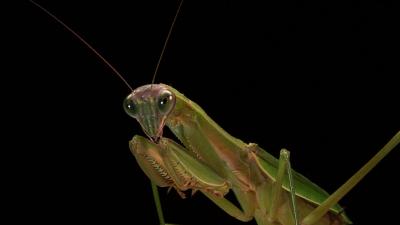 Male praying mantises are more likely to engage in risky mating behavior if they have not had recent access to females, as reported Apr. 25 in the open access journal PLoS ONE. Female praying mantises are known for their cannibalistic behavior toward their mates, and males take a large risk when they attempt to reproduce.
In the current work, led by William Brown of State University of New York at Fredonia, the researchers found that males modulate this risk by altering their approach rate and courtship behavior depending on how recently they have had access to females.
Specifically, males that had not had recent access to mates approached females more rapidly and to closer proximity than did males who had daily female encounters. They also found that this higher-risk behavior resulted in higher rates of sexual cannibalism when paired with hungry females.
"Male cannibalism by females in praying mantids represents an extreme example of sexual conflict in which males risk the complete loss of future reproduction. Our results suggest that males have evolved to alter their acceptable risk of attack depending on mate availability", says Dr. Brown.
###
Citation: Brown WD, Muntz GA, Ladowski AJ (2012) Low Mate Encounter Rate Increases Male Risk Taking in a Sexually Cannibalistic Praying Mantis. PLoS ONE 7(4): e35377. doi:10.1371/journal.pone.0035377
Financial Disclosure: This work was supported by funding from the Holmberg Foundation to GAM and by the Department of Biology, SUNY Fredonia. The funders had no role in study design, data collection and analysis, decision to publish, or preparation of the manuscript. Competing Interest Statement: The authors have declared that no competing interests exist.
PLEASE LINK TO THE SCIENTIFIC ARTICLE IN ONLINE VERSIONS OF YOUR REPORT (URL goes live after the embargo ends): http://dx.plos.org/10.1371/journal.pone.0035377
Disclaimer: This press release refers to upcoming articles in PLoS ONE. The releases have been provided by the article authors and/or journal staff. Any opinions expressed in these are the personal views of the contributors, and do not necessarily represent the views or policies of PLoS. PLoS expressly disclaims any and all warranties and liability in connection with the information found in the release and article and your use of such information.
About PLoS ONE
PLoS ONE is the first journal of primary research from all areas of science to employ a combination of peer review and post-publication rating and commenting, to maximize the impact of every report it publishes. PLoS ONE is published by the Public Library of Science (PLoS), the open-access publisher whose goal is to make the world's scientific and medical literature a public resource.
All works published in PLoS ONE are Open Access. Everything is immediately available—to read, download, redistribute, include in databases and otherwise use—without cost to anyone, anywhere, subject only to the condition that the original authors and source are properly attributed. For more information about PLoS ONE relevant to journalists, bloggers and press officers, including details of our press release process and our embargo policy, see the everyONE blog at http://everyone.plos.org/media.
---