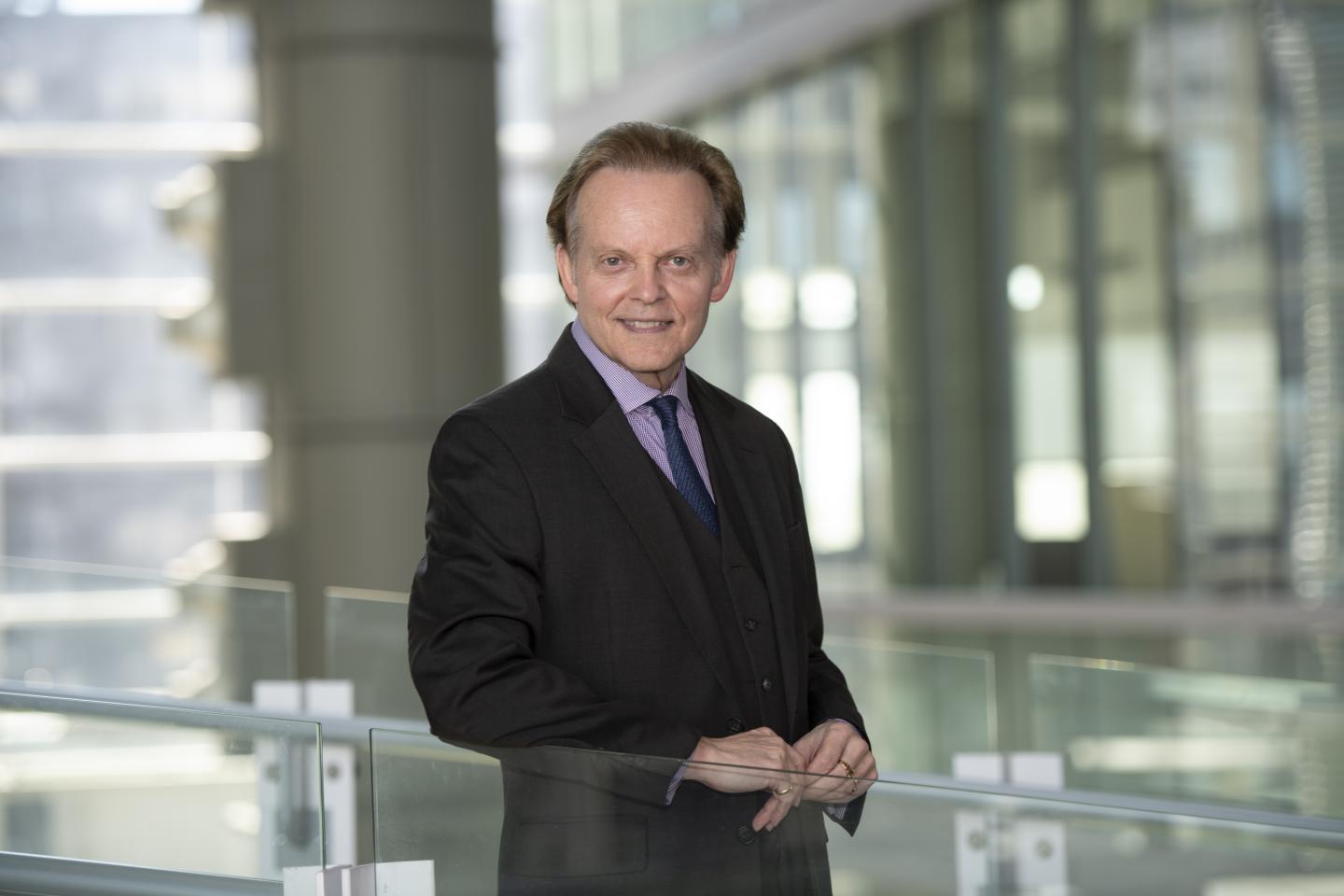 Researchers at the University of Cincinnati and UC Health will host a Phase 2 clinical trial (NCT04511650) to examine the effects of a drug that targets blood vessel inflammation and injury in patients with COVID-19.
They will study the effects of razuprotafib, an investigational drug that activates a key pathway for stabilizing blood vessels in the lung and other organs in patients with moderate to severe cases of the respiratory illness caused by the novel coronavirus SARS-CoV-2. The drug may prevent and treat respiratory distress in COVID-19 patients. The Phase 2 clinical trial will assess safety, tolerability and efficacy of razuprotafib.
UC is one of up to 20 sites across the United States selected for a randomized, double-blind and placebo-controlled study coordinated by Aerpio Pharmaceuticals, Inc. (Nasdaq: ARPO). As part of that trial, which is designed as a parallel-group, dose escalation and proof-of-concept study, razuprotafib will be administered three times daily for a seven-day period to hospitalized patients. The trial may enroll approximately 180 patients nationwide.
Participants or their health proxy must give written informed consent to enroll in the trial.
"COVID-19 enters the body through the nose and back of the mouth and then travels to the upper and lower respiratory tracts," says Richard Becker, MD, a UC Health cardiologist and director of the UC Heart, Lung and Vascular Institute. "In serious cases, the virus causes inflammation in the blood vessels of the lungs."
The study drug is designed to target the pulmonary vasculature, with a goal of reducing inflammation, preserving artery and vein function and reducing capillary leak as a contributor for acute respiratory distress syndrome. That condition is characterized by severe shortness of breath often requiring a respirator for patients.
Becker, a professor of medicine in the UC College of Medicine, is principal investigator of the study at UC and is collaborating with co-principal investigator Duncan Hite, MD, director of medical critical care at UC Health and professor in the UC College of Medicine.
"Over the past few months, we have learned that vascular complications in COVID-19 are very common and more treatment options targeting this important component are needed to further reduce the burden of this infection on our society," says Hite. "In addition to exciting and unique biologic targets on which this trial is focused, the study also provides a great opportunity to work closely with an innovative company local to our community."
"By maintaining the integrity of blood vessels, reducing the likelihood of blood clotting and acute respiratory distress syndrome is possible," says Becker. "Razuprotafib takes a very targeted and science-based approach and that's why there is so much excitement around this study. The drug may also reduce lung inflammation and exert an antiviral effect. The patients eligible for the study have COVID-19 and they are sick enough to be hospitalized and need supplemental oxygen."
Razuprotafib activates Tie2 receptor proteins on the surface of endothelial cells to bind to angiopoietins to support endothelial viability and function and are needed to form, repair and stabilize blood vessels. Pre-clinical studies and clinical data from Aerpio suggest promise for the drug in aiding COVID-19 patients.
###
The study is funded by the U.S government through the Medical Technology Enterprise Consortium (MTEC) and Aerpio Pharmaceuticals.
Investigators report no conflicts of interest in this study.
About UC
The University of Cincinnati is classified as a Research 1 institution by the Carnegie Commission and is ranked in the National Science Foundation's Top-35 public research universities. UC's faculty and students investigate problems and innovate solutions with real-world impact. We realize the impact our teaching, research and service can have on our community and the world. So, we don't wait for change to happen. At UC, we break boundaries, boldly imagine and create what's next. To us, today's possibilities spark tomorrow's reality. That's why we are leading urban public universities into a new era of innovation and impact. Next Lives Here at the University of Cincinnati.
About UC Health
UC Health is an integrated academic health system serving the Greater Cincinnati and Northern Kentucky region. In partnership with the University of Cincinnati, UC Health combines clinical expertise and compassion with research and teaching - a combination that provides patients with options for even the most complex situations. Members of UC Health include: University of Cincinnati Medical Center, West Chester Hospital, Daniel Drake Center for Post-Acute Care, Bridgeway Pointe Assisted Living, University of Cincinnati Physicians and UC Health Ambulatory Services (with more than 800 board-certified clinicians and surgeons), Lindner Center of HOPE and several specialized institutes and centers, including: UC Gardner Neuroscience Institute; UC Cancer Center; and UC Heart, Lung & Vascular Institute. Many UC Health locations have received national recognition for outstanding quality and patient satisfaction. Learn more at UCHealth.com.
About Aerpio Pharmaceuticals
Aerpio Pharmaceuticals, Inc. is a biopharmaceutical company focused on developing compounds that activate Tie2 to treat ocular diseases and diabetic complications, as well as other indications in which the Company believes that activation of Tie2 may have therapeutic potential, including acute respiratory distress syndrome ("ARDS") associated with COVID-19 infections. Recently published mouse and human genetic data implicate the Angpt/Tie2 pathway in maintenance of Schlemm's canal, a critical component of the conventional outflow tract. The Company's lead compound, razuprotafib (formerly AKB-9778), a first-in-class small molecule inhibitor of vascular endothelial protein tyrosine phosphatase ("VE-PTP"), is being developed as a potential treatment for open angle glaucoma, and the Company intends to investigate the therapeutic potential of razuprotafib in other indications.. The Company is also evaluating development options for ARP-1536, a humanized monoclonal antibody, for its therapeutic potential in the treatment of diabetic vascular complications including nephropathy and diabetic macular edema ("DME"). The Company's third asset is a bispecific antibody that binds both VEGF and VE-PTP which is designed to inhibit VEGF activation and activate Tie2. This bispecific antibody has the potential to be an improved treatment for wet age-related macular degeneration and DME via intravitreal injection. Finally, the Company has exclusively out-licensed AKB-4924 (now called GB004), a first-in-class small molecule inhibitor of hypoxia-inducible factor-1 (HIF). GB004 is being developed by AKB-4924's exclusive licensor, Gossamer Bio, Inc. (Nasdaq: GOSS). For more information, please visit http://www.aerpio.com.
About Razuprotafib (formerly known as AKB-9778)
Razuprotafib binds to and inhibits vascular endothelial protein tyrosine phosphatase (VE-PTP), an important negative regulator of Tie2. Decreased Tie2 activity contributes to vascular instability in many diseases including diabetes and more recently has been shown to contribute to the development of increased IOP and glaucoma. Razuprotafib activates the Tie2 receptor irrespective of extracellular levels of its binding ligands, angiopoietin-1 (agonist) or angiopoietin-2 (antagonist) and may be the most efficient pharmacologic approach to maintain normal Tie2 activation. Aerpio is studying a topical ocular formulation of razuprotafib in open angle glaucoma and exploring the utility of subcutaneous razuprotafib for diabetic complications, including diabetic nephropathy. In addition, a subcutaneous formulation of razuprotafib is being explored for its therapeutic potential in treating or preventing ARDS associated with COVID-19.
---