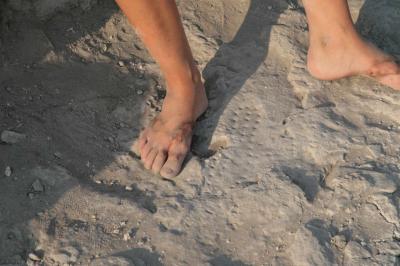 Archaeologists have discovered a footprint made by the sandal of a Roman soldier in a wall surrounding the Hellenistic-Roman city of Hippos (Sussita), east of the Sea of Galilee. The footprint was discovered during this eighth season of excavation, led by Prof. Arthur Segal from the Zinman Institute of Archaeology at the University of Haifa in conjunction with archaeologists from the Polish Academy of Sciences and Concordia University in St. Paul, Minnesota. "This rare footprint, which is complete and well preserved, hints at who built the walls, how and when," said Michael Eisenberg of the Zinman Institute at the University of Haifa.
The print, made by a hobnailed sandal called caliga, the sandal worn by Roman soldiers, is one of the only finds of this type. The discovery of the print in the cement led archaeologists to presume that legionnaires participated in construction of the walls.
The excavations of this section of the southern city walls also revealed towers and well-protected structures for positioning weapons such as catapults and ballistae built into the wall.
The ancient city of Hippos (Sussita), at 350 meters above sea level, overlooks the Sea of Galilee. The city was established during the period of Seleucid rule. It flourished during the Roman and Byzantine periods until it was destroyed by an earthquake in the year 749. Hippos (Sussita), together with Beit Shean and other cities east of the Jordan River, formed the "Decapolis", the area in which Jesus performed most of the miracles described in the New Testament. "The remains of Sussita, its view of the Golan Heights and the Galilee and its historic significance in Christianity, have made it one of the most attractive sites in northern Israel," said Prof. Segal.
This season's excavations have uncovered additional, important finds: the city's colonnaded street, some 240 meters long; a magnificent, marble-paneled bathhouse; and a glass bottle with an embossed face. On the final day of the dig another unusual find was uncovered: part of a white marble statue, a hand holding a staff, apparently part of a Greek god. The archaeologists are hopeful that during the next digging season they will find other pieces of the statue which is estimated to be 2 meters high.
###
---