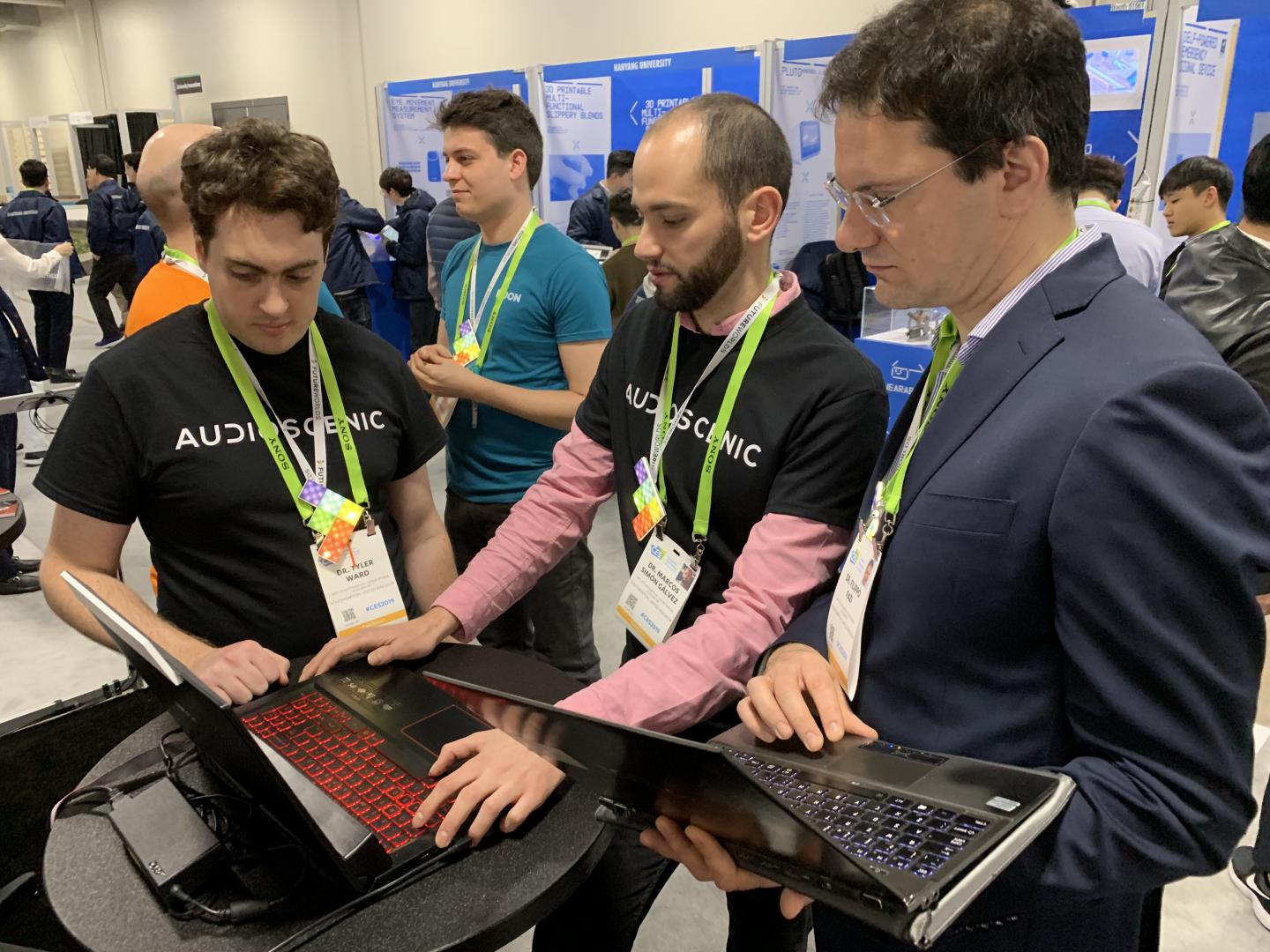 Tech entrepreneurs from the University of Southampton will unveil pioneering research based tech products in prosthetics design, cybersecurity and quantum technology at CES 2020.
The products are being launched on the Future Worlds stand, the University's on-campus startup accelerator, which is exhibiting products in a range of sectors including Digital Health, Cyber Security, Quantum Technology, 5G, Smart Cities, and AI.
The Future Worlds stand is leading the way in demonstrating the value of UK university innovation to global markets as the only UK university exhibiting at the world's largest technology show for a fifth consecutive year.
The accelerator will launch three research-based products on the stand at Eureka Park in the Sands Expo: Radii Devices, a cloud-based design assistant for prosthetists; SPYDERISK, a cyber-security threat assessment tool; and Aquark Technologies, which has developed miniaturised components for quantum technology.
On Tuesday 7 January, Radii Devices will launch intelligent software for faster, more personal fitting of prosthetics and orthotics. The spinout uses the same cutting-edge engineering technologies seen in F1 car design and America's Cup yacht racing for prosthetics design and prediction of device fit before manufacture.
On Wednesday 8 January, Software as a service (SaaS) spinout SPYDERISK will launch its innovative web-based solution for IT security compliance, which helps save months of manual work each year for cyber-security professionals identifying and mitigating threats to systems.
On Thursday 9 January, Aquark Technologies will reveal the first design for portable atomic clocks, based around a unique, micro-fabricated ultra-high vacuum chamber. The product is the first simple plug-and-play cold atom quantum device available for the market.
UK Member of Parliament Graham Stuart, Minister for Investment, commented "The UK's scientists and universities are renowned the world over. Future Worlds at the University of Southampton is a great example of how we plan to turn more of our university innovation into products and services that can change the world.
"Launching groundbreaking university start-ups and spinouts at CES reflects the UK's increasing investment in research and development and helps fulfil our ambition to grow as a global, trading nation.'
Ben Clark, Future Worlds Director, says: "The Future Worlds stand at CES proudly puts UK university innovation on the world stage. Our students and academics are turning world-leading research into products that change the world. Exhibiting at CES has helped startups and spinouts from the University of Southampton gain hundreds of commercial leads and secure millions of pounds of investment, and we're excited to see these latest innovations make global impact in 2020."
CES 2020 will include over 4,500 exhibiting companies and attract more than 180,000 attendees wanting to see the next generation of consumer technologies.
Visit stands 51733 and 51735 at CES 2020 to meet the founders and explore futureworlds.com/ces2020 to access accelerator videos, photos and product-based press packs.
###
About Future Worlds
Future Worlds is the on-campus startup accelerator at the University of Southampton, helping students and researchers change the world with their ideas and changing academic culture to be more focused on commercial impact through startups and spinouts.
Future Worlds accelerates new ventures through inspiring events, workshops, investor pitching opportunities, commercial partners and mentoring from a network of seasoned founders, early stage investors and millionaire entrepreneurs.
In 2019, over 3,000 people registered for their events on campus, helping hundreds to explore startup ideas, leading to support for over 30 startups and spinouts who collectively raised over £7m in early stage funding.
Follow Future Worlds' social media channels to be the first to hear about future technologies launching from the University of Southampton.
Future Worlds' attendance at CES is supported by the Engineering and Physical Sciences Research Council, grant number EP/R511766/1
Twitter: @FutureWorlds
Facebook: Future Worlds Soton
Instagram: @FutureWorldsSoton
About the University of Southampton
The University of Southampton drives original thinking, turns knowledge into action and impact, and creates solutions to the world's challenges. We are among the top 100 institutions globally (QS World University Rankings 2019). Our academics are leaders in their fields, forging links with high-profile international businesses and organisations, and inspiring a 22,000-strong community of exceptional students, from over 135 countries worldwide. Through our high-quality education, the University helps students on a journey of discovery to realise their potential and join our global network of over 200,000 alumni. http://www.southampton.ac.uk
For further information contact:
Charles Elder, Media Relations, University of Southampton. Tel: 023 8059 3212. Email: c.elder@soton.ac.uk
---