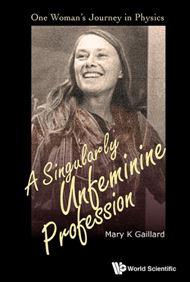 "I became a feminist by necessity. My passion was physics."
With this quote from Mary K. Gaillard's new book, "A Singularly Unfeminine Profession: One Woman's Journey in Physics", Robert Sanders begins his description of this book about Gaillard's career and her resilience in the face of subtle and not-so-subtle discrimination.
Sanders goes on to say, Gaillard writes about the slights and frustrations that gradually raised her consciousness as she rose to the top among theoretical physicists trying to understand the complexities of the universe's fundamental particles. The wife of a physicist, she mothered three young children while simultaneously laying the theoretical groundwork for key experiments that proved the validity of the Standard Model, now accepted as the best description of three of the four forces of nature.
Among her credits were correct predictions of the masses of the charmed and bottom quarks, two of the six quarks that make up all the matter we see around us. And 40 years before the world heard of the Higgs particle, she produced the road map experimentalists needed to _nd it. And they did, in 2013, a feat that earned Peter Higgs and theoretical physicist Francois Englert the 2013 Nobel Prize in Physics.
After 17 years as a visiting scientist at the European Organization for Nuclear Research (CERN) outside Geneva, Switzerland, Gaillard joined the UC Berkeley physics department in 1981 as its first woman faculty member. Now 76 years old, a professor in the graduate school and a senior scientist at Lawrence Berkeley National Laboratory, she is an inspiration to young women graduate students in physics, particularly in theoretical physics."
Inspired in part by questions from graduate students about Gaillard's experiences, A Singularly Unfeminine Profession: One Woman's Journey in Physics" traces the development of the Standard Model in parallel with her own career path. Following mainly positive experiences from high school through her first year of graduate school, Gaillard encountered unexpected hurdles after moving to Paris and later to Geneva. Nevertheless she was able to participate in exciting scientific developments; a highly rewarding counterpoint to the difficulties she faced. Although many things have improved for women in physics in the intervening years, there are still too few women in the pipeline. It is hoped that this book will help to convey the fun of doing physics to anyone so inclined.
"A Singularly Unfeminine Profession: One Woman's Journey in Physics" retails for US$45 / £30 (hardcover) and US$24 / £16 (paperback) at leading bookstores.
If you require a copy of the book for media review or would like to interview the author(s), please contact Jason CJ, cjlim@wspc.com.sg, +65-64665775, ext 247
###
About World Scientific Publishing
World Scientific Publishing is a leading independent publisher of books and journals for the scholarly, research and professional communities. The company publishes about 500 books annually and more than 120 journals in various fields. World Scientific collaborates with prestigious organisations like the Nobel Foundation, US National Academies Press, as well as its subsidiary, the Imperial College Press, amongst others, to bring high quality academic and professional content to researchers and academics worldwide. To find out more about World Scientific, please visit http://www.worldscientific.com
---