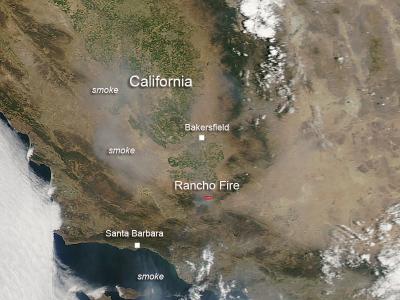 The Rancho Fire started 2 miles north of Lebec, CA on July 19, 2013 at approximately noon. While the fire originally started on Kern County jurisdiction, by the evening, it had burned into Los Padres National Forest. The fire has burned 722 acres and is 92% contained. Containment of the fire is expected on July 24, 2013. There are currently 337 resources assigned to the Rancho Fire, including 14 crews, 10 engines, 1 water tender and 2 helicopters. The cause of the fire is still under investigation.
This natural-color satellite image was collected by the Moderate Resolution Imaging Spectroradiometer (MODIS) aboard the Aqua satellite on July 19, 2013. Actively burning areas, detected by MODIS's thermal bands, are outlined in red.
###
NASA image courtesy Jeff Schmaltz LANCE/EOSDIS MODIS Rapid Response Team, GSFC. Caption by Lynn Jenner with information from inciweb.org.
---