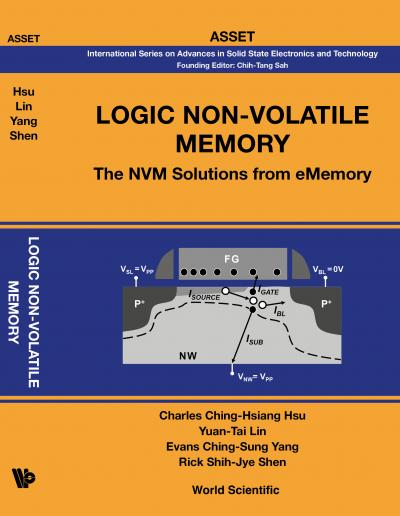 eMemory has been devoted to the development of Embedded Non-Volatile Memory Technology and Silicon Intellectual Property (SIP) over the years and accumulated rich mass-production results and practical experiences. Through「LOGIC NON-VOLATILE MEMORY-The NVM Solutions from eMemory」, eMemory wants to share their achievements and practical experiences with the industry and the academia.
This book is intended to serve as an introduction to readers to learn what is Logic NVM, when to use them, how to use them, and where to get them. It provides comprehensive instructions on fabricating NVM using the existing processes for fabricating logic integrated circuits, including the following Logic NVM products: One Time Programmable (OTP) memory, Multiple Time Programmable (MTP) memory, Flash memory, and Electrically Erasable and Programmable Read Only Memory (EEPROM).
The coverage includes: the fundamentals of the structures, physics, operations of the memory transistors, the basic building block of memory cells, and access circuits. The testing and reliability of embedded logic NVM are also described in details in this book. Whether to serve as a textbook or a guidebook, the book can provides solid theoretical basis as well as practical information; which is beneficial for readers to attain expert proficiency in the implementation of the embedded Logic NVM technology in their products. It is believed that this book can bring new energy into the industry and academic researches, laying out long-term foundations for the future developments of Embedded Non-Volatile Memory Technology.
The「LOGIC NON-VOLATILE MEMORY-The NVM Solutions from eMemory」 was written by Dr. Charles Ching-Hsiang Hsu, Mr. Yuan-Tai Lin, Dr. Evans Ching-Sung Yang, and Dr. Rick Shih-Jye Shen, who have over 20 years experience in the Electrical Engineering field. The embedded Logic NVM was invented and has been implemented in users' applications by the 200+ eMemory employees who are also the authors and authors-assistants of this book.
###
More information about the book can be found at http://www.worldscientific.com/worldscibooks/10.1142/8765.
---