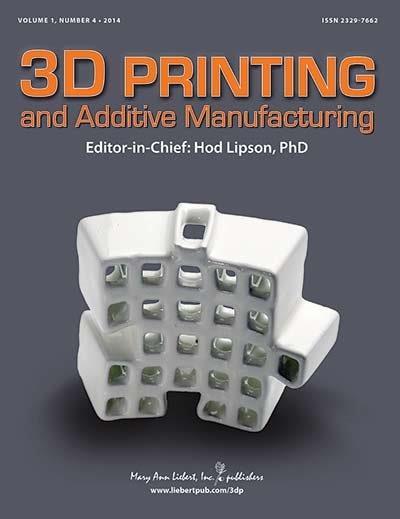 New Rochelle, NY, February 10, 2015--3D printing of plastic parts to prototype or manufacture goods is becoming commonplace in industry, but there is an urgent need for lower-cost 3D printing technology to produce metal parts. New substrate release solutions that offer easy, less expensive alternatives to aluminum parts removal during gas metal arc weld 3D printing are described in an article in 3D Printing and Additive Manufacturing, a peer-reviewed journal from Mary Ann Liebert, Inc., publishers. The article is available free on the 3D Printing and Additive Manufacturing website until March 10, 2015. A team led by Paul Sanders and Joshua Pearce from Michigan Technological University (Houghton, MI), tested several surface treatment methods for releasing 3D-printed aluminum parts from the reusable substrate on which they are deposited. In the article "Substrate Release Mechanisms for Gas Metal Arc Weld 3D Aluminum Metal Printing" the authors compare the printing and parts removal technologies based on cost and need for additional coating steps, warping of the substrate, interlayer adhesion strength, and ease of use. The experiments were all performed on Michigan Tech's open-source metal 3-D printer.
"We found that careful selection of substrates and coatings could result in the complete elimination of expensive tooling for the release of 3D printed aluminum components," says Joshua Pearce. "This approach cuts the cost of aluminum 3D printing, while the recycling of the substrates further enhances the ecological footprint of the technique."
"Metal printing has been one of the key drivers to industrial adoption of additive manufacturing, and aluminum part production has been particularly challenging. It's good to see new approaches being developed," says Editor-in-Chief Hod Lipson, PhD, Professor at Cornell University's Sibley School of Mechanical and Aerospace Engineering, Ithaca, NY.
###
About the Journal
3D Printing and Additive Manufacturing is a peer-reviewed journal published quarterly online with Open Access options and in print. Spearheaded by Hod Lipson, PhD, Director of Cornell University's Creative Machines Lab at the Sibley School of Mechanical and Aerospace Engineering, the Journal explores emerging challenges and opportunities ranging from new developments of processes and materials, to new simulation and design tools, and informative applications and case studies. Spanning a broad array of disciplines focusing on novel 3D printing and rapid prototyping technologies, policies, and innovations, the Journal brings together the community to address the challenges and discover new breakthroughs and trends living within this groundbreaking technology. Tables of content and a sample issue may be viewed on the 3D Printing and Additive Manufacturing website.
About the Publisher
Mary Ann Liebert, Inc., publishers is a privately held, fully integrated media company known for establishing authoritative medical and biomedical peer-reviewed journals, including Big Data, Soft Robotics, New Space, Tissue Engineering, and Stem Cells and Development. Its biotechnology trade magazine, Genetic Engineering & Biotechnology News (GEN), was the first in its field and is today the industry's most widely read publication worldwide. A complete list of the firm's more than 80 journals, newsmagazines, and books is available on the Mary Ann Liebert, Inc., publishers website.
---