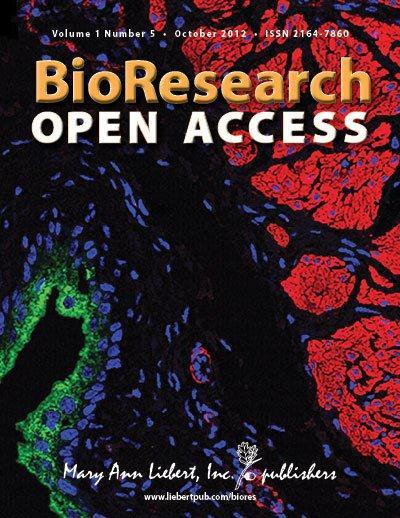 New Rochelle, NY, October 17, 2012—SELEX is a rapid, efficient, and iterative high-throughput method for screening large libraries of molecules to identify those with the potential to be developed as drug compounds or research tools. Advances in SELEX technology that have enabled screening in live cells, called Cell-SELEX, are explored in a comprehensive Review article published in BioResearch Open Access, a bimonthly peer-reviewed open access journal from Mary Ann Liebert, Inc. The article is available free on the BioResearch Open Access website.
Cell-SELEX uses live cells as targets for binding of molecules called aptamers, comprised of short chains of nucleic acids. Aptamers share many of the qualities that have made antibodies such successful drugs, but offer additional advantages such as stability, short length, and ease of manufacturing. Shoji Ohuchi, University of Tokyo, Japan, examines the ongoing progress in developing and refining this useful process for drug compound screening in the Review article "Cell-SELEX Technology."
"This review summarizes the progress and application of Cell-SELEX technology, providing an excellent resource for beginners to the field and experts alike," says Editor-in-Chief Jane Taylor, PhD, MRC Centre for Regenerative Medicine, University of Edinburgh, Scotland.
###
About the Journal
BioResearch Open Access is a bimonthly peer-reviewed open access journal that provides a new rapid-publication forum for a broad range of scientific topics including molecular and cellular biology, tissue engineering and biomaterials, bioengineering, regenerative medicine, stem cells, gene therapy, systems biology, genetics, biochemistry, virology, microbiology, and neuroscience. All articles are published within 4 weeks of acceptance and are fully open access and posted on PubMedCentral. All journal content is available on the BioResearch Open Access website.
About the Publisher
Mary Ann Liebert, Inc. is a privately held, fully integrated media company known for establishing authoritative peer-reviewed journals in many promising areas of science and biomedical research, including Assay and Drug Development Technologies, Tissue Engineering, Stem Cells and Development, Human Gene Therapy and HGT Methods, and AIDS Research and Human Retroviruses. Its biotechnology trade magazine, Genetic Engineering & Biotechnology News (GEN), was the first in its field and is today the industry's most widely read publication worldwide. A complete list of the firm's 70 journals, books, and newsmagazines is available on the Mary Ann Liebert, Inc. website.
---
Journal
BioResearch Open Access