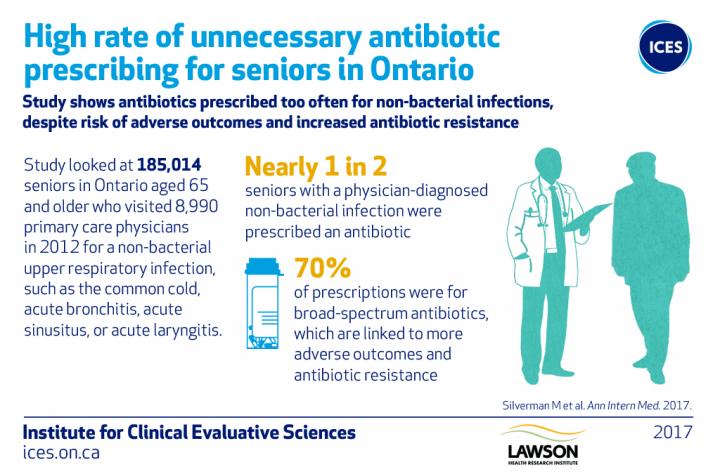 London, Ontario -- Nearly one in two seniors in Ontario who visited a family doctor for a non-bacterial infection received an unnecessary antibiotic prescription, according to a new study from the Institute for Clinical Evaluative Sciences (ICES) Western site in London, Ontario and Lawson Health Research Institute.
The study published today in Annals of Internal Medicine, examined the rate of antibiotic prescribing for seniors who presented to a primary care physician in 2012 and the characteristics of the physicians prescribing the antibiotics.
"Unnecessary antibiotic use, such as antibiotic use for viral infections, is a major public health concern associated with avoidable adverse drug events, increased health care costs, and the emergence of antibiotic-resistant infections," says Dr. Marcus Povitz, author of the study, ICES Fellow, ICES Faculty Scholar, respirologist at London Health Sciences Centre (LHSC) and Assistant Professor in the Division of Respirology and Department of Epidemiology and Biostatistics at Western University's Schulich School of Medicine & Dentistry.
The study looked at 185,014 low-risk Ontarian seniors (65 years and older) for whom antibiotics would not be clinically appropriate; who visited 8,990 primary-care physicians for a non-bacterial upper respiratory infection such as the common cold (53 per cent), acute bronchitis (31 per cent), acute sinusitis (14 per cent) or acute laryngitis (2 per cent) and found:
Nearly one in two (85,538; or 46 per cent) were prescribed an antibiotic.
The majority of prescriptions were for broad-spectrum antibiotics (70 per cent), which are associated with a greater risk of adverse patient outcomes (such as Clostridium difficile, diarrhea, heart problems, tendon ruptures, allergic reactions, etc.) and the development of antibiotic resistance.
"Our study shows that antibiotics are being prescribed too often for conditions that they cannot help despite published professional guidelines that discourage this practice. Unnecessary antibiotics can cause serious harm," says Dr. Michael Silverman, author of the study, Lawson scientist and Chair/Chief of Infectious Diseases for London Health Sciences Centre, St. Joseph's Health Care London and Western University.
The study also found that patients were more likely to receive prescriptions from physicians who have been in practice for more than a decade, those who trained outside of Canada and the U.S. and those who had higher patient volumes.
The researchers suggest that next steps would include targeted interventions to reduce inappropriate antibiotic prescribing which would require an understanding of the physician factors associated with this practice.
###
"Antibiotic prescribing for acute non-bacterial upper-respiratory infections in the elderly," is published in Annals of Internal Medicine.
Author block: Silverman M, Povitz M, Sontrop JM, Li L, Richard L, Cejic S, Shariff SZ.
FOR MORE INFORMATION, PLEASE CONTACT:
Robert DeLaet
Communications & External Relations
Lawson Health Research Institute
t: 519-685-8500 ext. 75664
robert.delaet@lawsonresearch.com
Deborah Creatura
Media Advisor, ICES
t: 416-480-4780
c: 647-406-5996
deborah.creatura@ices.on.ca
ABOUT LAWSON HEALTH RESEARCH INSTITUTE
As the research institute of London Health Sciences Centre and St. Joseph's Health Care London, and working in partnership with Western University, Lawson Health Research Institute is committed to furthering scientific knowledge to advance health care around the world.
ABOUT THE INSTITUTE FOR CLINICAL EVALUATIVE SCIENCES (ICES)
The Institute for Clinical Evaluative Sciences (ICES) is an independent, non-profit organization that uses population-based health information to produce knowledge on a broad range of health care issues. Our unbiased evidence provides measures of health system performance, a clearer understanding of the shifting health care needs of Ontarians, and a stimulus for discussion of practical solutions to optimize scarce resources. ICES knowledge is highly regarded in Canada and abroad, and is widely used by government, hospitals, planners, and practitioners to make decisions about care delivery and to develop policy. For the latest ICES news, follow us on Twitter: @ICESOntario
---
Journal
Annals of Internal Medicine
DOI