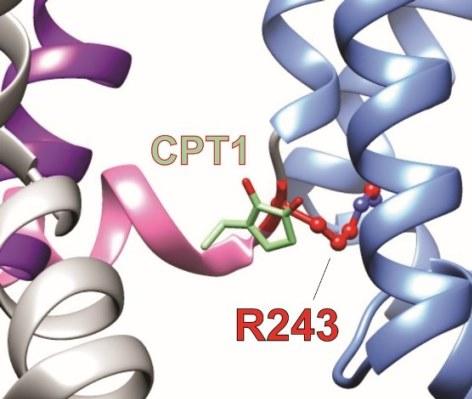 Irvine, CA - November 14, 2018 - Researchers in the Department of Physiology & Biophysics at the University of California, Irvine School of Medicine have discovered the molecular basis for therapeutic actions of an African folk medicine used to treat a variety of illnesses and disorders including diabetes, pain, headaches, paralysis and epilepsy.
The herbal medicine, a leaf extract from the shrub Mallotus oppositifolius, has been used across Africa for centuries. Until now, the molecular mechanism was not completely understood. The discovery, published in Science Advances, found that two components of the Mallotus leaf extract bind to a previously unrecognized binding site on KCNQ1, a potassium channel essential for controlling electrical activity in many human organs, including the heart, kidneys, gastrointestinal tract, thyroid and pancreas.
"Plants are a rich source of compounds that modulate ion channels. We discovered the compounds from the African folk medicine actually bind to a novel site, positioned between the channel pore and its voltage sensor. In addition, we found one of the compounds is of a chemical class previously not recognized as a KCNQ channel opener. These dual discoveries may facilitate future development of safer, more effective drugs."
The UCI research team, comprising Angele De Silva, BS, postdoctoral fellow Rían Manville, PhD, and principal investigator Geoffrey Abbott, MSc, PhD, screened individual compounds from the Mallotus leaf extract for KCNQ1 opening activity, confirming one previously known channel activator and discovering one entirely new activator. They then used computer modeling to identify the binding site for these drugs on KCNQ1, and confirmed this previously unrecognized site using functional studies of mutant KCNQ1 channels. The UCI team also found that the new drug binding site they had discovered is present on a different type of channel, KCNQ2/3, which is found in the brain and linked to epilepsy and encephalopathy. Discovery of this new site could point the way to improved anti-epileptic drugs.
"Genetic disruption of KCNQ1 causes lethal cardiac arrhythmias and is also associated with gastric cancer, type II diabetes, and thyroid and pituitary gland dysfunction. KCNQ2/3 disruption causes epilepsy and severe developmental delay. Therefore, new strategies are needed to therapeutically activate these potassium channels and overcome the effects of genetic disruption. The discovery of novel botanicals that might help in KCNQ drug development strategies highlights the importance of protecting plant species that can produce novel therapeutics. Factors including habitat loss, over-collecting, and climate change are threatening this invaluable resource," said Abbott.
###
This study was supported by the US National Institutes of Health (GM115189).
About the UCI School of Medicine
Each year, the UCI School of Medicine educates more than 400 medical students, as well as 200 doctoral and master's students. More than 600 residents and fellows are trained at UC Irvine Medical Center and affiliated institutions. The UCI School of Medicine offers an MD degree, a dual MD/PhD medical scientist training program, PhDs and master's degrees in anatomy and neurobiology, biomedical sciences, genetic counseling, epidemiology, environmental health sciences, pathology, pharmacology, physiology and biophysics, and translational sciences. Medical students also may pursue an MD/MBA program, a combined MD/Master's in Public Health or a dual MD/master's program called the Program in Medical Education for the Latino Community (PRIME-LC). UCI School of Medicine is accredited by Liaison Committee on Medical Accreditation (LCME), and ranks among the top 50 nationwide for research. For more information, visit: som.uci.edu.
About the University of California, Irvine
Founded in 1965, UCI is the youngest member of the prestigious Association of American Universities. The campus has produced three Nobel laureates and is known for its academic achievement, premier research, innovation and anteater mascot. Led by Chancellor Howard Gillman, UCI has more than 30,000 students and offers 192 degree programs. Located in one of the world's safest and most economically vibrant communities, UCI is Orange County's second-largest employer, contributing $5 billion annually to the local economy. For more on UCI, visit http://www.uci.edu.
---