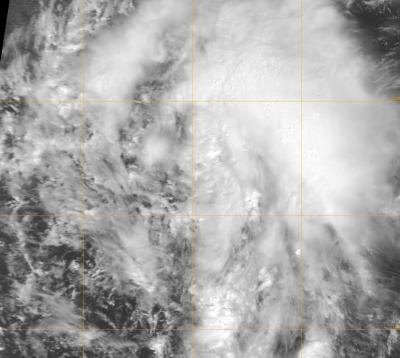 The fifteenth tropical depression of the Atlantic Ocean hurricane season was born on Oct. 3 an NASA's Terra satellite captured an image of it as it came to be.
NASA's Terra satellite passed over newborn Tropical Depression 15 on Oct. 3 at 8:52 a.m. EDT in the central Atlantic Ocean and the Moderate Resolution Imaging Spectroradiometer (MODIS) instrument captured an image of the storm. Shortly after the image was created, forecasters at the National Hurricane Center looking at the MODIS and other satellite data determined that the low pressure area had become a depression.
On Oct. 3 at 11 a.m. EDT, the center of tropical depression fifteen (TD15) was located near latitude 17.3 north and longitude 41.5 west, about 1,160 miles (1,870 km) west of the Cape Verde Islands. The depression is moving toward the northwest near 15 mph (24 kmh) and is expected to turn north and slow down by Oct. 4 before turning to the northeast. TD15's maximum sustained winds were near 35 mph (55 kph). TD15's estimated minimum central pressure was 1008 millibars.
The depression is expected to strengthen into Tropical Storm Oscar later on Oct. 3 or by Oct. 4 and move to the north and northeast. The National Hurricane Center does not expect Oscar to last very long because it is forecast to move into hostile atmospheric territory.
###
---