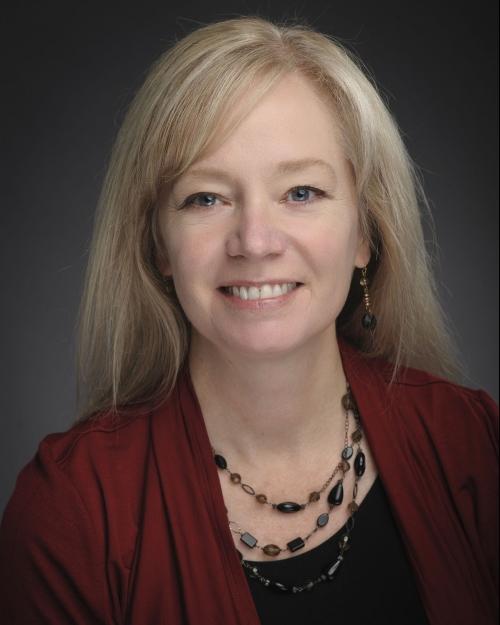 BOZEMAN-- The American Chemical Society has selected Montana State University professor Joan Broderick for the 2019 Alfred Bader Award in Bioinorganic or Bioorganic Chemistry. Established in 1986, the prestigious annual award honors a scientist for outstanding research accomplishments at the interface of biology and organic or inorganic chemistry.
"What an incredible surprise to find out I would be receiving this award; it is truly an honor," said Broderick who heads the Department of Chemistry and Biochemistry in MSU's College of Letters and Science. "The award is a testament to the outstanding scientific team I've had the privilege to work with over the years: Will Broderick - my partner in science and life, as well as the collaborators, students and postdocs who have shared my enthusiasm for understanding the chemical details of these fascinating enzymes."
"I am so delighted and proud that Dr. Broderick's outstanding research record and impact on her field has been recognized with such a prestigious award from chemistry's major national professional organization," said Nicol Rae, dean of MSU's College of Letters and Science. "Dr. Broderick's research has both advanced the field of bioinorganic chemistry and contributed to the success of the many undergraduate and graduate students she has mentored in her lab."
Broderick will receive the award in April 2019, at the American Chemical Society's National Meeting in Orlando, Florida.
Broderick is an internationally recognized scientist whose research focuses on radical SAM enzymes and biological metal cluster assembly in hydrogenases. Radical SAM enzymes are one of the largest enzyme superfamilies in nature, with more than 100,000 proteins found in bacteria, plants, and animals. They are responsible for key biological functions, including human immune defense, synthesis of components of DNA, and synthesis and assembly of organic and inorganic cofactors in biology. This last function includes synthesis of the metal clusters in hydrogenases, enzymes that catalyze the reversible production of hydrogen gas.
Her contributions to science include the publication of nearly 100 scholarly papers and a sustained record of funding from the National Institutes of Health and the U.S. Department of Energy.
Along with her research, Broderick is known for her excellence in teaching. At MSU, she teaches advanced undergraduate and graduate-level chemistry, as well as Honors Chemistry I, the first science course taken by many Honors College students at MSU and a pivotal course from which many students establish a strong grasp of fundamentals in science. In 2017, she was awarded the James and Mary Ross Provost's Award for Excellence in recognition of her success in teaching and scholarship.
Over the course of her career, Broderick has mentored next-generation scientists in the Broderick Research Lab, a bioinorganic chemistry research group focused on understanding the chemistry of iron-sulfur clusters, biological radical reactions, and biological metal cluster assembly. Her students have gone on to win fellowships and other competitive grants and awards, including Goldwater Scholarships, National Science Foundation Graduate Research Fellowships, Kopriva Graduate Student Fellowships, and National Institutes of Health Postdoctoral Fellowships.
Broderick was also recognized with MSU's first-ever Women in Science Distinguished Professor Award, which was established by Nancy Seleski, an MSU alumna who is the director of supply chain and quality for 3M's Industrial Business. The award honors outstanding faculty women in the sciences who champion equity and diversity and have excelled in research accomplishments, teaching and mentorship, as well as made contributions to Montana and/or MSU.
Before joining the faculty at MSU in 2005, Broderick held faculty positions at Amherst College and Michigan State University. Prior to that, she earned her bachelor's degree in chemistry from Washington State University in 1987 and her doctorate in chemistry from Northwestern University in 1992, followed by postdoctoral research at MIT, where she worked in the lab of renowned chemist JoAnne Stubbe, a member of the National Academy of Sciences and a recipient of the National Medal of Science.
Stubbe said she is proud and thrilled that Broderick has been recognized for her "seminal contributions to our understanding of the founder of the radical SAM (S-adenosylmethionine) superfamily of enzymes, pyruvate formate lyase."
"Joan's prowess in enzyme purification and the regeneration of the essential, oxygen labile 4Fe4S cluster is an accomplishment that took great resilience and was key to the ultimate success of the beautiful experiments for which she is receiving this award," Stubbe said. "Joan has outstanding intuition about problem choice. She has exhibited the persistence and passion to stick with difficult problems resulting in the discovery of new reactions and novel chemistry."
Currently, Broderick serves on the Editorial Advisory Board of the Journal of Biological Chemistry and is a member of the International Organizing Committee for the International Conference on Bioinorganic Chemistry.
###
---