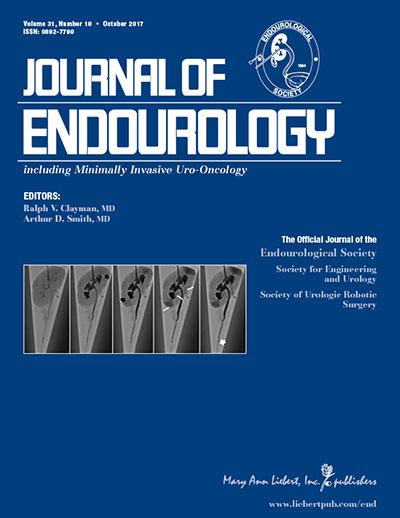 New Rochelle, NY, November 21, 2017--Radiation exposure during diagnostic imaging such as computed tomography (CT) contributes to a small, but potentially preventable percentage of cancers, yet a new study reports that 40% of hospitals surveyed do not routinely utilize CT shielding. Overall, 99% of the hospitals were aware that shielding can safeguard patients and 84% believed it to be beneficial, so why isn't it being used more routinely -- a topic explored in the study published in Journal of Endourology, a peer-reviewed journal from Mary Ann Liebert, Inc., publishers. The article is available free on the Journal of Endourology website until December 21, 2017.
The article entitled "Prevalence of Protective Shielding Utilization for Radiation Dose Reduction in Adult Patients Undergoing Body Scanning Using Computed Tomography" was coauthored by Jaime Landman, MD and colleagues from University of California, Irvine. In their survey of hospital shielding practices during CT imaging, the researchers focused on the protection of four radiosensitive organs: eyes, thyroid, breasts, and gonads.
###
About the Journal
Journal of Endourology and Videourology is the leading peer-reviewed journal and innovative videojournal companion exclusively focused on minimally invasive urology research, applications, and clinical outcomes. Led by Co-Editors-in-Chief Ralph V. Clayman, MD, University of California, Irvine and Arthur D. Smith, MD, The Smith Institute for Urology, the Journal is a critical resource for practicing surgeons to keep up with the latest surgical techniques and technologies. Journal of Endourology and Videourology are the official journals of the Endourological Society, Society for Engineering and Urology, and Society of Urologic Robotic Surgeons. Complete tables of content and a sample issue may be viewed on the Journal of Endourology and Videourology website.
About the Publisher
Mary Ann Liebert, Inc., publishers is a privately held, fully integrated media company known for establishing authoritative peer-reviewed journals in many promising areas of science and biomedical research, including Case Reports in Endourology, Journal of Laparoendoscopic & Advanced Surgical Techniques and Videoscopy, Journal of Gynecologic Surgery, and Surgical Infections. Its biotechnology trade magazine, GEN (Genetic Engineering & Biotechnology News), was the first in its field and is today the industry's most widely read publication worldwide. A complete list of the firm's 80 journals, books, and newsmagazines is available on the Mary Ann Liebert, Inc., publishers website.
---
Journal
Journal of Endourology