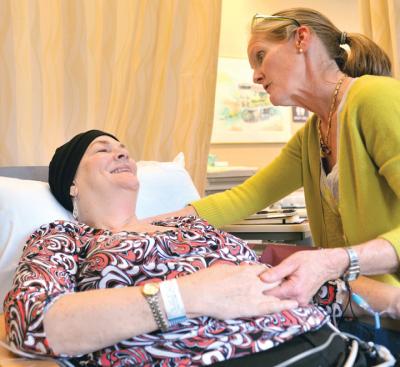 LEXINGTON, Ky. (Jan. 2, 2013) — The University of Kentucky Markey Cancer Center's Jennifer Bradley has received funding from the Lexington Cancer Foundation to continue the Jin Shin Jyutsu program in 2013.
Jin Shin Jyutsu (JSJ) is an ancient form of touch therapy similar to acupuncture in philosophy. Bradley, a licensed practitioner, originally began offering free JSJ sessions to patients as a Markey volunteer in 2009. In 2010, she received a $49,000 initial grant from the Lexington Cancer Foundation to provide the touch therapy to cancer patients full-time. Since then, Bradley has offered up to five free sessions to Markey patients at no charge. For 2013 she has received a $25,000 grant to continue the program.
At Markey Research Day in May 2012, Bradley presented a study that found that in each JSJ session, patients experienced significant improvement in the areas of pain, stress, and nausea with the first visit and in subsequent visits as well.
With the new grant, Bradley will continue to study the effects of her touch therapy on patients and build the JSJ program at Markey. Bradley currently has one JSJ volunteer who is a practitioner in training and hopes to increase the number of volunteers as more practitioners are trained in the central Kentucky area.
She also plans to increase awareness of JSJ self-help through free classes at the UK Markey Cancer Center and the Hope Lodge, and through free videos to be distributed in Markey's Bone Marrow Transplant Unit, the Markey Hospital and Chemotherapy Clinic as well as to outpatients who have shown an interest in Jin Shin Jyutsu and those unable to travel to Markey on a regular basis for treatment due to distance or financial restrictions.
"The primary goal of the Jin Shin Jyutsu program at Markey for 2013 is to extend our reach," Bradley said. "There are only so many patients that one practitioner and one volunteer can see each week. Through the utilization of videos and the teaching of Jin Shin Jyutsu self-help, we can expand our reach exponentially, and at the same time empower patients that they can be a significant part of their own care."
JSJ is considered part of an integrative treatment plan at the UK Markey Cancer Center. Patients may self-refer, though more than 50 percent of patients currently seen are referred by their physician or Markey staff.
During a session, patients receive light touches on 52 specific energetic points called Safety Energy Locks as well as fingers, toes, and midpoints on the upper arm, upper calf and lower leg in predetermined orders known as "flows." Patients remained clothed except for shoes and all hand placements are done over clothing.
The new grant from the Lexington Cancer Foundation will last through June 2013. But Bradley continues to push for further funding to keep the program going strong, noting that her studies have shown that the treatment seems to offer relief for patients experiencing stress, sleeplessness and other uncomfortable physical symptoms.
"This program simply must continue," Bradley said. "We are seeing daily that Jin Shin Jyutsu seems to offer relief, though it is still not clear scientifically why this is the case. It is important to fund this program so that we can continue helping our patients feel better, and to give us the ability to research why and how Jin Shin Jyutsu works. In working collaboratively with the physicians here at Markey, we are creating a new and exciting model of health care."
###
---