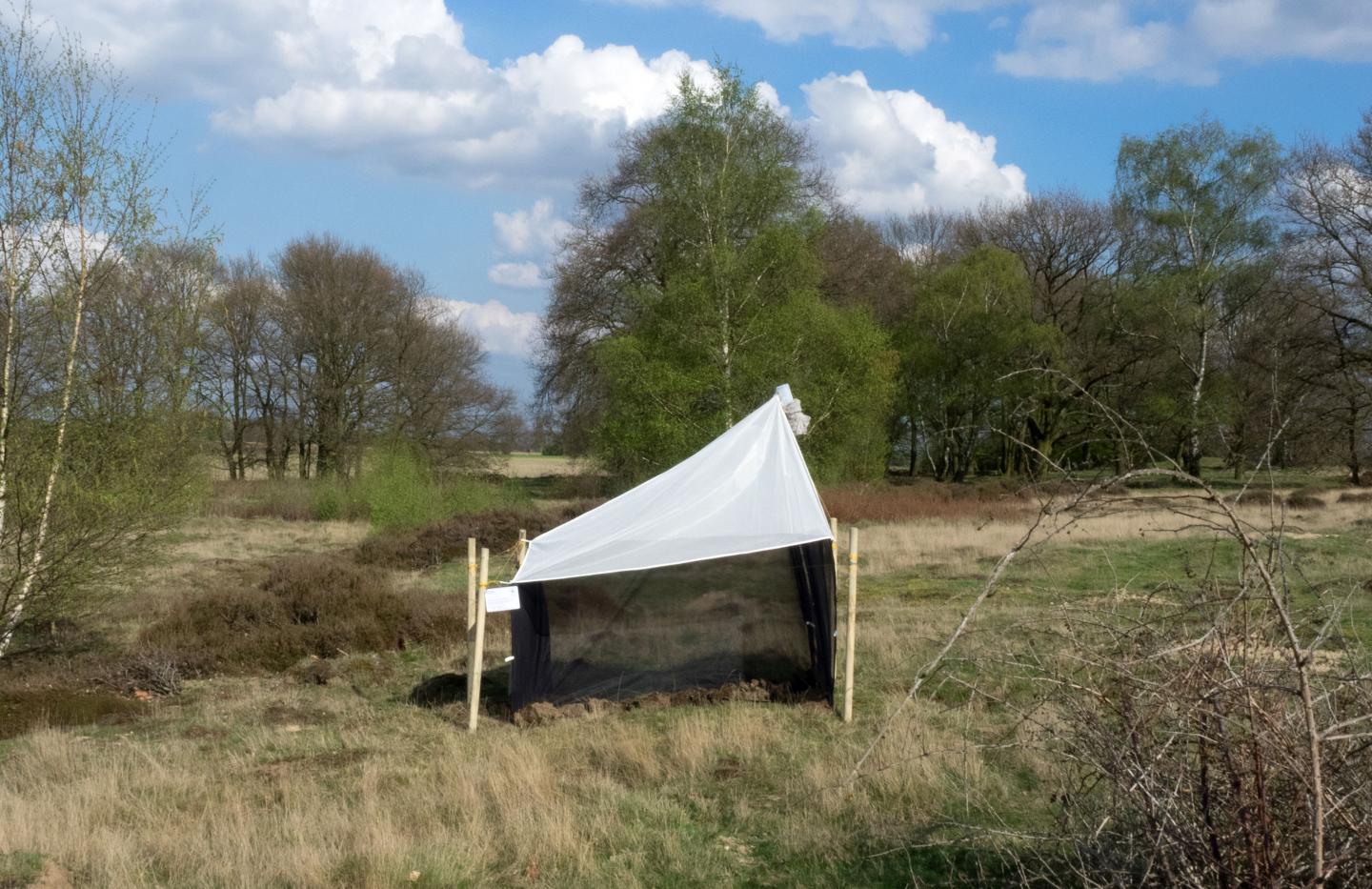 The total flying insect biomass decreased by more than 75 percent over 27 years in protected areas, according to a study published October 18, 2017 in the open-access journal PLOS ONE by Caspar Hallmann from Radboud University, The Netherlands, and colleagues.
Insects play a crucial role in ecosystem functioning, pollinating 80 percent of wild plants and providing a food source for 60 percent of birds. Previous research has shown an overall pattern of decline in insect diversity and abundance, but has focused on single species or taxonomic groups, rather than monitoring insect biomass over an extensive period.
To gain a better understanding of the extent and underlying causes of insect decline, Hallmann and colleagues measured total flying insect biomass using Malaise traps, deployed over 27 years in 63 nature protection areas in Germany. They found that the average flying insect biomass declined 76% (up to 82% in midsummer) in just 27 years in these locations. Their results align with recently reported declines in vulnerable species such as butterflies, wild bees and moths, but also suggest a severe loss of total flying aerial biomass, suggesting that the entire flying insect community has been decimated over the last few decades.
The researchers found that this dramatic decline was apparent regardless of habitat type, and changes in weather, land use, and habitat characteristics were not able to explain the overall decline. They suggest that large-scale factors must be involved, and additional research should further investigate the full range of climactic and agricultural variables that could potentially impact insect biomass. The authors urge further investigation of causes for this decline, its geographical extent, and how its potential impact on the ecosystem.
Hallman states: "Since 1989, in 63 nature reserves in Germany the total biomass of flying insects has decreased by more than 75 percent. This decrease has long been suspected but has turned out to be more severe than previously thought."
###
In your coverage please use this URL to provide access to the freely available article in PLOS ONE: http://journals.plos.org/plosone/article?id=10.1371/journal.pone.0185809
Citation: Hallmann CA, Sorg M, Jongejans E, Siepel H, Hofland N, Schwan H, et al. (2017) More than 75 percent decline over 27 years in total flying insect biomass in protected areas. PLoS ONE 12(10): e0185809. https://doi.org/10.1371/journal.pone.0185809
Funding: CH and EJ were supported by the Netherlands Organization for Scientific Research (NWO grants 840.11.001 and 841.11.007), and NH by the Triodos Foundation. The investigations of the Entomological Society Krefeld and its members are spread over numerous individual projects at different locations and in different years. Grants and permits that have made this work possible are listed below: Bezirksregierungen Düsseldorf & Köln, BfN - Bundesamt für Naturschutz, Land Nordrhein-Westfalen - Europäische Gemeinschaft ELER, Landesamt für Agrarordnung Nordrhein-Westfalen, Landesamt für Natur, Umwelt und Verbraucherschutz Nordrhein-Westfalen, Landesamt für Umwelt Brandenburg, Landesamt für Umwelt Rheinland-Pfalz, LVR - Landschaftsverband Rheinland, Naturschutzbund Deutschland, Nordrhein-Westfalen Stiftung, RBN Bergischer Naturschutzverein, RVR - Regionalverband Ruhr, SGD Nord Rheinland-Pfalz, Universitäten Bonn, Duisburg-Essen & Köln, Untere Landschaftsbehörden: Kreis Düren, Kreis Heinsberg, Kreis Kleve, Kreis Viersen, Kreis Wesel & AGLW, Stadt Düsseldorf, Stadt Köln, Stadt Krefeld, Rheinisch Bergischer Kreis, Rhein Kreis Neuss & Rhein-Sieg-Kreis. Members of the Entomological Society Krefeld and cooperating botanists and entomologists that were involved in the empirical investigations are greatly acknowledged: U.W. Abts, F. Bahr, A. Bäumler, D. & H. Beutler, P. Birnbrich, U. Bosch, J. Buchner, F. Cassese, K. Cölln, A.W. Ebmer, R. Eckelboom, B. Franzen, M. Grigo, J. Günneberg, J. Gusenleitner, K. Hamacher, F. Hartfeld, M. Hellenthal, J. Hembach, A. Hemmersbach, W. Hock, V. Huisman-Fiegen, J. Illmer, E. Jansen, U. Jäckel, F. Koch, M. Kreuels, P. Leideritz, I. Loksa, F. B. Ludescher, F. J. Mehring, G. Milbert, N. Mohr, P. Randazzo, K. Reissmann, S. Risch, B. Robert, J. de Rond, U. Sandmann, S. Scharf, P. Scherz, J. Schiffer, C. Schmidt, O. & W. Schmitz, B. P. & W. Schnell, J. L. Schönfeld, E. Schraetz, M. Schwarz, R. Seliger, H. W. Siebeneicher, F. & H. Sonnenburg W. J. S. & P. Sorg, A. Ssymank, H. Sticht, M. Weithmann, W. Wichard and H. Wolf.
Competing Interests: The authors have declared that no competing interests exist.
---