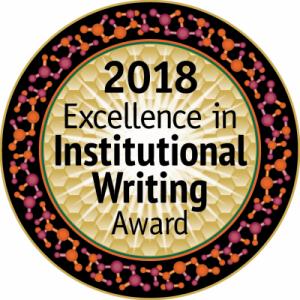 The National Association of Science Writers is pleased to announce the winner of the 2018 Excellence in Institutional Writing Award, "Cut Off," by Elaine Vitone, published in the summer 2017 issue of Pitt Med.
Vitone is a senior editor at Pitt Med, the magazine of the University of Pittsburgh School of Medicine, and writer/producer of Pitt Medcast, which has been featured on National Science Foundation's Science360 Radio and several NPR member stations.
In "Cut Off," Vitone leads readers through an investigation into the root of seemingly untreatable severe depression in adolescents. The judges write: "Her compelling narrative follows both an early patient, depicted authentically with details from reports, and an MD leading much of the research. The writing is colorful, compassionate and well-grounded in the science."
Vitone will receive a cash prize of $2,000, to be awarded at a reception on October 13, 2018, at the ScienceWriters2018 meeting taking place this year in Washington, DC.
Two additional entries were selected for Honorable Mention:
"Whole Again," by Timothy Gower, published in Proto Magazine from Massachusetts General Hospital
"Brave New Worlds," by Bill Retherford, published in Columbia Magazine from Columbia University
NASW established the Excellence in Institutional Writing Award in 2018 to recognize high-caliber, publicly accessible science writing produced on behalf of an institution or other non-media organization.
NASW thanks the judging committee: Eric Bender (freelance), Kathryn Jepsen (Symmetry, SLAC National Accelerator Laboratory) and Jill Schlabig Williams (Cincinnati Children's Hospital Medical Center). The Awards Committee was co-chaired by Alla Katsnelson (freelance) and Jyoti Madhusoodanan (freelance), and the Excellence in Institutional Writing Award was coordinated by Awards Committee members Barbara Gastel (Texas A&M University) and Jill Sakai (freelance).
###
Entries for next year's competition, for material published or broadcast in 2018, are due February 1, 2019. Entry forms will be available at http://www.nasw.org/excellence in December 2018.
The largest organization devoted to the professional interests of science writers, the National Association of Science Writers fosters the dissemination of accurate information regarding science through all media normally devoted to informing the public. Its 2,665 members include science writers and editors and science-writing educators and students. For questions or more information visit http://www.nasw.org or write director@nasw.org.
---