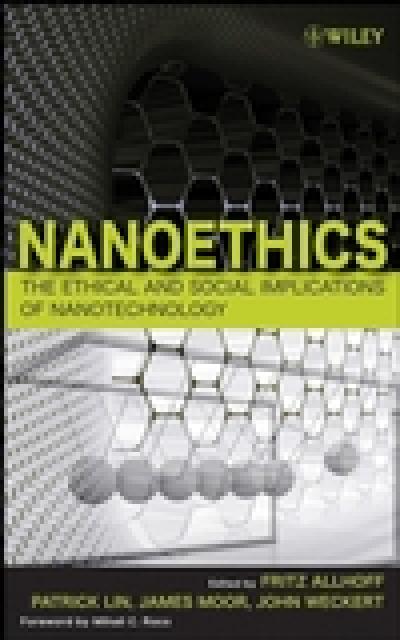 Nanotechnology is a broad new technology that promises many beneficial uses but also raises a host of ethical and social questions. Separating science fiction from science fact is vital in considering these issues, especially if it affects public policy. Examining the impact of nanotechnology on society, "Nanoethics: The Ethical and Social Implications of Nanotechnology" (Wiley; August 2007; 416 Pages; Cloth; $89.95; 978-0-470-08416-8; Paper; $39.95; 978-0-470-08417-5; http://www.wiley.com/WileyCDA/WileyTitle/productCd-0470084170.html) offers incisive essays on the potential risks and rewards of applications of nanotechnology written by both proponents and critics of this burgeoning technology. Following an introduction to nanotechnology and nanoethics, the book delves into the near-, mid-, and far-term issues related to current and future applications of nantechnology.
Featuring contributions from nearly 40 leading experts worldwide that reflect diverse perspectives, "Nanoethics" goes beyond the usual coverage of environmental, health, and safety to explore:
Nanomedicine, human enhancement, and life extension
Education and humanitarianism
The anthology boasts an industry "A-List" of contributors from across the globe, including Mihail Roco (National Science Foundation), Ray Kurzweil (Kurzweil Technologies), Christine Peterson (Foresight Nanotech Institute), Richard A.L. Jones (University of Sheffield), Nick Bostrom (University of Oxford), Jean-Pierre Dupuy (Stanford University), David Guston (Arizona State University), James Hughes (Trinity College), Jeroen van den Hoven (Delft University of Technology), Joachim Schummer (Techical University of Darmstadt).
A vital resource for scientists, researchers, policymakers, regulators and anyone who wants to understand the challenges, principles, and potential of nanotechnology, "Nanoethics: The Ethical and Social Implications of Nanotechnology" offers an informed, proactive approach to nanoethics that addresses emerging controversies before they impede progress or impact our welfare.
###
About the Editors:
Fritz Allhoff, Ph.D., is an Assistant Professor at Western Michigan University and Research Associate at The Australian National University's Centre for Applied Philosophy and Public Ethics (CAPPE). He has also held a senior research fellowship at the American Medical Association's Institute for Ethics. Dr. Allhoff has published numerous articles in prominent academic journals and is the principal investigator on one of two collaborative grants from the U.S. National Science Foundation to study the ethical implications of human enhancement and nanotechnology.
Patrick Lin, Ph.D., is Director for The Nanoethics Group, a non-partisan organization focused on the social and ethical impact of emerging technologies. Along with his co-editors, he is part of the aforementioned grants awarded by the US National Science Foundation. Dr. Lin is a visiting assistant professor at California Polytechnic State University at San Luis Obispo and holds academic appointments at Dartmouth College, as well as Western Michigan University.
James Moor, Ph.D., is a Professor in the Department of Philosophy at Dartmouth College and an adjunct professor at the Centre for Applied Philosophy and Public Ethics. Dr. Moor has published numerous articles related to computer ethics, logic, and philosophies of artificial intelligence, mind, and science. In addition to serving as editor of the journal Minds and Machines, he is President of the International Society for Ethics and Information Technology.
John Weckert, Ph.D., is a Professorial Fellow in the Centre of Applied Philosophy and Public Ethics, Charles Stuart University, The University of Melbourne, and the Australian National University. He is Founder and Editor-in-Chief of the new journal NanoEthics: Ethics for Technologies that Converge on the Nanoscale, which launched March 2007.
Founded in 1807, John Wiley & Sons, Inc. has been a valued source of information and understanding for 200 years, helping people around the world meet their needs and fulfill their aspirations. Our core businesses include scientific, technical, and medical journals, encyclopedias, books, and online products and services; professional and consumer books and subscription services; and educational materials for undergraduate and graduate students and lifelong learners. Wiley's global headquarters are located in Hoboken, New Jersey with operations in the U.S., Europe, Asia, Canada, and Australia. The Company's web site is www.wiley.com. Wiley is listed on the New York Stock Exchange under the symbols JWa and JWb.
---