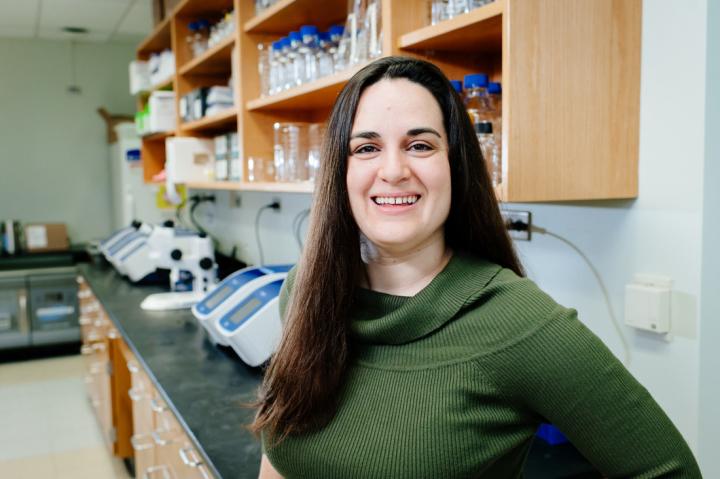 BIRMINGHAM, Ala. - Summer Thyme, Ph.D., has been named as one of 22 early-career researchers selected to join the Pew Scholars Program in the Biomedical Sciences. These scientists will receive funding from the Pew Charitable Trusts over the next four years as they investigate timely questions surrounding human health and disease.
This is the fourth prestigious early-stage investigator award for Thyme, an assistant professor in the University of Alabama at Birmingham Department of Neurobiology. In spring 2020, she was awarded a Klingenstein-Simons Fellowship in Neuroscience, in fall 2020 she was awarded a Mallinckrodt Grant by the St. Louis-based Edward Mallinckrodt Jr. Foundation, and recently in 2021 she was awarded an Alkermes Pathways Research Award.
The 2021 class of Pew Scholars -- all of whom are early-career junior faculty -- join more than 1,000 other scientists who have received awards from Pew since 1985. Only one application per institution is allowed. Current scholars have opportunities to meet annually, share ongoing research and exchange perspectives across the health sciences field.
"Pew has a history of supporting talented researchers who are committed to understanding intricate scientific processes," said Susan K. Urahn, Pew's president and CEO. "Our newest cohort of scholars is joining a large community of accomplished scientists who are dedicated to uncovering new solutions to significant biomedical challenges."
The 2021 scholars were chosen from 198 applicants nominated by leading academic institutions and researchers across the United States. This year's class includes scientists exploring the genetic evolution of cancer cells, how regulatory RNAs influence embryonic development and how animals select specific types of foods for their nutritional needs.
Thyme is one of five Pew Biomedical Scholars who will make up the sixth class of the Kathryn W. Davis Aging Brain Scholars. They are supported by the Kathryn W. Davis Peace by Pieces Fund, an initiative to increase understanding of the processes and conditions of the brain as it ages. Davis was a philanthropist who in her long and rich life was a supporter of medical research and held great optimism about the potential of young people to forge new paths of discovery.
In her research, Thyme is developing new methods for dissecting the genetic underpinnings of neurodevelopmental disease. She does this by studying zebrafish, which share more than 70 percent of their genes with humans. Zebrafish are inch-long, minnow-like fish with five blue stripes. Their genome has been completely sequenced, and their brains are transparent and have architecture and cell types similar to those of mammals. This transparency enables visualization of brain development and neural activity. Thyme's Pew Scholar grant support will provide $75,000 a year for four years.
"I am honored to be named a Pew Scholar," Thyme said, "and I am thankful for the supportive environment of UAB and the Department of Neurobiology that helped make this possible."
"Dr. Thyme has exceeded all of our already high expectations," said Craig M. Powell, M.D., Ph.D., chair of Neurobiology. "Her work is poised to make a huge impact on neuropsychiatric disorders for decades to come. We are very proud of her accomplishments in under two years on our faculty."
Thyme is the third UAB researcher to be named a Pew Scholar, after George M. Shaw, M.D., Ph.D., in 1986, and Guillermo Marqués, Ph.D., in 2004. Shaw is now at the University of Pennsylvania, and Marqués is at the University of Minnesota.
Thyme earned bachelor's degrees in biology and chemistry at Scripps College. She completed her Ph.D. studying protein engineering at the University of Washington, where she was an NSF Graduate Research Fellow. At Harvard University, Thyme was a Damon Runyon Postdoctoral Research Fellow and a National Institutes of Mental Health K99/R00 recipient in Alexander Schier's laboratory, establishing the expertise with zebrafish that has laid the groundwork for her research at UAB. With Schier, she generated over a hundred zebrafish mutants for schizophrenia-associated genes and assessed their brain activity, brain structure and behavior.
###
---