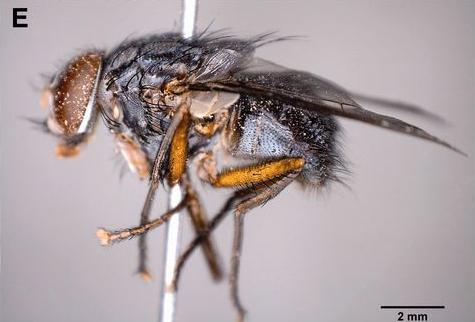 Philornis downsi is a parasitic muscid fly that is native to mainland South America. Decades ago, it was accidentally introduced to the Galápagos Islands, where it harms Darwin's finches and other land birds.
Females lay eggs inside active bird nests, and then the resulting larvae feed on the nestlings. The first-instar larvae feed inside the nares (nostrils) of the baby birds, while the second and third instars feed by scratching the birds' skin and ingesting the blood and other bodily fluids.
No one knows exactly how the flies were introduced to the Galápagos, or where they came from, but scientists have hypothesized that they probably came from mainland Ecuador, even though they have never been found there. Now research reported in the Annals of the Entomological Society of America seems to support that hypothesis, as scientists have documented the presence of P. downsi at two sites near Ecuador's coast. In addition, they found two new species of birds that were previously unknown to be attacked by the flies -- the streak-headed woodcreeper (Lepidocolaptes souleyetii) and the fasciated wren (Campylorhynchus fasciatus) -- bringing the total number of host species to 37.
There may also be some good news, as the researchers also discovered evidence of at least one parasitoid wasp that attacks the flies. However, further research on the parasitoid would be necessary before biological-control releases could be contemplated.
###
The full article, "Philornis downsi (Diptera: Muscidae), an Avian Nest Parasite Invasive to the Galápagos Islands, in Mainland Ecuador," is available at http://dx.doi.org/10.1093/aesa/sav026.
The Annals of the ESA is published by the Entomological Society of America, the largest organization in the world serving the professional and scientific needs of entomologists and people in related disciplines. Founded in 1889, ESA today has nearly 7,000 members affiliated with educational institutions, health agencies, private industry, and government. Members are researchers, teachers, extension service personnel, administrators, marketing representatives, research technicians, consultants, students, and hobbyists. For more information, visit http://www.entsoc.org.
---
Journal
Annals of the Entomological Society of America