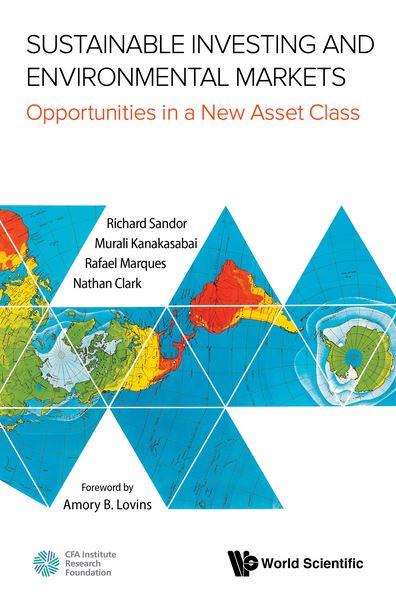 (Tuesday, September 23, 2014) "Sustainable Investing and Environmental Markets: Opportunities in a New Asset Class" by Richard Sandor, Murali Kanakasabai, Rafael Marques and Nathan Clark of Environmental Financial Products will be released on [October 9, 2014] by World Scientific Publishing. The book's foreword is by world-renowned energy and sustainability expert Amory Lovins, co-founder and chief scientist of the Rocky Mountain Institute.
With a combination of over 50 years of practical experience in the field of environmental finance, the authors provide a solid preliminary understanding of the promising and transformational new investment category of environmental assets. There is currently no equivalent book in the market that covers environment-financial issues from a practitioner's standpoint. This book combines economic theory and practical experience — making it a valuable tool for anyone who is interested in the environment as an asset class (investors, analysts, policymakers, students of finance and economics)
Dr. Richard Sandor, its lead author, is widely regarded as the father of financial futures and was named by TIME magazine as the "father of carbon trading". Dr. Sandor is the founder of the Chicago Climate Exchange and its affiliated exchanges (European Climate Exchange, Chicago Climate Futures Exchange and Tianjin Climate Exchange, in China). Environmental Financial Products, LLC (EFP) specializes in inventing, designing, and developing new financial markets EFP was established in 1998 and was the predecessor company and incubator to the Chicago Climate Exchange (CCX).
The book introduces this new asset class to financial analysts, investors, and corporations. Bringing together economic theory and practical experience, the twelve chapters cover three broad asset classes: air and water; catastrophic and weather risk; and sustainability. It demonstrates how these environmental asset classes are being incorporated into commodities, fixed income, and equity instruments. The book concludes with some insights into the current state of this emerging asset class, some "food for thought" and an analysis of future trends.
"Environmental asset classes such as air and water markets are not a hope for tomorrow but a reality today. This new asset category promises to grow dramatically in the 21st Century as financial analysts, investors, and corporations around the world try to find ways to profit or reduce costs while promoting environmental social benefits," said Dr. Richard Sandor, Chairman and CEO of EFP. "We hope this is a valuable tool to policymakers, professional investors and students interested in learning how to "do well and do good."
###
The book retails for US$68/£45 for the hardcover and US$88/£59 for the e-book editions respectively. For further information regarding the book, please visit http://www.worldscientific.com/worldscibooks/10.1142/9203.
About World Scientific Publishing Co.
World Scientific Publishing is a leading independent publisher of books and journals for the scholarly, research and professional communities. The company publishes about 500 books annually and more than 120 journals in various fields. World Scientific collaborates with prestigious organisations like the Nobel Foundation, US National Academies Press, as well as its subsidiary, the Imperial College Press, amongst others, to bring high quality academic and professional content to researchers and academics worldwide. To find out more about World Scientific, please visit http://www.worldscientific.com
---