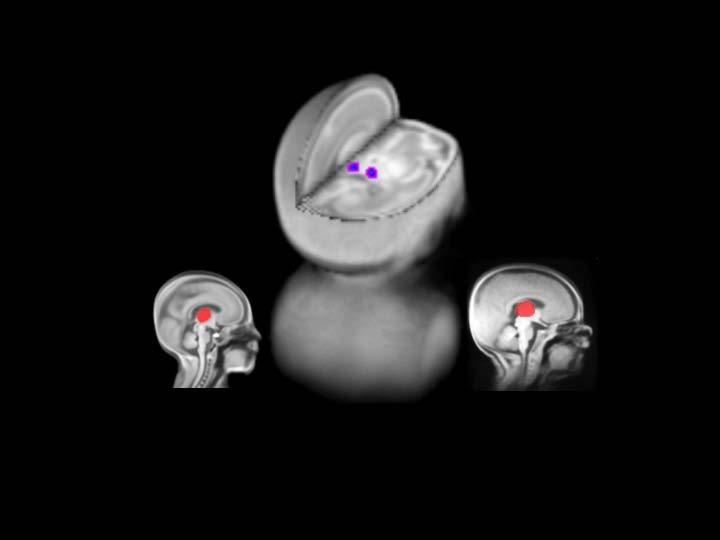 Premature babies undergoing hundreds of life-saving procedures exhibit abnormal development of the thalamus and cognitive and motor impairments in the first years of life, according to a study published in JNeurosci of infants born as early as 24 weeks of gestation.
Steven Miller and colleagues studied 155 newborns from the neonatal intensive care unit at BC Women's Hospital in Canada, collecting neuroimaging data shortly after birth and again at the age they were expected to have been born. Researchers observed the most severe abnormalities of the thalamus, which transmits sensory information to the cortex, in the extremely preterm newborns (born less than 28 weeks of gestation). These changes were related to exposure to painful stimuli in the first half of the neonatal period as well as cognitive and motor ability assessed at three years of age. Minimizing painful procedures in extremely preterm born babies may therefore provide an opportunity to promote brain health and improve outcomes in this vulnerable population.
###
Article: Early procedural pain is associated with regionally-specific alterations in thalamic development in preterm neonates
DOI: https://doi.org/10.1523/JNEUROSCI.0867-17.2017
Corresponding author: Steven Miller (Hospital for Sick Children, Toronto, Canada)
Media contact: Suzanne Gold, suzanne.gold@sickkids.ca
About JNeurosci
JNeurosci, the Society for Neuroscience's first journal, was launched in 1981 as a means to communicate the findings of the highest quality neuroscience research to the growing field. Today the journal remains committed to publishing cutting-edge neuroscience that will have an immediate and lasting scientific impact while responding to authors' changing publishing needs, representing breadth of the field and diversity in authorship.
About The Society for Neuroscience
The Society for Neuroscience is the world's largest organization of scientists and physicians devoted to understanding the brain and nervous system. The nonprofit organization, founded in 1969, now has nearly 37,000 members in more than 90 countries and over 130 chapters worldwide.
---