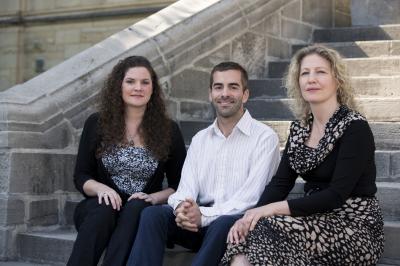 Montreal, September 19, 2012 – This fall, major funding from the federal scholarship initiative will allow Marie-Odile Richard, Monica Eileen Patterson and Jeff Scheible to pursue innovative scholarship in their respective fields of expertise.
As Banting fellows, they will each receive $140,000 in research funding over two years. The fellowships were announced by Hon. Gary Goodyear, Minister of State for Science and Technology, on September 13 at a ceremony in Ottawa.
Graham Carr, Concordia's vice-president of Research and Graduate Studies, is "thrilled to attract young researchers of this calibre."
For Carr, "the extraordinary story of the Banting fellowships for Concordia is our institutional success rate in this competition. Only 70 are awarded nationally, and only one third of these scholarships go to researchers focused on the humanities and social sciences. Four of our applicants were originally successful but one was unable to take up the award due to a prior commitment. This is an astonishing success rate that puts us in the very upper echelon of this year's competition."
Paula Wood-Adams, Concordia's interim dean of Graduate Studies, echoes Carr's enthusiasm, and points out that "the Banting competition emphasizes the quality of the institutional environment that will support the post-doctoral fellows. At Concordia we offer the potential for outstanding mentorship from leading researchers, unique research facilities, and a strong program of professional skill development through GradProSkills. Concordia's success in this competition attests to our growing reputation for research and the impact of the efforts of our professors."
Concordia's three new Banting fellows are leaders in diverse fields. Their experience and current research projects will enrich Concordia as they pursue innovative work in their respective areas of study.
Specializing in the emerging field of neuromarketing, Marie-Odile Richard's research examines how bilingual individuals perceive an advertisement in a second language such as English, compared to when exposed to it in their native language. Her research will produce valuable information that will have implications for marketing firms and governments alike.
Richard's research on how differences between languages by bilingual respondents affect consumer information processing will also shed new light on cross-cultural communication issues.
Monica Eileen Patterson will work with Concordia's Centre for Ethnographic Research and Exhibition in the Aftermath of Violence (CEREV) to investigate individual memories and conflicting public understandings of childhood during the later years of apartheid in South Africa.
Patterson will create an innovative, interactive exhibit designed to represent and collaboratively create new knowledge around difficult historical themes. The Banting fellowship will allow her to develop a project based on her extensive fieldwork and archival research that enables former and current South African children to explore the meanings of apartheid past and its present-day legacies.
Jeff Scheible will bring his expertise to Concordia's Advanced Research Team on the History and Epistemology of Moving Image Study (ARTHEMIS). His work will result in the first contemporary book-length manuscript on "depth of field," the cinematic technique for representing deep space in deep focus, revealing a yet-to-be told account of the history of film theory.
While the issue of depth in the cinematic image has been among the most central issues in various texts throughout the history of film theory, there has not yet been a comprehensive account that has synthesized this trend, interpreted its significance, or considered its relationship to contemporary visual cultures.
The diverse research interests of these three new Banting fellows speak not only to the broad scope supported by the Banting Postdoctoral Fellowship Program, but also to the wide array of research that has long been embraced at Concordia.
###
Related Links:
Source:
Cléa Desjardins
Senior Advisor, External Communications
Concordia University Media Relations
Phone: 514-848-2424, ext. 5068
Cell: 514-909-2999
Email: clea.desjardins@concordia.ca
Web: concordia.ca/now/media-relations
Twitter: twitter.com/CleaDesjardins
---