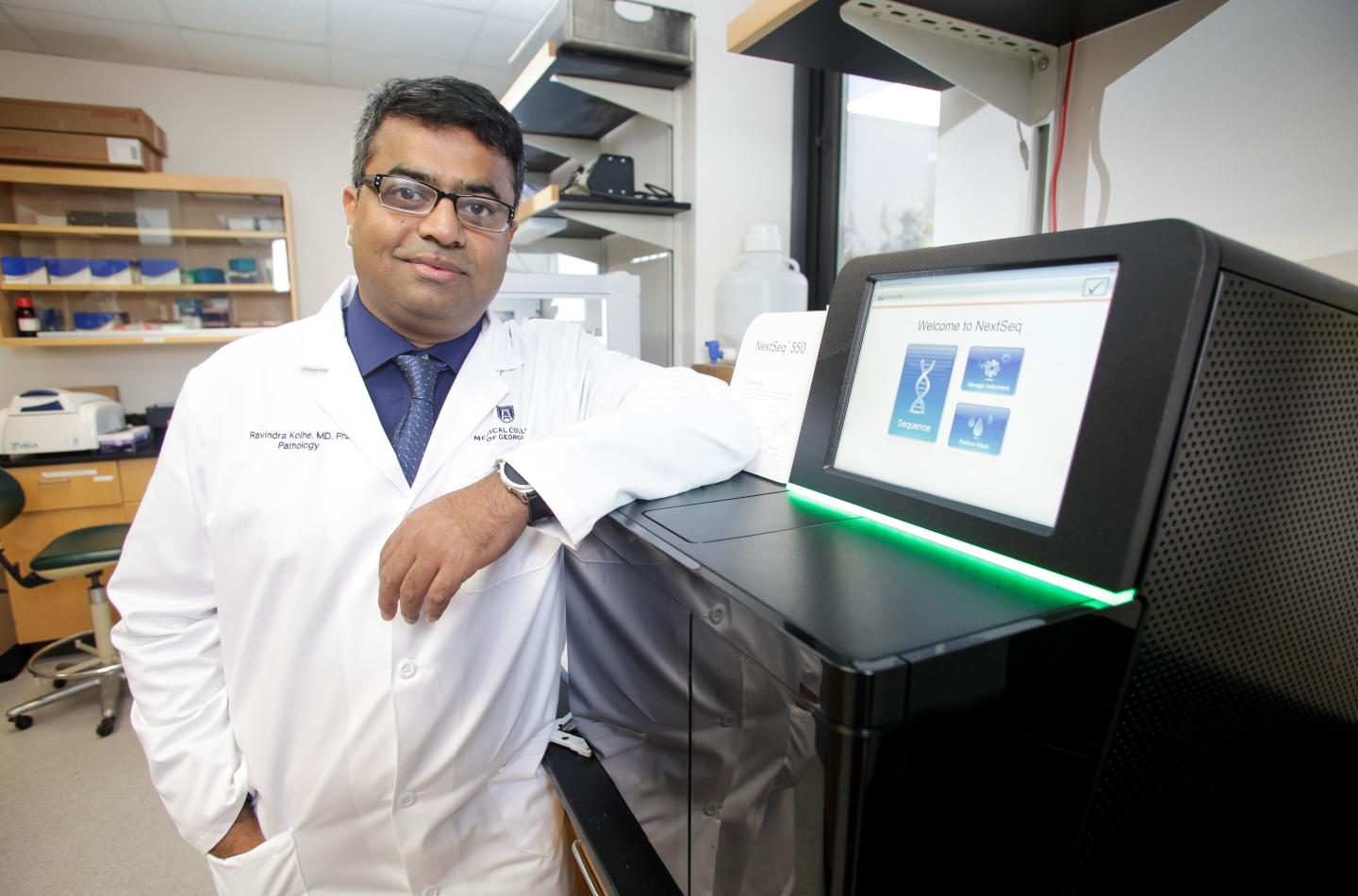 AUGUSTA, Ga. (Nov. 1, 2018) – The Georgia Esoteric and Molecular Laboratory at the Medical College of Georgia at Augusta University is participating as a designated laboratory for the NCI-Molecular Analysis for Therapy Choice (NCI-MATCH or EAY131) clinical trial, which is assessing the effectiveness of targeting cancer-causing gene changes rather than cancer type.
MCG is one of the academic laboratories in the nation permitted to identify and refer potentially eligible patients to the NCI-MATCH trial. Tumor gene testing by a designated lab is the only pathway for patients to enroll in the trial.
The NCI-MATCH trial is co-led by the National Cancer Institute, part of the National Institutes of Health, and the ECOG-ACRIN Cancer Research Group (ECOG-ACRIN), an international scientific organization that designs and conducts biomarker-driven cancer research. ECOG-ACRIN is part of the NCI-sponsored National Clinical Trials Network.
NCI-MATCH or EAY131 (NCT02465060) is a phase 2 precision medicine trial that seeks to determine the effectiveness of treatment that is directed by genomic profiling in patients with solid tumors, lymphomas, or myelomas that have progressed following standard treatments, or for rare cancer types for which there is no standard treatment.
Findings could lead to larger, more definitive trials. With nearly 40 treatment arms addressing a wide range of tumor types and targeted treatments, NCI-MATCH is the largest precision medicine cancer trial to date.
"Tumor profiling and genomic testing are becoming common in daily practice for oncologists to help guide clinical care for cancer patients," says NCI-MATCH study co-chair Dr. James V. Tricoli, chief, Diagnostic Biomarkers and Technology Branch, Cancer Diagnosis Program, Division of Cancer Treatment and Diagnosis at the NCI. "We require qualifying laboratories to proactively identify potentially eligible patients for the NCI-MATCH trial."
"NCI-MATCH is a discovery trial whose very nature – identifying and exploring knowledge gaps in precision oncology, and advancing new hypotheses – means studying small subsets of patients," said ECOG-ACRIN study chair Dr. Keith T. Flaherty, director of Clinical Research at the Massachusetts General Hospital Cancer Center, and Professor of Medicine at Harvard Medical School. "We are qualifying additional laboratories so we can cast a wider net for patients with the biomarkers of interest."
When a treating oncologist at a participating NCI-MATCH site orders tumor profiling to guide clinical care for their patient, MCG will look for trial matches for the patient. Upon the identification of a qualifying genetic alteration abnormality, such as a mutation, amplification or translocation, MCG will notify the treating physician that the patient may be potentially eligible for NCI-MATCH and provide an official referral letter or associated documentation. Utilizing this notification/referral provided by MCG, the treating physician and their patient may choose to pursue enrollment onto the screening step of the study (Step 0), if they meet all eligibility requirements for the trial. As part of the screening portion of the study (Step 0), NCI and ECOG-ACRIN trial leaders will review MCG's recommended trial match centrally using information provided by both the participating MATCH site and MCG. If they verify that the patient is potentially eligible for a NCI-MATCH treatment arm, they will formally assign the patient to the applicable arm and notify the participating MATCH site that the patient may be enrolled onto the treatment portion of the study (Step 1). MCG will be available to answer questions relating to testing results and their potential applicability to the NCI-MATCH study. For any other general, logistical, or clinical questions related to the study, MCG will facilitate communications between the treating physicians and the NCI-MATCH study team. To read a summary of the process, visit http://ecog-acrin.org/nci-match-eay131-designated-labs.
"We are privileged to join the laboratory network for this groundbreaking national trial that we all hope will improve cancer treatment by precisely targeting a patient's gene variants," says Dr. Ravindra Kolhe, molecular pathologist, director of the GEM Laboratory in the MCG Department of Pathology and primary developer of the new test called Augusta OncoTarget.
Augusta OncoTarget, one of the latest additions to MCG's GEM Lab, includes next-generation sequencing that enables large numbers of genes, and an unprecedented number of known cancer-causing variants in those genes, to be tested simultaneously. IBM Watson for Genomics then performs a genomic interpretation of the large amount of data generated to help identify the patient's variants as well as drugs, which are already in use or in clinical trials, known to target them.
Augusta OncoTarget includes the TruSight Tumor 170 panel that simultaneously looks for six different variant classes in both the DNA and RNA of 170 genes in a patient's biopsy.
###
To learn more about NCI-MATCH, including clinical trial sites across the country, visit www.ecog-acrin.org/nci-match-eay131.
DOWNLOADS: Click to download a high-resolution photo of Dr. Ravindra Kolhe https://augustauniversity.app.box.com/s/yhwgxkd99bdyzamq7nvrudp6591f6srn.
---