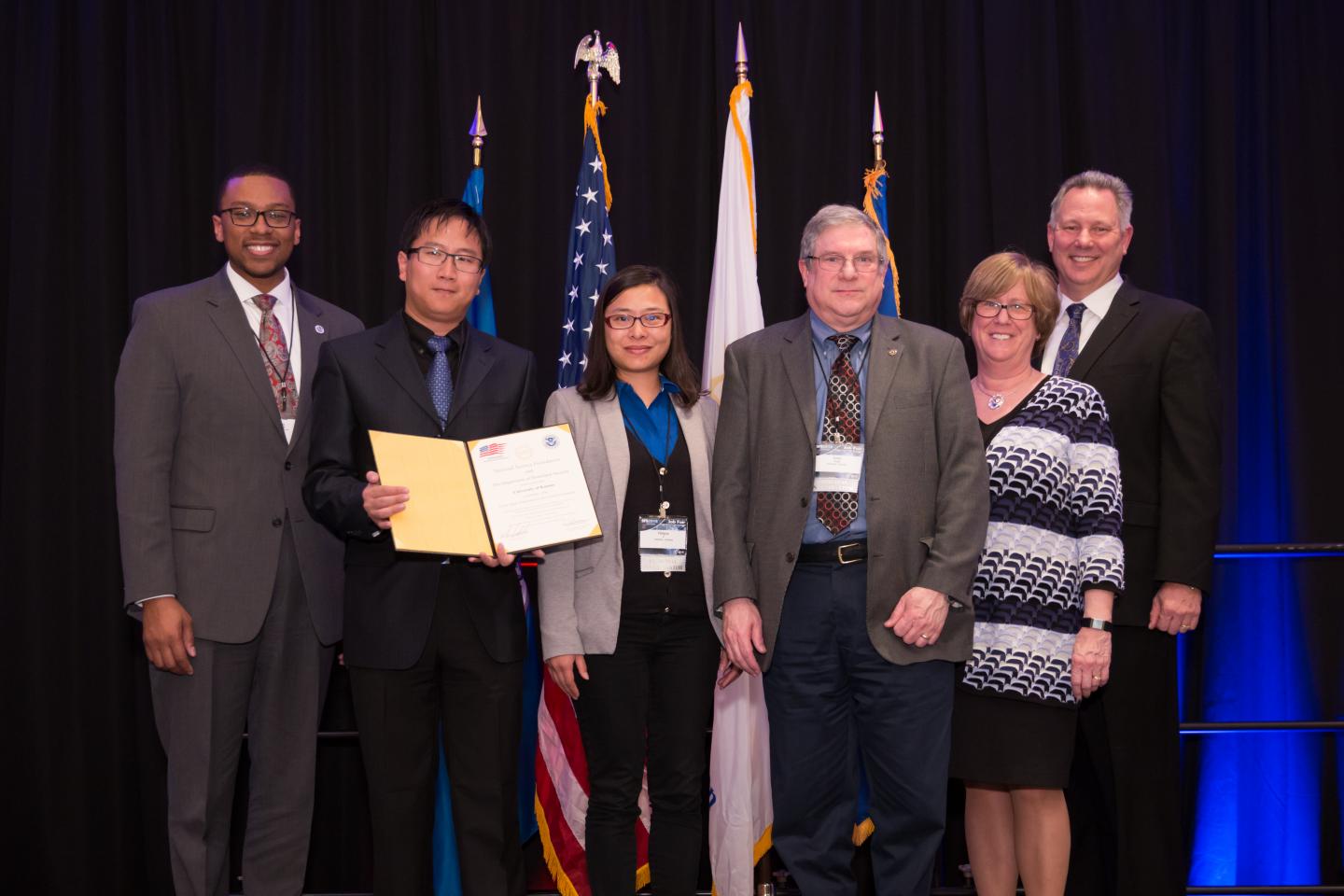 LAWRENCE -- A new $4.7 million, five-year grant from the National Science Foundation will enable the University of Kansas School of Engineering to educate cyberdefense experts dedicated to public service, making America stronger in an era of rising cyberattacks.
The initiative, called CyberCorps: New Scholarship for Service Program at the University of Kansas -- Jayhawk SFS," will support dozens of undergraduate, master's and doctoral students, who following graduation commit in turn to work at government cybersecurity jobs safeguarding critical infrastructure.
Agencies where Jayhawk SFS graduates might serve include the Central Intelligence Agency, National Security Agency, Department of Defense and the National Laboratories, as well as state and local departments.
"We'll produce students to protect the cyberspace of the United States after they graduate," said the program's leader, Bo Luo, associate professor of electrical engineering and computer science at KU. "While they're here, they'll be conducting cybersecurity research, and this helps protect the cyberspace of good people anywhere in the world."
Luo said the Jayhawk SFS program addresses a nationwide shortfall in highly expert cybersecurity personnel.
"Cybersecurity is extremely critical," Luo said. "This grant is a very small portion of that shortage, supporting 36 students. That's far from what is needed, but this is part of a national program -- and KU is proud to be part of it. All together, CyberCorps will provide thousands of graduates with cybersecurity expertise. Ours is one of the leading efforts."
Recently, Luo traveled to Washington, D.C., to attend a ceremony marking the beginning of the Jayhawk SFS grant with co-primary investigators at KU, professors Fengjun Li and Victor Frost. Perry Alexander, AT&T Distinguished Professor of Electrical Engineering & Computer Science and director of KU's Information and Telecommunication Technology Center, is the third co-PI of the new grant.
Luo said the first Jayhawk SFS students would begin training this fall.
"We'll recruit students who are really interested in cybersecurity and who plan to work in cybersecurity after they graduate," he said. "They have to be U.S. citizens or permanent residents. We'll be working with many different programs to reach out to underrepresented communities, like KU's Center for Educational Opportunity Programs and McNair Scholars Program, which assists first-generation and underrepresented minority undergraduates to prepare for doctoral study."
Additionally, Luo said the Jayhawk SFS program would recruit transitioning soldiers and veterans through partnerships with the 1st Infantry Division at Fort Riley, Kansas National Guard, U.S. Army Cyber Command and the Graduate Military Program at KU. Michael Denning, director of the Office of Graduate Military Programs at KU, will act as a key liaison to soldiers and veterans.
Indeed, the Jayhawk SFS program builds on years of partnership with national security entities, including longstanding KU designation by the National Security Agency and Department of Homeland Security as a National Center for Academic Excellence in Cyber Defense -- a stepping stone to earning the new grant. Moreover, the work embodies the Harnessing Information-Multiplying Knowledge initiative of Bold Aspirations, the university's strategic plan.
"We have a comprehensive, student-centered cybersecurity program and we're engaged in advanced cybersecurity research," Luo said. He pointed out KU's research strengths in information security and privacy, communication and network systems security, and high-assurance software development and verification.
Moreover, a successful information-security student club, dubbed the "JayHackers," could serve as a recruitment source for Jayhawk SFS program. The student club already has won competitive cyberdefense competitions.
"We hosted won the CANSec Invitational cybersecurity competition in 2014, and then in 2015 attended the national cybersecurity competition," Luo said. "Students were trained in information security there, got industrial sponsors, bought servers, installed virtual networks on those servers and planned their own cyber defense. This is really valuable hands-on experience."
Ultimately, Luo said the Jayhawk SFS could help to safeguard a world beyond just the computers and networks people have traditionally associated with the term "cyberspace."
"The future of information technology is the future of technology itself," he said. "All types of technology now are closely related to IT. For example, 20 years ago a car was a car and the territory of mechanical engineers. But because cars are getting smarter, they're vulnerable to cyberattack. So there's a transition from mechanical territory to electrical engineering territory that's transforming our lives. Now, we have smart refrigerators and smart TVs. In a few years, everything we do will be connected to the Internet, and everything connected to the Internet is subject to cyberattacks."
###
---