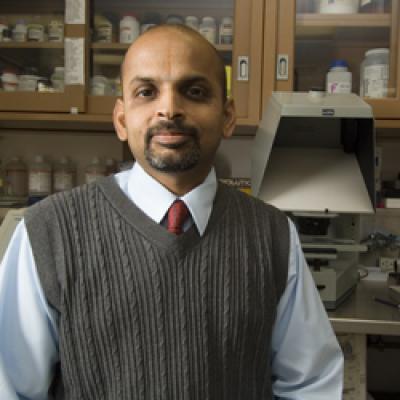 EAST LANSING, Mich. — While recent studies have shown long-term exposure to estrogen can be a danger to women – overturning physicians' long-held beliefs that the hormone was good for their patients' hearts – the process by which estrogen induces high blood pressure was unclear.
In a new study, Michigan State University researchers found long-term estrogen exposure generates excessive levels of the compound superoxide, which causes stress in the body. The buildup of this compound occurs in an area of the brain that is crucial to regulating blood pressure, suggesting that the estrogen-induced buildup causes increased blood pressure.
Findings indicated that the anti-oxidant resveratrol reverses the increase in both superoxide and blood pressure.
The study, led by P.S. MohanKumar, an associate professor of pathobiology and diagnostic investigation in the College of Veterinary Medicine, appears in the American Journal of Physiology – Regulatory, Integrative, and Comparative Physiology. The journal is published by the American Physiological Society.
"This is an important study on at least two levels," MohanKumar said. "First, it continues to confirm the negative effect that long-term estrogen exposure has for females. Second, it provides a new rationale for how and why this relationship occurs."
Researchers looked to the rostral ventrolateral medulla, a critical region in the brain stem involved with the maintenance of blood pressure and thought to be associated with hypertension and heart failure.
Believing that chronic exposure of estrogen could influence this area of the brain, they conducted a two-phase experiment using rats, injecting them first with estrogen and then also feeding them the anti-oxidant resveratrol. MohanKumar and his team found chronic exposure caused a significant increase in superoxide in the rostral ventrolateral medulla and in blood pressure. The team also found resveratrol reversed those increases.
"Because so many women use estrogen-only HRT to combat the effects of menopause, it is imperative that we better understand the risks that chronic exposure has for females and why these effects occur," he said. "In studies such as this, we come one step closer to clarifying the relationship and have established a launch pad for identifying how the process might be interrupted in the future."
###
The abstract of the article is available at http://bit.ly/mut5dc, while the full study appears at http://bit.ly/j15YQ1.
In addition to MohanKumar, the study team included MSU researchers Madhan Subramanian, Priya Balasubramanian, Hannah Garver, Carrie Northcutt, Huawei Zhao, Joseph R. Haywood, Gregory D. Fink and Sheba M. J. MonhanKumar.
Michigan State University has been working to advance the common good in uncommon ways for more than 150 years. One of the top research universities in the world, MSU focuses its vast resources on creating solutions to some of the world's most pressing challenges, while providing life-changing opportunities to a diverse and inclusive academic community through more than 200 programs of study in 17 degree-granting colleges.
---