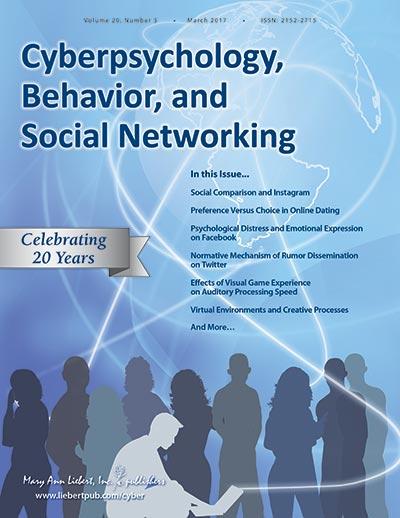 New Rochelle, NY, June 5, 2017--A new study examined the role parental mediation can play in protecting children from the potential negative effects of smartphone use, comparing the perceived risk and different types of mediation and parenting styles. The study of parents of 4th-6th graders is published in Cyberpsychology, Behavior, and Social Networking, a peer-reviewed journal from Mary Ann Liebert, Inc., publishers. (http://www.liebertpub.com/) The article is available free on the Cyberpsychology, Behavior, and Social Networking website.
Parents who reported signs of smartphone addiction were less likely to perceive the severity of the problem in their children, but were more likely to recognize the susceptibility to addiction, according to the article entitled "Parental Mediation Regarding Children's Smartphone Use: Role of Protection Motivation and Parenting Style." Coauthors Yoori Hwang, PhD, Myongji University, Inho Choi, PhD, Jung-Yoon Yum, and Se-Hoon Jeong, PhD, Korea University, Seoul, South Korea, compared factors including restrictive versus active parental mediation and the parents' perceived success of intervening in children's cell phone use.
"The uptick in smartphone use has led to more distracted parenting. It is vital for parents to be good role models for their children to protect them from the possibility of addiction," says Editor-in-Chief Brenda K. Wiederhold, PhD, MBA, BCB, BCN, Interactive Media Institute, San Diego, California and Virtual Reality Medical Institute, Brussels, Belgium.
###
About the Journal
Cyberpsychology, Behavior, and Social Networking is an authoritative peer-reviewed journal published monthly online with Open Access options and in print that explores the psychological and social issues surrounding the Internet and interactive technologies. Complete tables of contents and a sample issue may be viewed on the Cyberpsychology, Behavior, and Social Networking website.
About the Publisher
Mary Ann Liebert, Inc., publishers is a privately held, fully integrated media company known for establishing authoritative peer-reviewed journals in many promising areas of science and biomedical research, including Games for Health Journal, Telemedicine and e-Health, and Journal of Child and Adolescent Psychopharmacology. Its biotechnology trade magazine, GEN (Genetic Engineering & Biotechnology News), was the first in its field and is today the industry's most widely read publication worldwide. A complete list of the firm's 80 journals, books, and newsmagazines is available on the Mary Ann Liebert, Inc., publishers website.
Mary Ann Liebert, Inc. 140 Huguenot St., New Rochelle, NY 10801-5215 http://www.liebertpub.com Phone: (914) 740-2100 (800) M-LIEBERT Fax: (914) 740-2101
---