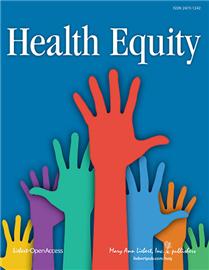 New Rochelle, NY, June 20, 2017--A public health perspective of the rise in terrorism and violent radicalization points to social determinants of health including discrimination, social isolation, and stigmatization of groups such as Muslims or Arab American as factors that can make people more vulnerable to extremist influences. The social determinants and risk factors for violent radicalization that contribute to terrorist activities is the focus of an insightful new article published in Health Equity, a peer-reviewed open access journal from Mary Ann Liebert, Inc., publishers. The article is available on the Health Equity website.
In the article entitled "Social Determinants of Health, Violent Radicalization, and Terrorism: A Public Health Perspective," coauthors Héctor Alcalá, University of Virginia, Charlottesville, Mienah Zulfacar Sharif, University of California, Irvine, and Goleen Samari, University of Texas, Austin, argue that anti-Muslim sentiment promotes discrimination and marginalization of Muslim communities, limiting their social resources and social cohesion, and perhaps making some individuals more likely to engage in radicalization and acts of political violence.
"Promoting community capacity building and augmenting social resources may be effective strategies to improve health and limit radicalization," says Health Equity Editor-in-Chief Ana E. Núñez, MD, Associate Dean for Diversity, Equity and Inclusion and Professor of Medicine, Drexel University School of Medicine, Philadelphia, PA.
###
Research reported in this publication was supported by the National Institutes of Health under Award Numbers T32HD007081 and R24HD042849. The content is solely the responsibility of the authors and does not necessarily represent the official views of the National Institutes of Health.
About the Journal
Health Equity is the new peer-reviewed open access journal that meets the urgent need for authoritative information about health disparities and health equity among vulnerable populations. With coverage ranging from translational research to prevention, diagnosis, treatment, and management of disease and illness, the Journal serves as a primary resource for organizations and individuals who serve these populations at the community, state, regional, tribal, and national levels. Health Equity is supported by a generous grant from the W.K. Kellogg Foundation to ensure that it is accessible as widely as possible and to provide a framework for achieving health equity for children, families, and communities by reducing and ultimately eliminating disparities in health and their social, economic, and environmental determinants. Complete information is available on the Health Equity website.
About the Publisher
Mary Ann Liebert, Inc., publishers is a privately held, fully integrated media company known for establishing authoritative peer-reviewed journals in promising areas of science and biomedical research, including Population Health Management, LGBT Health, Transgender Health, and Journal of Women's Health. Its biotechnology trade magazine, GEN (Genetic Engineering & Biotechnology News), was the first in its field and is today the industry's most widely read publication worldwide. A complete list of the firm's 80 journals, books, and newsmagazines is available on the Mary Ann Liebert, Inc., publishers website.
---