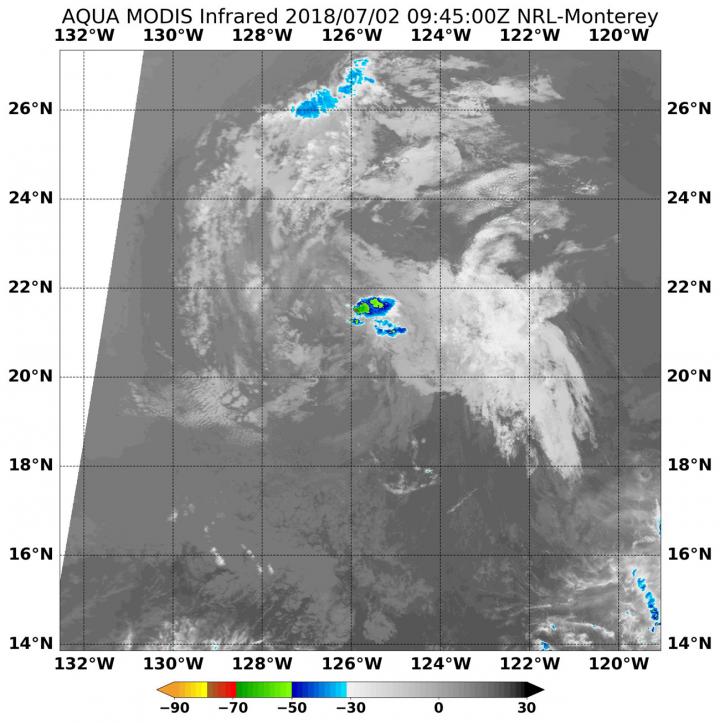 NASA's Aqua satellite passed over the Eastern Pacific Ocean and looked at cloud top temperatures in Post-Tropical Cyclone Emilia as it continued weakening toward dissipation.
On July 2 at 5:45 a.m. EDT (0945 UTC), the Moderate Resolution Imaging Spectroradiometer or MODIS instrument aboard NASA's Aqua satellite captured an infrared image of Emilia.
The image showed four small areas of strongest thunderstorms east of the center of circulation, MODIS infrared data showed that some of those storms had cloud top temperatures as cold as minus 50 degrees Fahrenheit (minus 45.5 degrees Celsius), indicating they are high in the troposphere. The MODIS image also showed that wind shear was affecting the storm, and it appeared somewhat elongated as a large area of clouds were being pushed to the east of the center.
The last advisory issued from the National Hurricane Center (NHC) was posted at 11 p.m. EDT (0300 UTC) on July 1. At that time the center of Post-Tropical Cyclone Emilia was located near latitude 20.3 degrees north and longitude 125.3 degrees west. Maximum sustained winds are near 30 mph (45 kph) with higher gusts. The post-tropical cyclone is moving toward the west-northwest near 13 mph (20 kph), and this motion is forecast to continue through Monday and then a turn to the west as it continues dissipating.
NHC Forecaster Cangialosi noted "Since the cyclone is over cool 24 degree Celsius waters and in a stable air mass, significant deep convection is not expected to return. Therefore, Emilia is now classified as a remnant low, and this is the last advisory issued by the National Hurricane Center on this system.
The remnant low of Emilia is expected to dissipate within the next day or two.
###
---