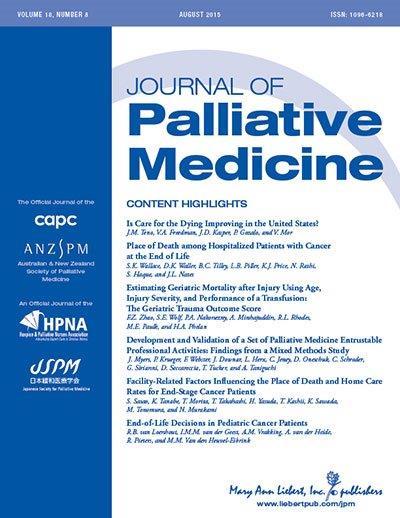 New Rochelle, NY, August 20, 2015--Hospice use is commonly accepted as an indicator of quality of end-of-life care, however, when researchers in the U.S. studied variations in patterns of hospice use between states, they found troubling trends. They discuss the variations in the timing and duration of hospice enrollment and their implications in an article published in Journal of Palliative Medicine, a peer-reviewed journal from Mary Ann Liebert, Inc., publishers. The article is available free on the Journal of Palliative Medicine website until September 20, 2015.
In "Geographic Variation of Hospice Use Patterns at the End of Life", Shi-Yi Wang, MD, PhD, Yale University School of Public Health (New Haven, CT), and coauthors from Yale Cancer Center, Yale University School of Medicine, Mount Sinai School of Medicine (New York, NY), James J. Peters VA Medical Center (Bronx, NY), and John D. Thompson Hospice Institute for Education, Training and Research, Inc. (Branford, CT), performed a retrospective analysis of Medicare patients who used hospice services during the last 6 months of their lives.
The researchers compared hospice use data on a state-by-state basis and identified important differences between states in the percentages of very short or very long hospice stays (reflecting late or early enrollment) and of patients leaving hospice before their deaths. Looking at overall, nationwide, hospice use alone as an indicator of quality of end-of-life care could mask issues that require attention.
"Hospice care should be the completion of good care," says Charles F. von Gunten, MD, PhD, Editor-in-Chief of Journal of Palliative Medicine and Clinical Professor of Medicine, Ohio University. "However, as illustrated in this important work, how you use the hospice, analogous to how you take a medicine, is also important. You wouldn't expect benefit from just getting the prescription but not using it appropriately--the same is true for hospice care."
###
Journal of Palliative Medicine is the official journal of the Center to Advance Palliative Care (CAPC) and an official journal of the Hospice and Palliative Nurses Association.
Research reported in this publication was supported by the National Cancer Institute, National Institutes of Health under Award Number 1RO1CA1 16398-01A2 and the National Institute of Nursing Research under Award Number 5RO1NR013499.
About the Journal
Journal of Palliative Medicine, published monthly in print and online, is an interdisciplinary journal that reports on the clinical, educational, legal, and ethical aspects of care for seriously ill and dying patients. The Journal includes coverage of the latest developments in drug and non-drug treatments for patients with life-threatening diseases including cancer, AIDS, cardiac disease, pulmonary, neurological, and respiratory conditions, and other diseases. The Journal reports on the development of palliative care programs around the United States and the world and on innovations in palliative care education. Tables of content and a sample issue can be viewed on the Journal of Palliative Medicine website.
About the Publisher
Mary Ann Liebert, Inc., publishers is a privately held, fully integrated media company known for establishing authoritative peer-reviewed journals in promising areas of science and biomedical research, including Population Health Management, AIDS Patient Care and STDs, and Briefings in Palliative, Hospice, and Pain Medicine & Management, a weekly e-News Alert. Its biotechnology trade magazine, Genetic Engineering & Biotechnology News (GEN), was the first in its field and is today the industry's most widely read publication worldwide. A complete list of the firm's 80 journals, newsmagazines, and books is available on the Mary Ann Liebert, Inc., publishers website.
---
Journal
Journal of Palliative Medicine