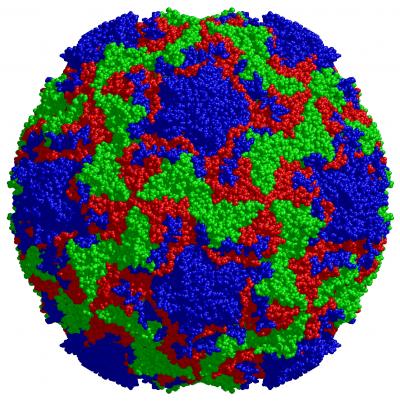 Scientists have begun to solve some of the mysteries of the common cold by putting together the pieces of the genetic codes for all the known strains of the human rhinovirus. Researchers at the University of Maryland School of Medicine in Baltimore and colleagues at the University of Wisconsin-Madison have completed the genomic sequences of the viruses and assembled them into a "family tree," which shows how the viruses are related, with their commonalities and differences. The study will be released on the online version of the journal Science (Science Express) at 2 p.m. EST on February 12.
The researchers say this work provides a powerful tool that may lead to the development of the first effective treatments against the common cold.
"There has been no success in developing effective drugs to cure the common cold, which we believe is due to incomplete information about the genetic composition of all these strains," says the study's senior author, Stephen B. Liggett, M.D., professor of medicine and physiology at the University of Maryland School of Medicine and director of its Cardiopulmonary Genomics Program.
"We generally think of colds as a nuisance, but they can be debilitating in the very young and in older individuals, and can trigger asthma attacks at any age. Also, recent studies indicate that early rhinovirus infection in children can program their immune system to develop asthma by adolescence," says Dr. Liggett, who is a pulmonologist and molecular geneticist.
Major discoveries of the study
The researchers found that human rhinoviruses are organized into about 15 small groups that come from distant ancestors. The discovery of these multiple groups explains why a "one drug fits all" approach for anti-viral agents does not work. But, says Dr. Liggett, "Perhaps several anti-viral drugs could be developed, targeted to specific genetic regions of certain groups. The choice of which drug to prescribe would be based on the genetic characteristics of a patient's rhinovirus infection."
Dr. Liggett adds that while anti-viral drugs seem to be the most likely to succeed, "the data gathered from these full genome sequences gives us an opportunity to reconsider vaccines as a possibility, particularly as we gather multiple-patient samples and sequence the entire genomes, to see how frequently they mutate during a cold season. That work is underway now."
The researchers also found that the human rhinovirus skips a step when it makes its protein product, a shortcut that probably speeds up its ability to make a person feel sick soon after infection. "This is a new insight," says co-investigator Claire M. Fraser-Liggett, Ph.D., director of the Institute for Genome Sciences and professor of medicine and microbiology at the University of Maryland School of Medicine. "We would not have had any sort of intuition about this had it not been revealed through genome analysis. Information that comes from this discovery might present a completely different approach in terms of therapy."
The analysis shows that some human rhinoviruses result from the exchange of genetic material between two separate strains of the virus that infect the same person. Such a swap, known as recombination, was previously not thought possible in human rhinovirus. During cold season, when many different strains of rhinovirus may be causing infections, recombination could rapidly produce new strains.
Multiple mutations (as many as 800) were evident in virus samples taken recently from patients with colds, compared to older rhinovirus reference strains. Some viruses mutate by making slight changes in certain proteins to avoid being destroyed by antibodies from a person's immune system. "Mutations were found in every area of the genome," says Dr. Liggett.
The study's lead author, Ann C. Palmenberg, Ph.D., professor of biochemistry and chair of the Institute for Molecular Virology at the University of Wisconsin-Madison, notes, "As we begin to accumulate additional samples from a large number of patients, it is likely that hotspots for mutation or recombination will become apparent, and other regions resistant to mutational change may emerge. This will provide clues as to how flexible the virus is as it responds to the human environment, important hints if you are designing new therapeutics."
Study background
Human rhinovirus infection is responsible for half of all asthma attacks and is a factor in bronchitis, sinusitis, middle ear infections and pneumonia. The coughs, sneezes and sniffles of colds impose a major health care burden in the United States—including visits to health care providers, cost of over-the-counter drugs for symptom relief, often-inappropriate antibiotic prescriptions and missed work days—with direct and indirect costs of about $60 billion annually.
Prior to the start of this project, the genomes of only a few dozen rhinoviruses had been sequenced from what was considered the reference library, a frozen collection of 99 different rhinovirus strains taken from patients over a span of more than two decades. During this team's work, several other groups began to report the full genomes of some of these viruses, as well as some odd rhinovirus-like strains from relatively sick patients.
"It was clear to us that the spectrum of rhinoviruses out there was probably much greater than we realized. Further, we needed to develop a framework from which we could begin to figure out ways to combat these viruses and use their genetic signatures to predict how a specific virus would affect a patient," says Dr. Fraser-Liggett.
The current study adds 80 new full genome sequences to the rhinovirus library and 10 more acquired recently from people with colds. Each sequence was modeled and compared to each other. Dr. Liggett says, "Now we can put together many pieces of the human rhinovirus puzzle to help us answer some fundamental questions: how these rhinoviruses might mutate as they spread from one person to another; which rhinoviruses are more associated with asthma exacerbations and why rhinovirus exposure in infancy may cause asthma later in life. With all this information at hand, we see strong potential for the development of the long-sought cure for the common cold, using modern genomic and molecular techniques."
"With recent improvements in technology, including next-generation DNA sequencing tools, it has become easier to generate whole genome sequence information," says Dr. Fraser-Liggett. "There is no reason any longer to focus on a very limited part of the rhinovirus molecule to learn what it's doing, what the predominant strain is in a population, or to try to infer what the evolution of the entire molecule might be. Instead, by studying the complete genome sequence, we can answer multiple questions in parallel."
###
Researchers from the J. Craig Venter Institute also contributed to this study.
The University of Maryland School of Medicine funded this project.
Palmenberg AC, Spiro D, Kuzmickas R, Wang S, Djikeng A, Rathe JA, Fraser-Liggett CM, Liggett SB. "Sequencing and Analyses of All Known Human Rhinovirus Genomes Reveals Structure and Evolution." Science. Published online ahead of print, February 12, 2009.
---