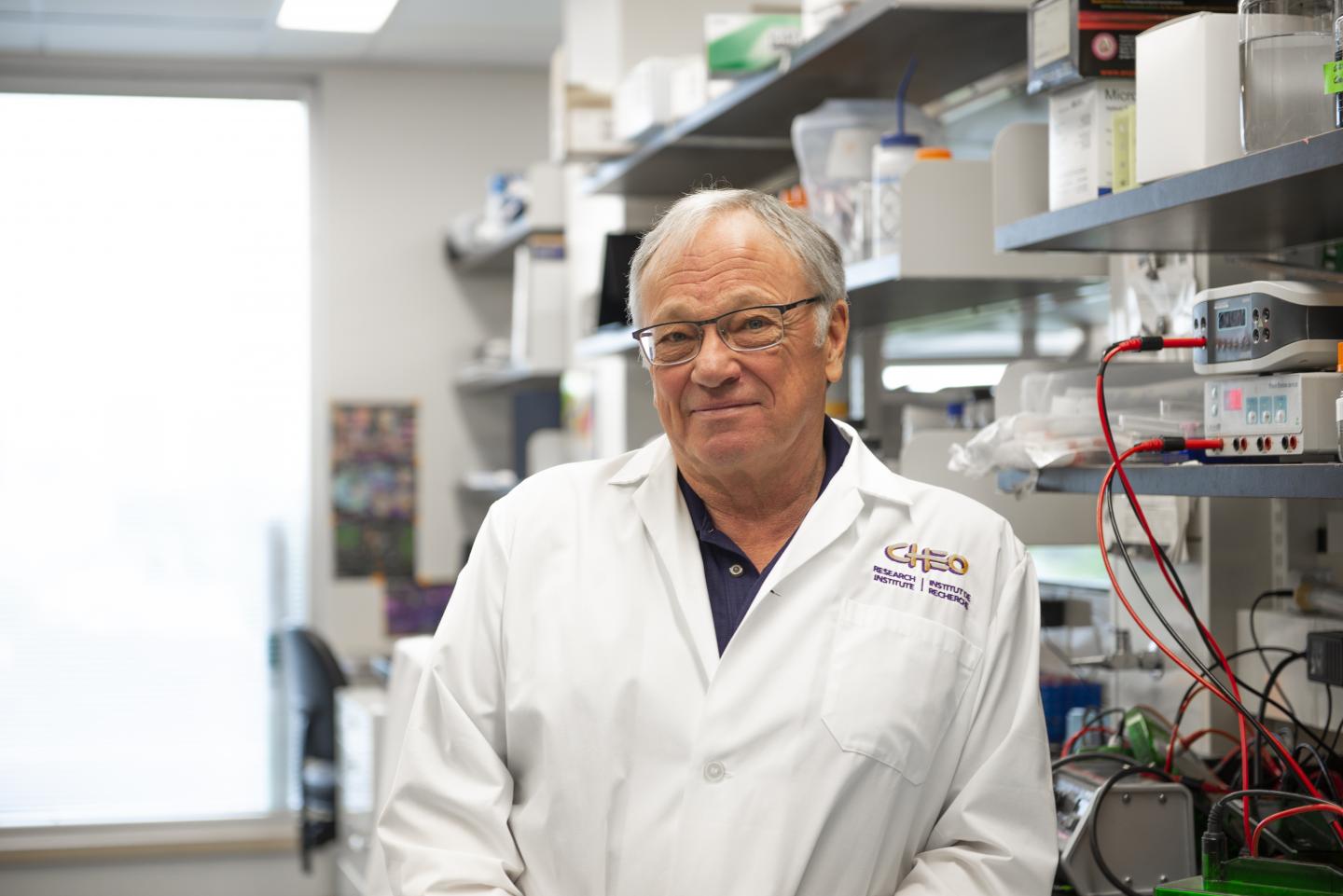 OTTAWA, December 27, 2018 - The CHEO Research Institute is proud to announce that one of its longest-serving researchers, Dr. Robert Korneluk, C.M., has been appointed as a Member of the Order of Canada. He is one of the 103 new appointments to the Order of Canada made by Her Excellency the Right Honourable Julie Payette, Governor General of Canada, today. This is the first time a Scientist at the CHEO Research Institute has been appointed to the Order of Canada, one of the country´s highest civilian honours.
His citation recognizes "his contributions to immunotherapy research and diagnostic clinical service laboratories as a molecular geneticist."
Dr. Korneluk, C.M., started his career at the CHEO Research Institute in 1985 and has been instrumental in some of the most important health discoveries made in the past three decades. He was a leader of the team that found the underlying cause of type 1 myotonic dystrophy in 1992, demonstrating a novel mechanism of unstable DNA mutations. In 1995, Dr. Korneluk and his team discovered a family of genes that control apoptosis, or cell death. This groundbreaking work has led to significant breakthroughs by Korneluk and other researchers around the world in areas such as cancer, diabetes, neurodegeneration and more.
"Dr. Korneluk has had an incredible impact on the CHEO Research Institute and across Canada," says Dr. Martin Osmond, CEO and Scientific Director of the CHEO Research Institute. "In addition to discovering new mechanisms of genetic disease and a novel family of cell survival genes informing cancer therapy, his years of dedication, collaborative approach and mentoring of students, trainees and young researchers combine to form a truly impressive legacy. We are delighted that he is receiving this honour and celebrate this recognition with all our colleagues and his family and friends."
Dr. Korneluk, C.M., who is also Distinguished Professor, Departments of Biochemistry, Microbiology and Immunology, and Pediatrics, Faculty of Medicine at the University of Ottawa, has always specialized in translational research. He takes what he does in the lab and works with clinicians to put this work into practice. Being located at a leading research institute connected to a pediatric hospital allows him to collaborate with specialists. Meeting patients who have benefitted from his work reinforces his commitment to children's health.
"You simply cannot match Dr. Korneluk's passion and drive for helping kids with cancer," said Alex Munter, President and CEO of CHEO. "As one of our longest-serving scientists, his work has formed a foundation for two generations of researchers and clinicians in their quest to provide effective, evidence-based therapies that improve care for children and youth at CHEO. This level of recognition is so deserved after years of dedication to changing lives in Ottawa and around the world. On behalf of everyone at CHEO, congratulations Bob on this great honour!"
Dr. Korneluk's contributions have been recognized with numerous other awards, including the McLaughlin medal from the Royal Society of Canada, the University of Ottawa Faculty of Medicine Award of Excellence (1992), a Governor General of Canada 125th Anniversary Commemorative Medal (1993), and an Ottawa Life Sciences Applied Research Award (1995).
###
About the CHEO Research Institute
The CHEO Research Institute coordinates the research activities of CHEO and is affiliated with the University of Ottawa. Its three programs of research are molecular biomedicine, health information technology, and evidence to practice research. Key themes include cancer, diabetes, obesity, mental health, emergency medicine, musculoskeletal health, electronic health information and privacy, and genetics of rare disease. The CHEO Research Institute makes discoveries today for healthier kids tomorrow. For more information, visit http://www.cheori.org
For more information and to arrange an interview with Dr. Robert Korneluk, C.M., please contact:
Aynsley Morris
Director of Communications
Mobile: (613) 914-3059
E-mail: amorris@cheo.on.ca
---