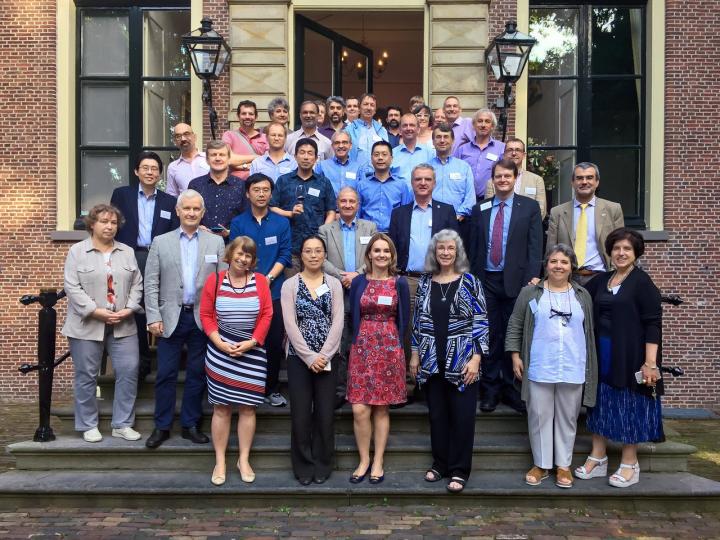 The workshop on Future Space-Based Ultraviolet-Optical-Infrared Telescopes, organised by the IAU Working Group on Global Coordination of Ground and Space Astrophysics, with the generous support of the Kavli Foundation , was held between 17 and 19 July 2017 in Kasteel Oud-Poelgeest near Leiden. Forty invited participants from 17 countries attended, from universities, observatories, research organisations, and space agencies, and including science community leaders and experts on various aspects of the science and technology.
The goal of the workshop was to discuss the science goals, technical requirements, political constraints and opportunities for a future large-scale space mission. The lively and inspiring discussion is summarised in a report that recommends that astronomers worldwide intensify their activities to explore the possibilities for science with a large UV, optical and infrared space mission. The report will inform future consideration and will serve as input to the Focus Meeting #13 "Global Coordination of International Astrophysics and Heliophysics Activities from Space and Ground" which will take place at the XXX General Assembly in Vienna between 20 and 31 August 2018.
###
A significant aspect of the IAU's mission is the promotion of science through international cooperation. Global strategic planning and discussion are key elements in the process of developing long-term collaborative efforts and maximising science returns. With this in mind, the IAU Working Group on Global Coordination of Ground and Space Astrophysics is charged with considering the future of global cooperation and collaboration. The co-chairs of the Working Group are David Spergel and Roger Davies and the EC liaisons are Ewine van Dishoeck and Debra Elmegreen (the full list of members is here .
The programme, list of participants and background documentation can be accessed via the workshop webpage .
More information
The IAU is the international astronomical organisation that brings together more than 10 000 professional astronomers from almost 100 countries. Its mission is to promote and safeguard the science of astronomy in all its aspects through international cooperation. The IAU also serves as the internationally recognised authority for assigning designations to celestial bodies and the surface features on them. Founded in 1919, the IAU is the world's largest professional body for astronomers.
Links
Contacts
Piero Benvenuti
General Secretary, International Astronomical Union
Paris, France
Tel: 33-1-43-25-83-58
Email: iau-general.secretary@iap.fr
Lars Lindberg Christensen
IAU Press Officer
Garching bei München, Germany
Tel: 49-89-320-06-761
Cell: 49-173-38-72-621
Email: lars@eso.org
---