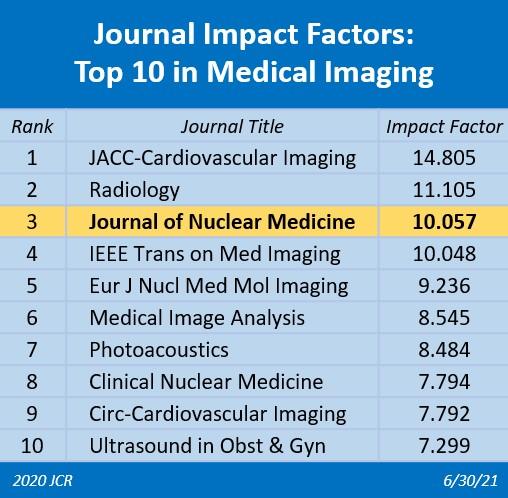 The Journal of Nuclear Medicine has again achieved the highest impact factor ever in its history, now ranking third among all medical journals worldwide, according to new data just released in the 2020 Journal Citation Reports. JNM is the flagship publication of the Society of Nuclear Medicine and Molecular Imaging.
"This is a tribute to the great contributions of diverse scientists from all areas of the field," said Editor-in-Chief Johannes Czernin, MD, professor of molecular and medical pharmacology and chief of the Ahmanson Translational Theranostics Division at the UCLA David Geffen School of Medicine, Los Angeles, California. "I am grateful for the support of SNMMI and its Publications Committee, the invaluable contributions of our staff, the critical input from our Editorial Board members, and the hard work and creativity of the team of national and international Associate Editors who made this success possible."
JNM's impact factor increased more than 27% over last year, from 7.887 (2019) to 10.057 (2020). With 32,949 total citations, the journal moved up to third in impact factor among all 134 journals included in the medical imaging category. Other key statistics: JNM's total citations increased 23%, its immediacy index is up 68%, and its article influence score and 5-year impact factor increased 26%. Among nuclear medicine journals, JNM continues to have the highest impact factor, total citations, 5-year impact factor, Eigenfactor score and article influence score.
"The high journal impact with the associated high visibility of the journal will continue to attract preclinical and clinical contributors from oncology, neurology, cardiology, endocrinology, infectious diseases and other fields," Czernin said.
The impact factor--a quantitative measure of the frequency with which an article in a journal is cited--is used to gauge the overall influence of a journal within scientific, professional and academic communities. The immediacy index is an indicator of the speed with which citations to a specific journal appear in published literature.
"Three of the top 10 articles contributing to the impact factor calculation describe advances in imaging instrumentation, with the remaining 7 introducing various important aspects of theranostics," said Czernin. "It is thus evident that theranostics and the search for novel and relevant targets remain at the forefront of nuclear medicine research. Revolutionary advances in instrumentation will open new and exciting research opportunities. Similarly, artificial intelligence will find its way into the clinic based on solidly designed clinical studies."
###
Visit JNM's new website for the latest nuclear medicine research, and follow our new Twitter and Facebook pages @JournalofNucMed.
About JNM and the Society of Nuclear Medicine and Molecular Imaging
The Journal of Nuclear Medicine (JNM) is the world's leading nuclear medicine, molecular imaging and theranostics journal, accessed more than 11 million times each year by practitioners around the globe, providing them with the information they need to advance this rapidly expanding field. Current and past issues of The Journal of Nuclear Medicine can be found online at http://jnm.snmjournals.org.
JNM is published by the Society of Nuclear Medicine and Molecular Imaging (SNMMI), an international scientific and medical organization dedicated to advancing nuclear medicine and molecular imaging--precision medicine that allows diagnosis and treatment to be tailored to individual patients in order to achieve the best possible outcomes. For more information, visit http://www.snmmi.org.
---