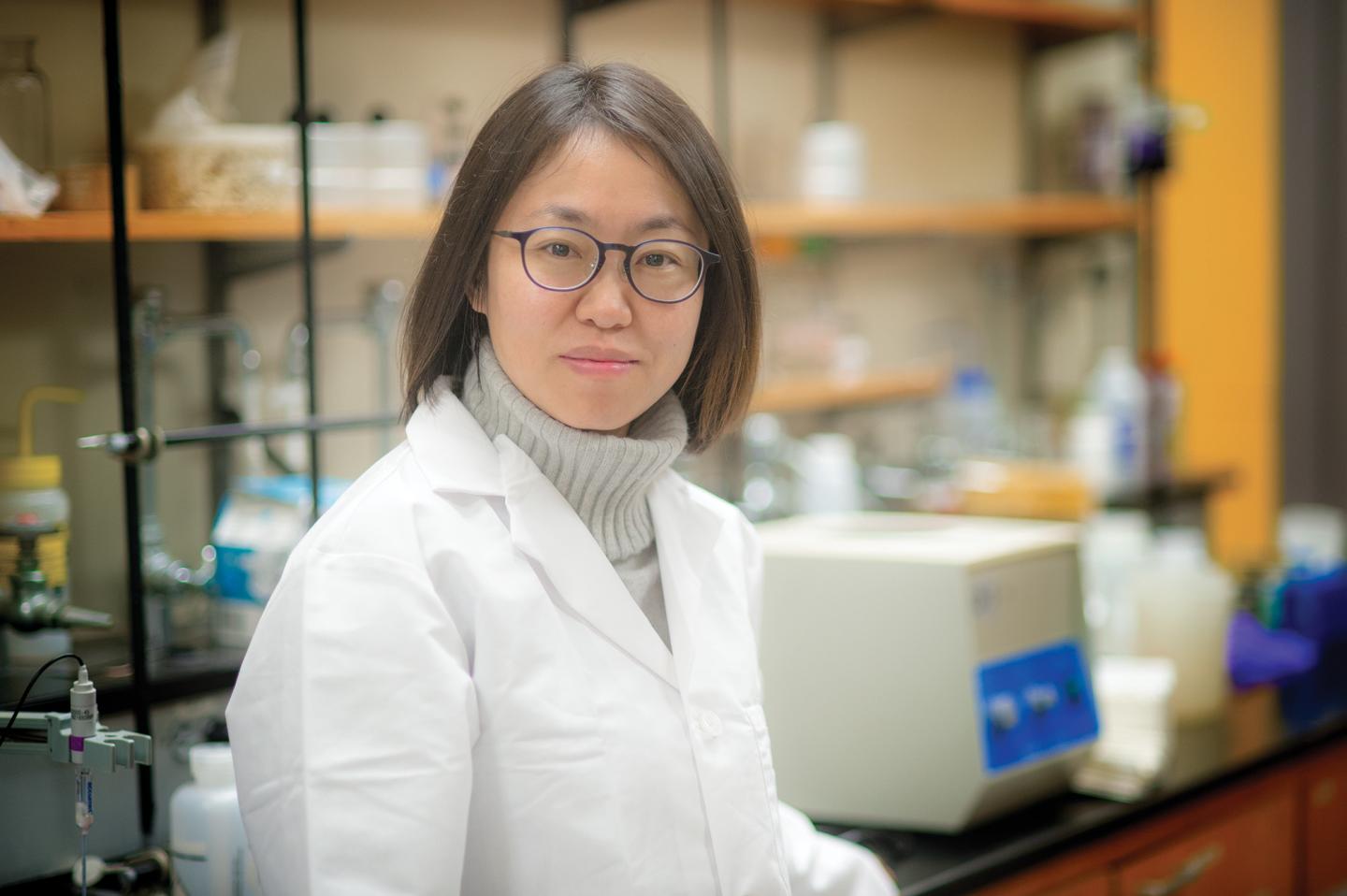 A researcher at The University of Texas at Arlington has been awarded a prestigious National Science Foundation Faculty Early Career Development, or CAREER, grant to develop new synthetic antimicrobial nanomaterials to treat antibiotic-resistant infections in hospitals and military facilities.
Bacterial resistance to conventional antibiotics is a major threat to public health, and antibiotic-resistant infections are associated with close to $20 billion in direct medical costs each year, according to the Alliance for the Prudent Use of Antibiotics. Overuse of existing antibiotics has worsened the problem, resulting in an urgent need to develop new types of antimicrobial agents to combat the ever-increasing emergence of multidrug-resistant bacterial infections.
"We are developing synthetic antimicrobial materials that only target toxic bacteria and are biocompatible with healthy mammalian cells," said He Dong, the UTA associate professor of chemistry and biochemistry and joint associate professor of bioengineering who received the grant. "These new molecules show great promise to treat infections not only on external surfaces or the skin like traditional antimicrobial peptides do, but also internally through oral or intravenous treatments, as they do not attack healthy human cells."
The earlier discovery of new antimicrobials based on small proteins or peptides had shown tremendous promise, but their widespread use and translation into clinical application was hampered by their toxicity toward a range of healthy human cells.
"Dong and her colleagues have taken this idea one step further by developing synthetic peptides that self-assemble into nanostructured fibers that can punch holes in the bacterial membrane, killing the pathogen," said Frederick MacDonnell, the chair of UTA's Department of Chemistry and Biochemistry. "These synthetic self-assembling antimicrobial nanofibers, or SAANs, are the nucleus of a new therapeutic platform that could have a transformative impact on the multi-billion-dollar research industry around conventional antibiotics."
This new grant builds on work done over the last three years by Dong around nanomaterials that can mimic nature and self-assemble into larger groups of molecules that have antimicrobial effects without hurting other healthy cells. The $456,985 grant is aimed at furthering the understanding of how SAANs are so effective against bacteria without harming healthy mammalian cells.
"The multidisciplinary nature of this research, involving chemistry, microbiology, engineering, nanoscience and pharmaceutical sciences will also provide opportunities to train students at all levels," Dong added. "We plan to collaborate closely with Dr. Liping Tang in UTA's bioengineering department to develop intelligent SAANs technologies that will permit highly effective and accurate disease-specific diagnoses and therapies in the future."
Dong will soon be transferring to UTA's new 229,000-square-foot Science & Engineering Innovation & Research or SEIR building, a world-class research and teaching facility focused on health science research that is scheduled to open in July 2018. This facility will advance research at UTA by utilizing the modern concept of research lab neighborhoods to drive cross-disciplinary collaboration like Dong's research. Each of the 12 research lab neighborhoods will accommodate multiple teams in a wide range of fields, including biology, bioengineering, computational research, nursing and kinesiology.
Dong came to UTA from Clarkson University, where she was an assistant professor of chemistry and biomolecular science. She earned her bachelor and master degrees in chemistry from Tsinghua University in Beijing, China, and her doctorate in chemistry from Rice University in Houston. She did her first post-doctoral fellowship in the Department of Surgery at Emory University in Atlanta, and her second in materials science and engineering at the University of California, Berkeley.
"Dr. Dong's research exemplifies UTA's interdisciplinary approach to research, especially in the area of health and the human condition, one of four themes of the University's strategic plan," added MacDonnell. "This early CAREER grant recognizes the potential of her research focus to make a real impact on the field."
###
---