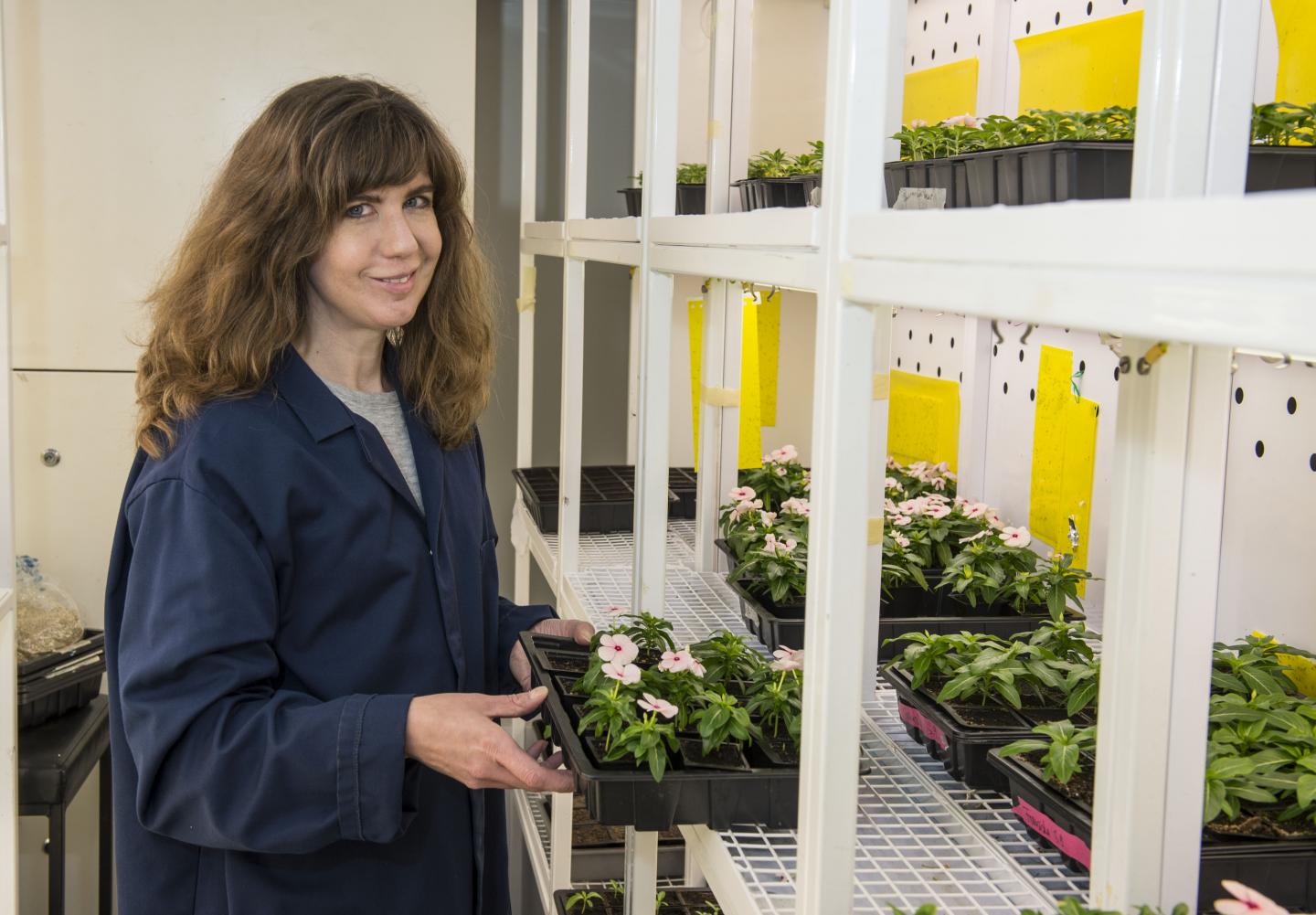 John Innes Centre scientists have made a breakthrough in understanding how valuable anti-cancer compounds are produced in the Madagascar Periwinkle (Catharanthus roseus).
Several specialised plant compounds called monoterpene indole alkaloids (MIAs) have important medicinal properties. Although scientists have made progress in understanding how plant enzymes transform building-block chemicals into a wide diversity of MIAs, little is known about how these components are transported.
Many medicines used in clinical practice today have been developed from specialised compounds occurring naturally in plants -- yet plants remain a vastly untapped resource for the discovery of other important and life-saving drugs.
Research in Professor Sarah O'Connor's laboratory at the John Innes Centre focuses on understanding the metabolic pathways in which these specialised plant compounds are made. The team is particularly interested in the monoterpene indole alkaloids, or 'MIAs' for short; a large group of more than 3000 related chemicals, which includes the effective anti-cancer agent vincristine, and the anti-malarial drug quinine.
Professor O'Connor said: "By exploring the diversity of MIA compounds it's possible that we will find new ones with useful pharmacological activity - but by understanding how they are made, we may also be able to engineer biological systems to scale-up the production of these compounds for industry, and/or tweak the biochemical pathways to improve their medicinal properties."
In the new study published in the scientific journal Nature Plants, Professor O'Connor and her team, working with colleagues at institutes in Denmark and France, describe a recent breakthrough in understanding the pathway of MIA compounds produced in the Madagascar Periwinkle (Catharanthus roseus).
Dr Richard Payne, a former PhD student in Sarah's group and first author of the study explained:
"Strictosidine is a key intermediate compound made during the production of MIAs. Enzymes act on strictosidine in different ways to modify the basic structure and produce a wide range of MIAs. We already knew that strictosidine is found in the plant cell vacuole, and that it ends up in the nucleus for the next step of the transformation process. How strictosidine gets from the vacuole to the nucleus, however, was a mystery - until now."
By exploring a map of C. roseus' transcriptome, Dr Payne and colleagues pinpointed three candidate proteins that they thought might be linked to the transport of strictosidine from the vacuole to the nucleus. Then, using virus-induced gene silencing (VIGS) and in vitro characterisation in Xenopus laevis (frog) eggs, the team honed in on one of these proteins, called CrNPF2.9.
Dr Payne said:
"CrNPF2.9 is a protein in the nitrate and peptide transport family (NPF). It is the first time that a protein in this family has been implicated in the MIA biosynthesis pathway, so that in itself was a new discovery. However, our VIGS and Xenopus oocyte experiments further confirmed that this protein affects strictosidine accumulation, and that it's localized to the vacuole membrane. This is exactly where we would expect it to be if it was indeed involved in moving strictosidine from inside the vacuole to outside of it. Another piece of the MIA synthesis puzzle has been solved."
###
This research was funded by the European Research Council, and the Biotechnology and Biological Sciences Research Council (BBSRC), with contributions from the Danish National Research Foundation, the Innovation Fund, Denmark and the Region Centre, France.
Notes to editors
1. The paper 'An NPF transporter exports a central monoterpene indole alkaloid intermediate from the vacuole' is published in Nature Plants on 13 January 2017.
2. Images to accompany this release can be downloaded at: http://bit.ly/2ifERz6
3. If you have any questions or would like to interview Professor O'Connor, please contact:
Geraldine Platten, Acting Head of External Relations
The John Innes Centre, Norwich
E: Geraldine.platten@jic.ac.uk
4. About the John Innes Centre
The John Innes Centre is an independent, international centre of excellence in plant science and microbiology.
Our mission is to generate knowledge of plants and microbes through innovative research, to train scientists for the future, to apply our knowledge of nature's diversity to benefit agriculture, the environment, human health and wellbeing, and engage with policy makers and the public.
To achieve these goals we establish pioneering long-term research objectives in plant and microbial science, with a focus on genetics. These objectives include promoting the translation of research through partnerships to develop improved crops and to make new products from microbes and plants for human health and other applications. We also create new approaches, technologies and resources that enable research advances and help industry to make new products. The knowledge, resources and trained researchers we generate help global societies address important challenges including providing sufficient and affordable food, making new products for human health and industrial applications, and developing sustainable bio-based manufacturing.
This provides a fertile environment for training the next generation of plant and microbial scientists, many of whom go on to careers in industry and academia, around the world.
The John Innes Centre is strategically funded by the Biotechnology and Biological Sciences Research Council (BBSRC). In 2015-2016 the John Innes Centre received a total of £30.1 million from the BBSRC.
The John Innes Centre is also supported by the John Innes Foundation through provision of research accommodation and long term support of the Rotation PhD programme.
The John Innes Centre is the winner of the BBSRC's 2013 - 2016 Excellence With Impact award.
5. About the BBSRC
The Biotechnology and Biological Sciences Research Council (BBSRC) invests in world-class bioscience research and training on behalf of the UK public. Our aim is to further scientific knowledge, to promote economic growth, wealth and job creation and to improve quality of life in the UK and beyond.
Funded by Government, BBSRC invested over £473M in world-class bioscience in 2015-16. We support research and training in universities and strategically funded institutes. BBSRC research and the people we fund are helping society to meet major challenges, including food security, green energy and healthier, longer lives. Our investments underpin important UK economic sectors, such as farming, food, industrial biotechnology and pharmaceuticals. For more information about BBSRC, our science and our impact see: http://www.bbsrc.ac.uk
For more information about BBSRC strategically funded institutes see: http://www.bbsrc.ac.uk/institutes
---
DOI
10.10138/nplants.2016.208