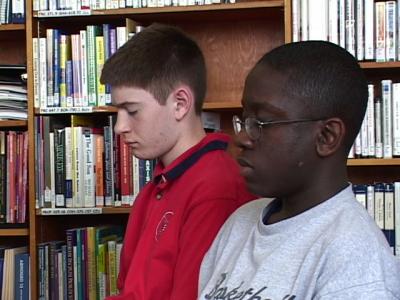 A random-assignment controlled study published today in Mind & Brain, The Journal of Psychiatry (Vol 2, No 1) found improved brain functioning and decreased symptoms of attention-deficit/hyperactivity disorder, ADHD, in students practicing the Transcendental Meditation® (TM) technique. The paper, ADHD, Brain Functioning, and Transcendental Meditation Practice, is the second published study demonstrating TM's ability to help students with attention-related difficulties.
The first exploratory study, published in Current Issues in Education, followed a group of middle school students diagnosed with ADHD who meditated twice a day in school. After 3 months, researchers found over 50% reductions in stress, anxiety, and ADHD symptoms. During the study, a video was made of some students discussing what it felt like to have ADHD, and how those experiences changed after 3 months of regular TM practice.
In this second study, lead author, neuroscientist Fred Travis, PhD, director of the Center for Brain, Consciousness and Cognition, joined principal investigator Sarina J. Grosswald, EdD, a George Washington University-trained cognitive learning specialist, and co-researcher William Stixrud, PhD, a prominent Silver Spring, Maryland, clinical neuropsychologist, to investigate the effects of Transcendental Meditation practice on task performance and brain functioning in 18 ADHD students, ages 11-14 years.
The study was conducted over a period of 6 months in an independent school for children with language-based learning disabilities in Washington, DC. The study showed improved brain functioning, increased brain processing, and improved language-based skills among ADHD students practicing the Transcendental Meditation technique.
A local TV news station reported on the study in-progress during the first 3 months.
What was Measured
Students were pretested, randomly assigned to TM or delayed-start comparison groups, and post-tested at 3- and 6-months. Delayed-start students learned TM after the 3-month post-test.
EEG measurements of brain functioning were taken while students were performing a demanding computer-based visual-motor task. Successful performance on the task requires attention, focus, memory, and impulse control.
In addition, students were administered a verbal fluency test. This test measured higher-order executive functions, including initiation, simultaneous processing, and systematic retrieval of knowledge. Performance on this task depends on several fundamental cognitive components, including vocabulary knowledge, spelling, and attention.
Theta/Beta Power Ratios and ADHD
Using EEG measurements, the relationship of theta brain waves to beta brain waves can be diagnostic of ADHD. Dr. Joel Lubar of the University of Tennessee has demonstrated that the theta/beta ratio can very accurately identify students with ADHD from those without it.
While theta EEG around 4-5 Hz is commonly associated with daydreaming, drowsiness, and unfocused mental states, theta EEG around 6-8 Hz is seen when one focuses on inner mental tasks, such as memory processing, identifying, and associating.
"In normal individuals, theta activity in the brain during tasks suggests that the brain is blocking out irrelevant information so the person can focus on the task," said Dr. Travis. "But, in individuals with ADHD, the theta activity is even higher, suggesting that the brain is also blocking out relevant information."
And when beta activity, which is associated with focus, is lower than normal," Travis added, "it affects the ability to concentrate on task for extended periods of time."
"Prior research shows ADHD children have slower brain development and a reduced ability to cope with stress," said Dr. Stixrud. "Virtually everyone finds it difficult to pay attention, organize themselves and get things done when they're under stress," he explained. "Stress interferes with the ability to learn—it shuts down the brain. Functions such as attention, memory, organization, and integration are compromised."
Why the TM Technique
"We chose the TM technique for this study because studies show that it increases brain function. We wanted to know if it would have a similar effect in the case of ADHD, and if it did, would that also improve the symptoms of ADHD," said Dr. Grosswald.
Dr. Stixrud added, "Because stress significantly compromises attention and all of the key executive functions such as inhibition, working memory, organization, and mental flexibility, it made sense that a technique that can reduce a child's level of stress should also improve his or her cognitive functioning."
The Transcendental Meditation technique is an effortless, easy-to-learn practice, unique among categories of meditation. "TM does not require concentration, controlling the mind or disciplined focus—challenges for anyone with ADHD," Grosswald added.
There is substantial research showing the effectiveness of the TM technique for reducing stress and anxiety, and improving cognitive functioning among the general population. "What's significant about these new findings," Grosswald said, "is that among children who have difficulty with focus and attention, we see the same results. The fact that these children are able to do TM, and do it easily, shows us that this technique may be particularly well-suited for children with ADHD."
Transcendental Meditation produces an experience of restful alertness, which is associated with higher metabolic activity in the frontal and parietal parts of the brain, indicating alertness, along with decreased metabolic activity in the thalamus, which is involved in regulating arousal, and hyperactivity.
With regular practice, this restfully alert brain state, characteristic of the TM technique, becomes more present outside of meditation, allowing ADHD students to attend to tasks. "In a sense," Dr. Travis said, "the repeated experience of the Transcendental Meditation technique trains the brain to function in a style opposite to that of ADHD."
Improved Brain Functioning
During the practice of the Transcendental Meditation technique, coherence is found across different EEG frequencies. After meditation, the brain utilizes this increased functioning ability to support the performance of a task in an integrated manner.
Three months of TM practice resulted in significant decreases in theta/beta ratios and increased verbal fluency. This translates into improved executive function and more efficient cognitive processing.
During the first 3 months of the study, the theta/beta ratios of the control group (delayed start) actually increased. After learning, and practicing TM for 3 months, this group experienced dramatic decreases in theta/beta ratios and increased verbal fluency as well.
Student and Parent Surveys
Students reported that the TM technique was enjoyable and easy to do. They felt calmer, less stressed, and better able to concentrate on their schoolwork. They also said they were happier since they started TM. This correlated with reports from the parents.
At the end of the research, the parents completed a questionnaire to assess their perceptions of changes in five ADHD-related symptoms in their children from the beginning to the end of the study. There were positive and statistically significant improvements in the five areas measured: a) Ability to focus on schoolwork, b) Organizational abilities, c) Ability to work independently, d) Happiness, and e) Quality of sleep.
Promising Results
The combined results were significant. There was a 48% reduction in the theta/beta power ratios and a 30% increase in brain coherence after the 6-month period. Studies have shown that pharmaceuticals decrease theta/beta power ratios by 3%, and neurofeedback by 25%.
"These are very encouraging findings," said Dr. Stixrud. "Significant improvement in the theta/beta ratio without medication and without having to use any expensive equipment is a big deal, as is significant improvement in student happiness and student academic functioning reported by the parents."
"While stimulant medication is very beneficial for some of my clients with ADHD," Stixrud added, "the number of children who receive great benefit from medicine with minimal side-effects is relatively small. The fact that TM appears to improve attention and executive functions, and significantly reduces stress with no negative side-effects, is clearly very promising." Stixrud said he hoped these findings would lead to more research on the use of TM with children and adolescents.
In conclusion, these findings warrant additional research to assess the impact of Transcendental Meditation practice as a non-drug treatment for ADHD, and to track meditating students' improved academic achievements.
###
The study was funded by a grant from the David Lynch Foundation.
FACT SHEET
Attention-Deficit/Hyperactivity Disorder (ADHD)
Attention-deficit/hyperactivity disorder (ADHD)—characterized by inattentiveness, impulsivity, and hyperactivity—is diagnosed in almost 10% of children ages 4-17 years, representing 5.4 million children.
The Center for Disease Control and Prevention reported among children with current ADHD, 66.3% were taking medication for the disorder. In total, 4.8% of all children ages 4-17 years (2.7 million) were taking medication for ADHD. The majority of them stay on it into adulthood.
The rate of prescriptions for Attention-Deficit/Hyperactivity Disorder in the U.S. has increased by a factor of five since 1991—with production of ADHD medicines up 2,000 percent in 9 years.
The commonly used drugs for ADHD are stimulants (amphetamines). These drugs can cause persistent and negative side-effects, including sleep disturbances, reduced appetite, weight loss, suppressed growth, and mood disorders. The side-effects are frequently treated with additional medications to manage insomnia or mood swings. Almost none of the medications prescribed for insomnia or mood disturbances are approved by the Food and Drug Administration (FDA) for use with children.
The long-term health effects of ADHD medications are not fully known, but evidence suggests risks of cardiac disorders and sudden death, liver damage and psychiatric events. It has also been found that children on long-term medication have significantly higher rates of delinquency, substance use, and stunted physical growth.
A new study, Study raises questions about long-term effects of ADHD medication, the first of its kind, released February 17, 2010 by the Government of Western Australia's Department of Health, found that "long-term use of drugs such as Ritalin and dexamphetamine may not improve a child's social and emotional well-being or academic performance." The chair of the Ministerial Implementation Committee for Attention Deficit Hyperactivity Disorder in Western Australia said in the Department's press release, "We found that stimulant medication did not significantly improve a child's level of depression, self perception or social functioning and they were more likely to be performing below their age level at school by a factor of 10.5 times."
The Transcendental Meditation Technique
The Transcendental Meditation technique is an effortless technique practiced 10-20 minutes twice a day sitting comfortably with the eyes closed.
TM is not a religion or philosophy and involves no new beliefs or change in lifestyle.
Over 350 peer-reviewed research studies on the TM technique confirm a range of benefits for mind, body and behavior.
Several studies have compared the effects of different meditation practices and found that Transcendental Meditation provides deeper relaxation and is more effective at reducing anxiety, depression and hypertension than other forms of meditation and relaxation. In addition, no other meditation practice shows the widespread coherence throughout all areas of the brain that is seen with Transcendental Meditation.
The Transcendental Meditation technique is taught in the United States by a non-profit, educational organization.
More information can be obtained by calling 888-LEARN-TM or visiting www.ADHD-TM.org, www.AskTheDoctors.com, or www.TMEducation.org.
---