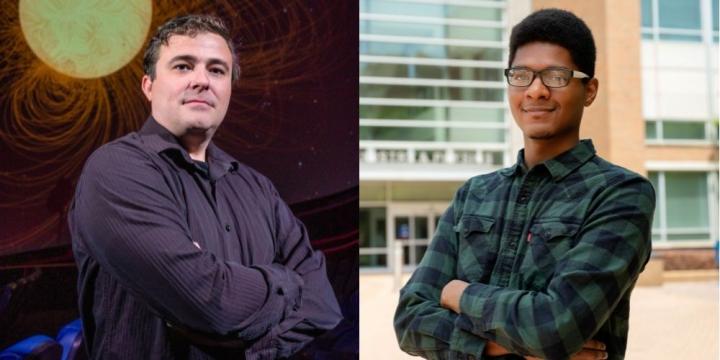 A space physicist at The University of Texas at Arlington has received a NASA grant to support his role in a flagship mission that evaluates interactions between the magnetic fields of the sun and earth.
Frederick Wilder, assistant professor of physics, is one of five supervising scientists for the Scientist in the Loop (SITL) program under NASA's Magnetospheric Multiscale Mission (MMS). A portion of the nearly $166,000 NASA funding will allow Wilder to hire Hector Salinas, a first-year doctoral student, to join the mission.
The MMS project gathers data from earth's magnetosphere--the outermost region of our atmosphere--to investigate how the sun's and earth's magnetic fields connect and disconnect, explosively transferring energy in a process known as magnetic reconnection. These explosions of energy can result in the disruption of technology systems such as electrical grids, communications networks and GPS navigation.MMS satellites collect data at unprecedented speeds, a range of 32 samples to 131,000 samples per second. Due to the quantity of data, only 4% can transfer from the satellites for examination by mission scientists, and the transfer must be done quickly. The data is overwritten within 48 hours due to limited storage space.
SITL are volunteers who collaboratively observe and select the most useful data for transfer from the satellites to the MMS computers. Rotating through eight-day shifts two or three times a year, the SITL-designated scientist must monitor and retrieve magnetospheric data in a precise manner, gathering meaningful data samples before they are erased by new data collection.
Wilder has been involved since before mission launch in 2015 and assisted in creating software that is used to select and transfer the data. He also recruits and trains scientists to perform SITL duties
Salinas, 22, said he had little knowledge of space physics prior to a visit by Ramon Lopez, UTA professor of physics, to his undergraduate class at California State Polytechnic University at Pomona.
"Dr. Lopez presented space physics as an emerging field with real-world significance," Salinas said. "He talked about the growing number of expert space physicists at UTA and invited me to apply."
Meeting Lopez sealed Salinas' decision to study at UTA.
"Space physics is a cool field," Salinas said. "It's an aspect of physics that has an impact on systems that affect our everyday lives. For example, interruptions of air traffic control or satellite communications and the corrosion of oil and gas pipelines are all consequences of space weather."
Wilder credits Salinas' enthusiasm and talent as the motive for recruiting him to the SITL program.
"Hector is a top student in my class and genuinely interested in the material," Wilder said. "He's very motivated and will utilize the data we gather from the MMS mission for his own research."
Under Wilder's mentorship, Salinas will learn to recognize meaningful magnetospheric events that require further examination and practice operating the data-retrieval software.
Receiving the opportunity to join a NASA mission was not something Salinas thought could happen in his academic career. Prior to meeting Wilder, he had a limited view of career opportunities for physicists.
"I am very excited," Salinas said. "In my life, I never imagined I would have the opportunity to collaborate with NASA scientists."
###
---