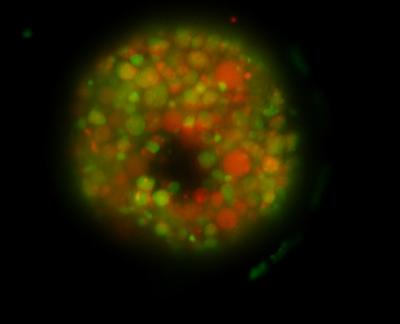 Storrs, Conn. — The University of Connecticut announced today that it is a Grand Challenges Explorations winner, an initiative funded by the Bill & Melinda Gates Foundation.
Professors Leslie M. Shor (Chemical & Biomolecular Engineering) and Daniel J. Gage (Molecular & Cell Biology) will pursue an innovative global health and development research project intended to increase crop yields in developing countries through the expanded use of beneficial bacteria.
"It's an honor to have our project chosen by the Gates Foundation," says Shor, an assistant professor affiliated with UConn's Center for Environmental Sciences and Engineering. "But the most exciting part is knowing that our work could make a difference in the world. That's why I became an engineer in the first place."
"I am excited about the opportunity the Gates Grand Challenges Explorations grant gives us," says Gage, an associate professor in UConn's College of Liberal Arts and Sciences. "It will let us see if what we have learned when doing very fundamental microbiology and plant research can lead to new and practical tools for farmers around the world."
Grand Challenges Explorations (GCE) funds individuals worldwide who are taking innovative approaches to some of the world's toughest and persistent global health and development challenges. GCE invests in the early stages of bold ideas that have real potential to solve the problems people in the developing world face every day.
Shor's and Gage's project, entitled "Structuring the Rhizosphere: Using Protozoa to Sow Bacteria," is one of over 80 Grand Challenges Explorations grants recently announced by the Bill & Melinda Gates Foundation.
"Investments in innovative global health research are already paying off," says Chris Wilson, director of Global Health Discovery and Translational Sciences at the Bill & Melinda Gates Foundation. "We continue to be impressed by the novelty and innovative spirit of Grand Challenges Explorations projects and are enthusiastic about this exciting research. These investments hold real potential to yield new solutions to improve the health of millions of people in the developing world, and ensure that everyone has the chance to live a healthy productive life."
To receive funding, Shor and Gage demonstrated in a two-page online application a creative idea in one of five critical global heath and development topic areas that included agriculture development, immunization and communications.
The UConn research team will use the GCE funds to explore new ways to distribute beneficial bacteria in soils to improve the health of food crops. Gage is an expert on the microenvironment of the rhizosphere - that narrow region of the soil around a plant's roots that is critical to capturing nutrients and suppressing disease. Beneficial bacteria found in the rhizosphere inhibit pathogens, produce antibiotics, help plants absorb soil nutrients, and moderate ambient soil moisture. Protozoa are also found in the rhizosphere. Shor specializes in artificial microbial habitats and the migration of protozoa in confined environments.
Focusing on bean and wheat plants, Shor and Gage will investigate the potential for using natural protozoa in the rhizosphere to better distribute beneficial bacteria among the roots of growing crops. The bacteria would be delivered into the soil on seed coatings and then dispersed by protozoa in the microenvironment. Conventional biocontrol technologies often fail to deliver enough functioning bacteria within the rhizosphere to stave off fungal and bacterial attacks that can limit crop yields. Ultimately, better distribution of these "good" bacteria could improve crop productivity for farmers in developing countries.
###
About Grand Challenges Explorations
Grand Challenges Explorations is a US$100 million initiative funded by the Bill & Melinda Gates Foundation. Launched in 2008, over 700 people in 45 countries have received Grand Challenges Explorations grants. The grant program is open to anyone from any discipline and from any organization. The initiative uses an agile, accelerated grant-making process with short two-page online applications and no preliminary data required. Initial grants of US$100,000 are awarded two times a year. Successful projects have the opportunity to receive a follow-on grant of up to US$1 million.
---