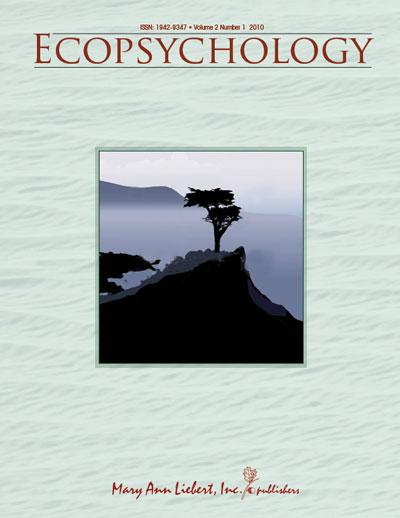 This release is also available in Chinese on EurekAlert! Chinese.
New Rochelle, NY, August 30, 2010—Anger, depression, and helplessness are the main psychological responses being seen in response to the catastrophic Deepwater Horizon oil spill in the Gulf of Mexico, and they are likely to have long-lasting effects, according to an interview in Ecopsychology, a peer-reviewed, online journal published by Mary Ann Liebert, Inc. (www.liebertpub.com). The interview is available free online at www.liebertpub.com/eco
The anger being expressed in response to the recent BP oil rig explosion and resulting spill of millions of gallons of oil into the Gulf of Mexico is "a way of masking the really unfathomable and profound despair that is just under the surface as we watch this catastrophe unfold," says Deborah Du Nann Winter, PhD, Professor of Psychology at Whitman College (Walla Walla, WA). In an interview published in Ecopsychology and conducted by Editorial Board member Susan Koger, PhD, Professor of Psychology at Willamette University in Salem, OR, Winter predicts a great deal of chronic depression, withdrawal, and lack of functioning among not only people directly affected by the events in the Gulf, but also people nationwide and globally who identify or empathize with their circumstances.
Describing the oil spill as "the absolutely worst 'environmental' disaster" in the history of the United States, Winter discusses her own personal attempts to deal with the negative emotions she is experiencing by focusing at times on hopeful, positive feelings related to the "tremendous self-sacrifice and generosity of spirit" among those affected by the spill and those helping to contain it and clean up the oil.
With the hope that the BP spill, with all the damage and suffering it is causing, will stimulate renewed environmental activism and changes in attitudes and behaviors, Winter says, "this disaster is probably just the kick in the pants that the environmental movement has needed."
###
Ecopsychology is a peer-reviewed journal that explores the relationship between environmental issues and mental health and well-being. The Journal examines the psychological, spiritual, and therapeutic aspects of human-nature relationships, concern about environmental issues, and responsibility for protecting natural places and other species. It provides a forum for international dialogue among experts from a range of disciplines: psychology and healthcare; environmental conservation, sociology, anthropology, and environmental studies; and related areas such as ecology, landscape restoration, eco-spirituality, and social and environmental justice movements.
Mary Ann Liebert, Inc (www.liebertpub.com), is a privately held, fully integrated media company known for establishing authoritative peer-reviewed journals in many promising areas of science and biomedical research, including Sustainability: The Journal of Record, Environmental Justice, and Cyberpsychology, Behavior, and Social Networking. Its biotechnology trade magazine, Genetic Engineering & Biotechnology News (GEN), was the first in its field and is today the industry's most widely read publication worldwide. A complete list of the firm's 60 journals, books, and newsmagazines is available at www.liebertpub.com.
---