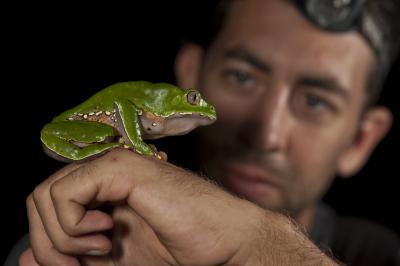 NEW YORK – The Wildlife Conservation Society's (WCS) Peru program announced today the discovery of 365 species previously undocumented in Bahuaja Sonene National Park (BSNP) in southeastern Peru.
Fifteen researchers participated in the inventory focusing on plant life, insects, birds, mammals, and reptiles. The discovery included: thirty undocumented bird species, including the black-and-white hawk eagle, Wilson's phalarope, and ash colored cuckoo; two undocumented mammals – Niceforo's big-eared bat and the Tricolored Bat; as well as 233 undocumented species of butterflies and moths. This expedition was especially important because it was the first time that research of this scale has been carried out in Bahuaja Sonene National Park since it was created in 1996.
"The discovery of even more species in this park underscores the importance of ongoing conservation work in this region," said Dr. Julie Kunen, WCS Director of Latin America and Caribbean Programs. "This park is truly one of the crown jewels of Latin America's impressive network of protected areas."
BSNP contains more than 600 bird species including seven different types of macaw, more than 180 mammal species, more than 50 reptiles and amphibian species, 180 fish varieties, and 1,300 types of butterfly.
Since the 1990s, the Wildlife Conservation Society has been working in Tambopata and Bahuaja Sonene Parks in Peru, and Madidi, Pilon Lajas, and Apolobamba Parks in neighboring Bolivia. The tranboundary region, known as the Greater Madidi Landscape, spans more than 15,000 square miles of the tropical Andes and is considered to be the most biodiverse region on earth.
WCS has helped form more than 20 community-based enterprises in the area that promote the sustainable use of natural resources, such as native honey, subsistence hunting and fishing, ornamental fish cultivation, cacao, handicrafts, and timber. More than 3,000 local people benefit from these community initiatives.
###
The expedition was supported by BSNP, the Tambopata National Reserve, and local Peruvian NGOs: the Association for Integral Research and Development and Fauna Forever.
The Wildlife Conservation Society saves wildlife and wild places worldwide. We do so through science, global conservation, education and the management of the world's largest system of urban wildlife parks, led by the Flagship Bronx Zoo. Together these activities change attitudes toward nature and help people imagine wildlife and humans living in harmony. WCS is committed to this mission because it is essential to the integrity of life on Earth. Visit: http://www.wcs.org
Special Note to the Media: If you would like to guide your readers or viewers to a Web link where they can make donations in support of helping save wildlife and wild places, please direct them to http://www.wcs.org.
---