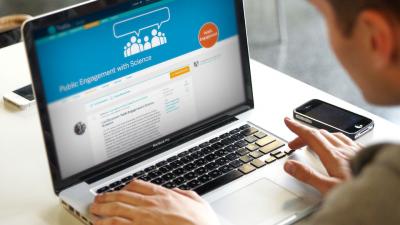 The American Association for the Advancement of Science (AAAS) announced Tuesday that it will establish a new fellowship program in community engagement with the support of a $772,995 grant from the Alfred P. Sloan Foundation.
The AAAS Community Engagement Fellows program, which begins recruitment in 2016, will strive to professionalize and institutionalize the role of community engagement managers in the scientific community. The program will provide training and professional development for up to 18 fellows, split between new entrants to the field and current community engagement managers.
Community engagement managers carry out a range of functions to facilitate collaborative projects in a variety of settings within the scientific community, explained Lou Woodley, program director for the new fellowship and director of community engagement for Trellis, a digital communication and collaboration platform now under development by AAAS. They catalyze conversations, identify new members, start discussions, add or create content, provide first tier technical support to users, and understand the goals of the group.
"Community engagement managers are the catalyst and the glue of many science and technology communities," said Josh Freeman, senior advisor for multimedia strategies at AAAS and founder of Trellis. "They are the face of the organization to its members and play a critical role in the community's success."
With the rise of large-scale scientific collaboration, scientists increasingly desire easy ways to communicate and collaborate, Freeman said. A recent AAAS membership survey found that about 8 in 10 respondents saw a need for better ways to connect with other scientists online.
"As a collaborative enterprise, scientific discovery requires vibrant, engaged communities where researchers come together to share ideas, debate approaches, craft common standards, and identify ways forward," said Josh M. Greenberg, program director at the Alfred P. Sloan Foundation. "The AAAS community engagement fellowship program represents a significant investment in building and nurturing just such communities. The Sloan Foundation is proud to be supporting their leadership in this area."
"Community engagement professionals perform a broad range of activities within the scientific community, but there's still no well-defined career path or set of professional development tools for individuals in this field. We're delighted to support the vital role of community managers within science," Woodley said. "We look forward to working with the first cohort of AAAS Community Engagement Fellows to learn more about the state of the field today, and to create resources to support this role into the future."
Recruitment for the Community Engagement Fellows program will begin in 2016 with the first cohort of Fellows commencing in January 2017 for an initial one-year period. Fellows may come from scientific associations or from large research collaborations. Some will already be in their position and others will be identified for newly created roles as part of the program.
The Community Engagement Fellowship Program adds to AAAS' extensive experience in facilitating fellowship programs, including the AAAS Science & Technology Policy Fellowship program, the Leshner Leadership Institute Public Engagement with Science fellows, and the AAAS Mass Media Science & Engineering Fellows Program.
AAAS has also played a key role as a convener of the global scientific community with the December 2014 launch of Trellis. Trellis is a new online platform that enables individuals or organizations in the scientific community to create a group for communication and collaboration.
"Trellis is providing a single platform for scientific communication and collaboration. Over time, Trellis will enable currently fragmented professional networks and working groups to come together in one place, making it easier to engage with all of these different communities of science," Freeman said.
###
Questions about the Community Engagement Fellowship program can be directed to communityfellows@aaas.org
The American Association for the Advancement of Science (AAAS) is the world's largest general scientific society and publisher of the journal Science as well as Science Translational Medicine, Science Signaling, and a digital, open-access journal, Science Advances. AAAS was founded in 1848 and includes nearly 250 affiliated societies and academies of science, serving 10 million individuals. Science has the largest paid circulation of any peer-reviewed general science journal in the world. The non-profit AAAS is open to all and fulfills its mission to "advance science and serve society" through initiatives in science policy, international programs, science education, public engagement, and more. For the latest research news, log onto EurekAlert!, http://www.eurekalert.org, the premier science-news Web site, a service of AAAS. See http://www.aaas.org.
The Alfred P. Sloan Foundation is a philanthropic, not-for-profit grantmaking institution that supports original research and education in science, technology, and economics. Funds for this project were provided through the Foundation's Digital Information Technology program, which leverages developments in information technology to increase the effectiveness of computational research and scholarly communication. http://www.sloan.org
---