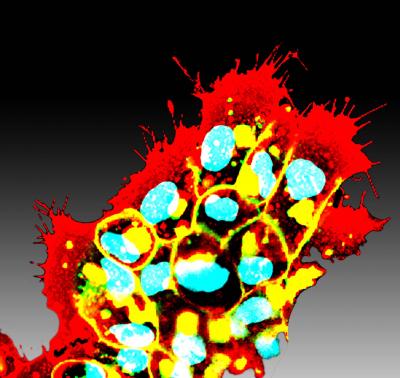 The study, which used embryonic cells, points to a new way of treating cancer where therapy is targeted at the process of cancer cells grouping together. The aim is to stop cancer cells from spreading and causing secondary tumours.
In order for cells to migrate they form protrusions - much like oars of a boat - in the direction that they want to travel. However, if a single cell is isolated it produces these oars in all directions and ends up rowing in circles. To move around effectively cells must stick together before attempting to travel.
The study, published today in the journal Developmental Cell, explains how this process works. Scientists have discovered that when cells group together the contact with other cells inhibits the formation of protrusions or 'oars'. This means that protrusions only form on the cells that are on the outside edges of the group, causing the group to move in specific direction as the group is pushed by the outermost 'leader' cells.
Dr Roberto Mayor, UCL Department of Cell and Developmental Biology and lead author of the research, said, "Being able to form a group with neighbour cells is advantageous for migration of embryonic cells as well as cancer cells during tumour metastasis – they have strength in unity.
"The findings suggest an alternative way in which cancer treatments might work in the future if therapies can be targeted at the process of group formation to stop cancer cells from spreading and causing secondary tumours."
The experiments were carried out using neural crest cells, which are found next to the developing central nervous system in embryos. These cells can develop into a huge variety of different kind of cells including heart, face, skin and muscle cells. Scientists blocked surface molecules, proteins called N-cadherin, on the neural crest cells that are involved in forming contacts between cells. When they did this the power of the cells to group together was lost, along with any ability to migrate.
It is expected that inhibition of N-cadherin would have the same the effect in cancer cells, which also move in groups during metastasis.
###
The work was funded by the Medical Research Council, the Biotechnology and Biological Sciences Research Council and the Wellcome Trust.
Notes for Editors
1. For more information or to interview Dr Roberto Mayor, please contact Clare Ryan in the UCL Media Relations Office on tel: +44 (0)20 7679 9726, mobile: +44 07747 565 056, out of hours +44 (0)7917 271 364, e-mail: clare.ryan@ucl.ac.uk.
2. 'Collective chemotaxis requires contact dependent cell polarity' is published in the journal Developmental Cell. Journalists can obtain copies of the paper by contacting UCL Media Relations.
3. Images of the neural crest cells are also available to journalists by contacting UCL Media Relations.
About UCL
Founded in 1826, UCL was the first English university established after Oxford and Cambridge, the first to admit students regardless of race, class, religion or gender, and the first to provide systematic teaching of law, architecture and medicine. UCL is the fourth-ranked university in the 2009 THES-QS World University Rankings. UCL alumni include Marie Stopes, Jonathan Dimbleby, Lord Woolf, Alexander Graham Bell, and members of the band Coldplay. UCL currently has over 12,000 undergraduate and 8,000 postgraduate students. Its annual income is over £600 million.
---
Journal
Developmental Cell