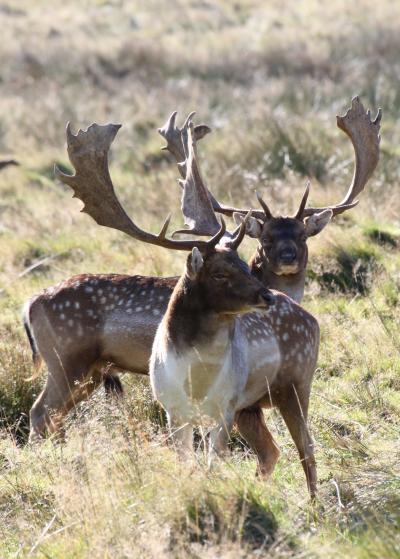 Previous studies have shown that male fallow deer, known as bucks, can call for a mate more than 3000 times per hour during the rut (peak of the mating season), and their efforts in calling, fighting and mating can leave them sounding hoarse.
In this new study, published today (10 February) in the journal Behavioral Ecology, scientists were able to gauge that fallow bucks listen to the sound quality of rival males' calls and evaluate how exhausted the caller is and whether they should fight or keep their distance.
"Fallow bucks are among the most impressive vocal athletes of all deer and invest a large amount of time and energy in calling," explained Dr Benjamin Pitcher from Queen Mary's School of Biological and Chemical Sciences.
During the mating season, fallow bucks produce a call or groan, both to attract mates, and repel competing males. Groans contain numerous clues about each animal, such as their size and status in the herd. The researchers set up a series of playback experiments to investigate how the bucks responded to changes in calling rates and vocal fatigue in the groans of their rivals.
"Until recently we have known relatively little about who is listening to their calling, and what information they are hearing," commented Dr Alan McElligott, also from Queen Mary's School of Biological and Chemical Sciences.
The scientists played slow and fast rate groaning sounds, as well as groans from early in the rut, and ones from late in the rut (when bucks are tired), to mature male deer in Petworth Park, West Sussex during the peak of the mating season. The speakers were hidden from view and scientists measured how long it took for the deer to react to the calls, as well as their orientation, posture, and calls they made in response.
The deer were more responsive to fast rate groans than to slow rate groans indicating that bucks signal their motivation or aggressiveness in how quickly they call. The bucks also recognised groans from early in the rut, recorded before callers became tired, as more threatening than groans recorded later in the rut. This shows that bucks can detect when rivals are becoming fatigued and that exhausted males pose less of a threat.
Dr Pitcher added: "We know from this recent study that by detecting changes in calls, bucks are able to judge which rival is most vulnerable to be challenged and when to fight."
It's known that male deer largely stop feeding and lose more than a quarter* of their body weight while they focus on finding mates, so vocal fatigue seems to be an important indicator as to which male deer have become worn out over the course of the breeding season.
"These results help us to understand how vocalisations and behaviours associated with mating have evolved," said Dr McElligott.
"The findings demonstrate how sexual selection has shaped the vocal behaviour and communication system of fallow deer. We see this trend with other mammals that have similar vocal systems, such as sea lions. The study helps to develop an understanding of how competing for, and attracting mates, has influenced the evolution of communication systems, including human speech."
###
The work was done in collaboration with the University of Zurich and ETH Zurich, and funded by The Fyssen Foundation.
*Male fallow deer lose approximately 26 per cent of their body weight during the height of the mating season.
The research also involved Dr Elodie Briefer who is now based at ETH Zurich and Dr Elisabetta Vannoni at University of Zurich.
'Fallow bucks attend to vocal cues of motivation and fatigue' is published in the journal Behavioral Ecology on Monday 10 February 2014.
For more information or to arrange interviews with the authors, please contact:
Neha Okhandiar Public Relations Manager Queen Mary University of London 020 7882 7927 n.okhandiar@qmul.ac.uk
Notes to editors
Queen Mary University of London
Queen Mary University of London is one of the UK's leading research-focused higher education institutions with some 17,840 undergraduate and postgraduate students.
A member of the Russell Group, it is amongst the largest of the colleges of the University of London. Queen Mary's 4,000staff deliver world class degree programmes and research across 21 academic departments and institutes, within three Faculties: Science and Engineering; Humanities and Social Sciences; and the School of Medicine and Dentistry.
Queen Mary is ranked 11th in the UK according to the Guardian analysis of the 2008 Research Assessment Exercise, and has been described as 'the biggest star among the research-intensive institutions' by the Times Higher Education.
The College has a strong international reputation, with around 20 per cent of students coming from over 100 countries. Queen Mary has an annual turnover of £300m, research income worth £90m, and generates employment and output worth £600m to the UK economy each year.
The College is unique amongst London's universities in being able to offer a completely integrated residential campus, with a 2,000-bed award-winning Student Village on its Mile End campus.
---
Journal
Behavioral Ecology