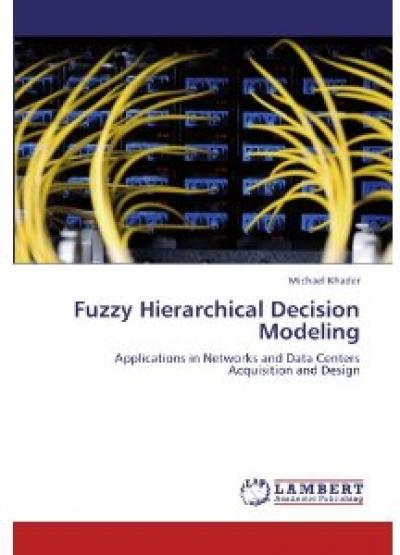 'Fuzzy Hierarchical Decision Modeling' by NJIT Associate Professor Michael Khader has been re-issued by Lambert Publishing Company in a soft-bound text. The book, originally published in 2009 by Walden University, focuses on applying decision modeling rooted in fuzzy theory and hierarchical analysis to complex problems in networks' design and acquisition.
The book features the analytical hierarchy process and fuzzy sets which can be used to deconstruct a complex decision with incomplete information into a set of factors and solutions. The factors and solutions are based on business-related goals and objectives to fit business growth and continuity in changing markets. This is especially believed to be true in the telecommunication market, where established players are leaving and new ones entering.
Using the described model allows key decision-makers to arrive at conclusions with a high degree of confidence although the information used in the decision-making process remains uncertain. The model is designed for a single decision and group decision-makers. The model is important because unlike other models based on well-defined factors and well-defined solution alternatives this model is based on incomplete and uncertain information. The model's use is not limited to the networking and telecommunications fields, but also can be applied to areas of business and social significance such as choices of alternative energy, real-time fuzzy control, as well as budget and resource allocations.
Khader is the coordinator for telecommunications management technology at the NJIT Department of Engineering Technology in Newark College of Engineering. See more at http://engineeringtech.njit.edu/academics/tmt.php.
Khader's research interests focus on multi-criteria decision modeling and fuzzy decision support systems; modeling with queuing systems; distance learning especially finding a solution to teach engineering laboratory coursework in a distance learning setting; web access for remote sensing; fuzzy pattern recognition; medical instrumentation and performance modeling of telecom systems.
He has worked for more than 14 years either on the engineering staff or as a consultant for Bell Labs, Lucent Technology, Allied Signal, and Harris Corporation. In those companies, he's filled positions from senior engineer to project manager or developer.
Among his awards are: Lucent Technology, First Requirements' Team to Introduce Multimedia Conferencing; the International Association of Telecom's Best Embedded Telecom System; and Walden University, Best Knowledge Area Module (2007). He received his doctorate from Walden University, his master's degree in computer science from Stevens Institute of Technology and two bachelor's degrees from Cairo University and Polytechnic Institute of New York.
###
NJIT, New Jersey's science and technology university, enrolls more than 9,558 students pursuing bachelor's, master's and doctoral degrees in 120 programs. The university consists of six colleges: Newark College of Engineering, College of Architecture and Design, College of Science and Liberal Arts, School of Management, College of Computing Sciences and Albert Dorman Honors College. U.S. News & World Report's 2011 Annual Guide to America's Best Colleges ranked NJIT in the top tier of national research universities. NJIT is internationally recognized for being at the edge in knowledge in architecture, applied mathematics, wireless communications and networking, solar physics, advanced engineered particulate materials, nanotechnology, neural engineering and e-learning. Many courses and certificate programs, as well as graduate degrees, are available online through the Office of Continuing Professional Education.
---